How might Mason Mount fit into Erik ten Hag's side if the rumoured links to Manchester United are true?
Mount has one year remaining on his current contract and an extension seems unlikely. With Chelsea needing to reduce the size of their squad, the English international seems likely to leave this summer. United join Liverpool and Bayern Munich as clubs linked with a move for the midfielder.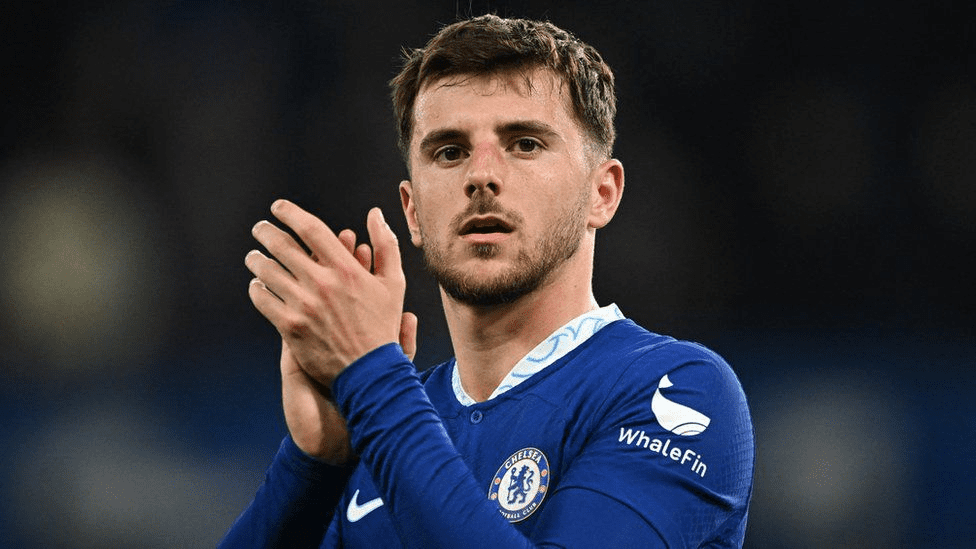 United are in the market for a midfielder to complement Bruno Fernandes and Casemiro. Having unsuccessfully pursued Frenkie de Jong last summer, they've since been linked with alternative options.
What does Ten Hag want from a midfielder?
Ten Hag is committed to a flexible 4-2-3-1/4-3-3 shape and this has been replicated in his tactics this season. However the distribution of midfield responsibilities – defence, progression and creativity- has proved a challenge at United.
During his time at Ajax, Ten Hag built two quite different midfields. His 2018/19 side comprised Lasse Schöne, Frenkie de Jong and Donny van de Beek. Schöne and De Jong had broad skillsets and would contribute in defence, progression and attack from the deeper midfield positions. The data below shows a degree of similarity between their statistics, albeit De Jong is the far superior player. In contrast, Van de Beek's profile is clearly different owing to his attacking role from an advanced midfield/second striker position. The basis of this combination is rooted in a 4-2-3-1, with Van de Beek ahead of the other pairing.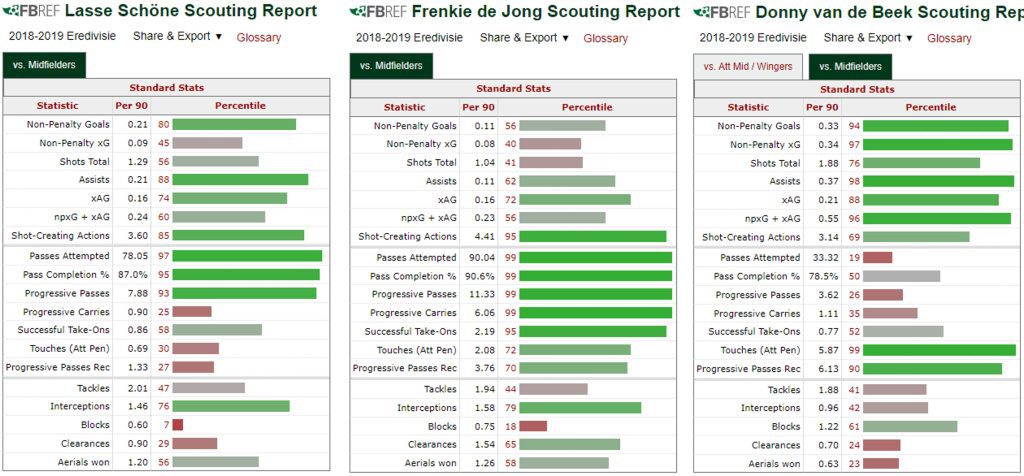 Source: fbref
By 2021/22 these players had left Ajax, and Ten Hag now had Edson Álvarez, Ryan Gravenberch and Steven Berghuis. Within this trio, Álvarez was more of a classic defensive midfielder with less licence to get forward than Schöne. In contrast, Gravenberch and Berghuis had similar responsibilities for ball progression and chance creation. This combination is now rooted in a 4-3-3 shape, albeit with Berghuis generally in a higher starting position than Gravenberch.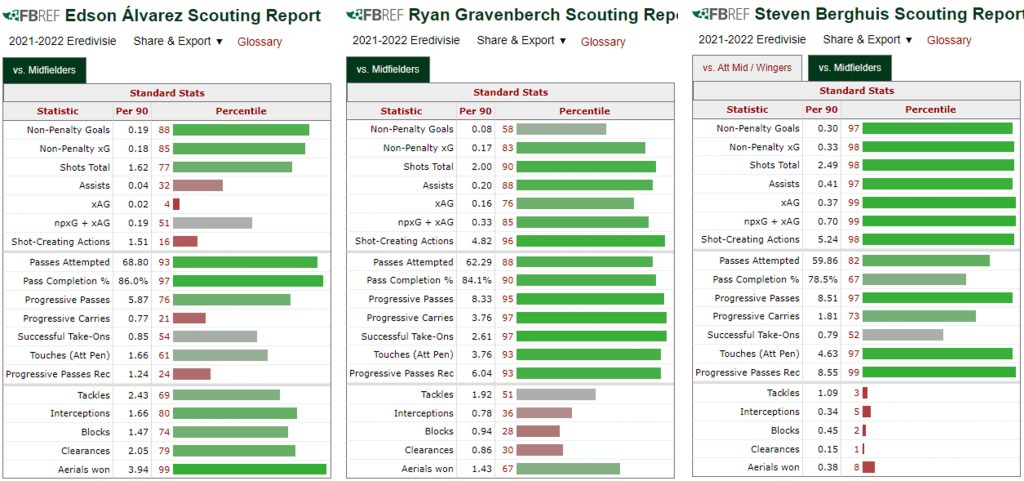 Source: fbref
In both cases, one midfielder – De Jong, Gravenberch – was primarily responsible for moving between a deeper and an advanced position.
What do Manchester United need?
At United, Casemiro, Christian Eriksen and Bruno Fernandes have emerged as the first-choice midfield. Casemiro is a player in the Álvarez mould which suggests a preference for a 4-3-3 shape like Ajax's 2021/22 side. Unfortunately both Eriksen and Fernandes closely resemble Berghuis as advanced playmakers, and both lack key traits of the Gravenberch role. Eriksen lacks defensive qualities and ball carrying; Fernandes' prioritisation of creativity over ball retention isn't suited to a deeper role. This has left United without a natural playmaker at the base of midfield and made them particularly vulnerable to pressing.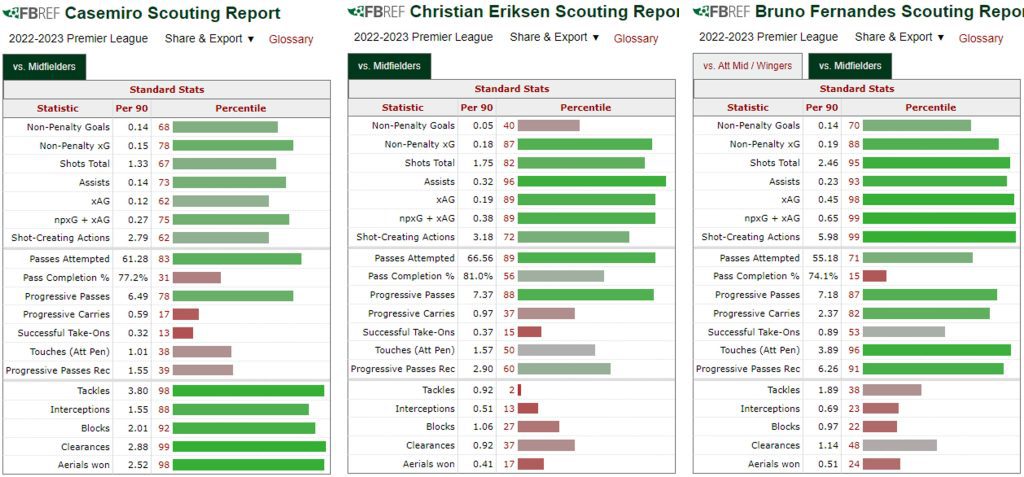 Source: fbref
Therefore the pursuit of De Jong and subsequent links to players like Rabiot make sense. A midfielder of this profile would complement Casemiro and Fernandes and allow Ten Hag to recreate his 2021/22 midfield shape.
What does Mason Mount offer?
Mount is an versatile midfielder with a broad skill set. His character has often been praised for his professionalism, work rate and willingness to make sacrifices for the team. At Chelsea, he has succeeded in a number of roles in a variety of systems. Nevertheless, his primary position has tended to be as a central attacking midfielder.
Mason Mount's performance data reflects this. The data below presents Mount's disrupted 2022/23 campaign alongside his 2020/21 season*. He has consistently demonstrated a high level of creativity, goal threat, and ball progression through both passes and carries. Additionally, his defensive work rate and positional discipline are impressive for a primarily attacking midfielder.
He has consistently demonstrated tactical versatility through intelligent positioning to find space and disciplined pressing out of possession. Mount is able to retain possession under pressure, demonstrated by a relatively high pass completion % for an attacking midfielder.
*Mount's 2021/22 data is not benchmarked against midfielders due to his more advanced role under Thomas Tuchel.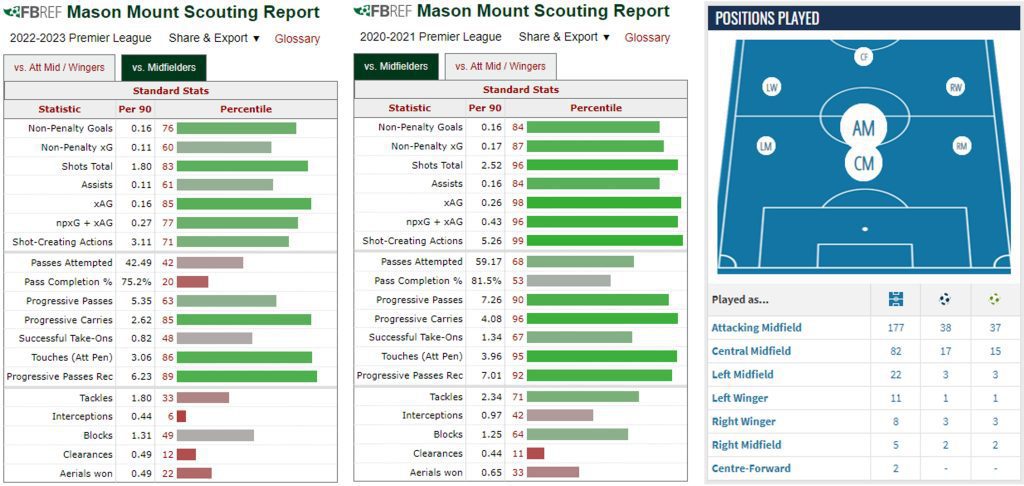 Source: fbref, transfermarkt
How might Mount fit into United's midfield?
When compared to Ajax's midfielders Mount has primarily played the Berghuis role, but he is unlikely to displace Fernandes. Given the limitations of the Eriksen/Fernandes partnership, it would also seem unlikely Mount would partner Fernandes in playing his current role. However, there may be an alternative option. Mason Mount's skillset may lead Ten Hag to believe that he is capable of adjusting to the deeper Gravenberch/De Jong role.
This comes with risk. It is not a role Mason Mount has performed before, even if he has some experience in a deeper midfield position. At Chelsea Mount played alongside Jorginho and Mateo Kovačić, both natural deep playmakers who dominated ball progression through midfield. Mount would also have a more demanding defensive role which would require less pressing and more disciplined positioning.
It is also possible that Fernandes could share responsibilities with Mount, and the two could inter-change between midfield roles. The Portuguese has played a deeper role on occasion this season with some success. However Fernandes lacks Mount's defensive discipline and ball retention, and his superior creativity suggests he would be preferred further forward.
In Conclusion
Mount is clearly a talented footballer, but at first glance, he isn't an obvious solution to United's midfield problem. His skillset would typically attract clubs looking for creativity and tactical intelligence at the top of their midfield. But United don't have this need, and so a move them will surely necessitate a change to his role.
Yet Ten Hag has demonstrated that he is open to using players in new positions. Mount has experience playing a deeper position, but not necessarily the specific role it is presumed Ten Hag is after.
A move for Rabiot or Kovačić would be a more natural fit for the hole in United's midfield. But Mount's age, character and versatility may be enticing enough to take the chance.
Manchester United will also surely want to avoid a repeat of their failed De Jong pursuit. With Chelsea willing sellers, they may consider Mount a deal that can be completed early with limited fuss.