The criteria for a truly great football team can vary. For some, greatness is defined by silverware. For others, greatness is defined by aesthetics. In the Information Era, greatness is defined by efficiency. The truth, as with most vaguely quantifiable declarations, is a combination of those principles.
Striking that fine balance between success, entertainment, and proficiency is the ultimate aspiration of most managers. Even the most pragmatic coach will bristle at the idea that they instruct a brand of ugly, sterile, or, worst of all, "boring" football. (Looking at you, José.) Conversely, a genius manager with a beautiful vision of the game as a fluid art form will be run out of town on a rail if results do not follow suit. (Eventually, you do have to shoot the ball, Arsène.) At the very least, the search for the elusive perfect balance requires one of these visionary managers and a squad of the most talented players ever to walk the earth.
"Quality without results is pointless. Results without quality is boring."

Johan Cruyff
Table of Contents
The Criteria
The essence of playing any sport is winning. While strategies vary, the ultimate goal remains consistent: securing Silverware. Thus, we emphasize these achievements, excluding less significant events like the Club World Cup and smaller tournaments.
Our assessment also considers "Entertainment Value," acknowledging that a dull style could lead to fan and board dissatisfaction. Common factors like gameplay speed and goal count contribute to this evaluation.
Other factors we have taken into account include: "Homegrown Talent," which refers to players developed within the club, sometimes including young talents nurtured by the club's coaches.
"Star Power" encompasses iconic players celebrated for their creativity and skill, though opinions may differ. However, it is worth noting that some legends could be considered irreplaceable on one squad but expendable in another, i.e., Zlatan Ibrahimović on Pep Guardiola's Barcelona.
Longevity is a challenging criterion. Few teams maintain success for extended periods. Sustaining high performance against competition and avoiding complacency is exceptionally demanding. However, the greatest teams do, which is why this is included as part of the criteria.
It's important to note that this analysis pertains to the modern era. Changes in sports science, nutrition, and culture have transformed the game, making comparisons with past decades problematic. The advancements have led to faster, stronger players. For instance, the fastest Olympic 100-meter times have occurred in recent decades.
In essence, today's football is swifter and more robust, making direct matchups with past teams improbable.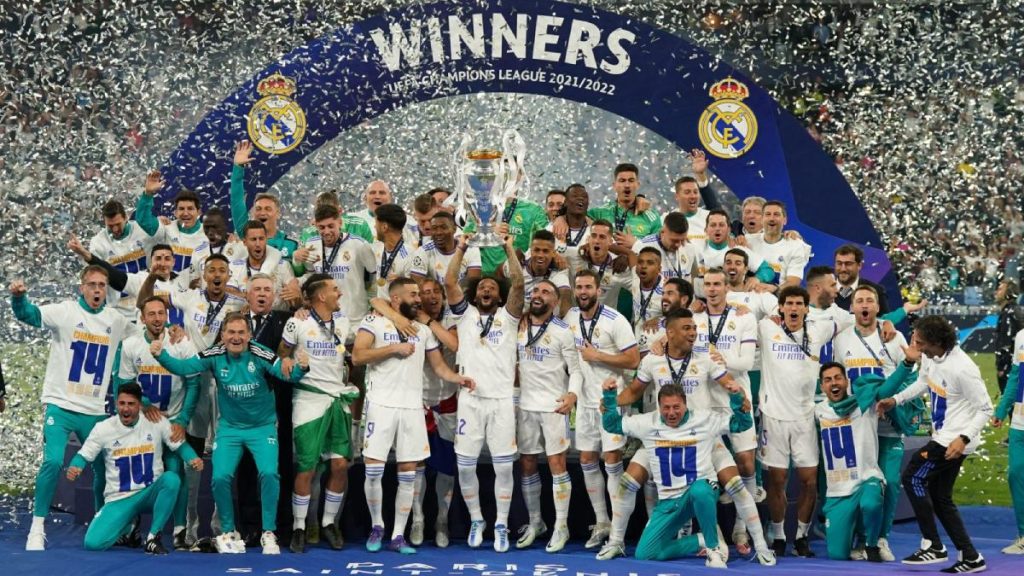 Top 15 Greatest Football Teams of All Time (15 – 8)
15. Louis van Gaal's Ajax of 1992-1996
Noted Accolades: Eredivisie Champions (93/94, 94/95, 95/96) KNVB Cup (92/93), Champions League (94/95), Champions League Finals (94/95, 95/96)
Defining stat: Undefeated in all domestic league and Champions League matches (95).
Legends: Dennis Bergkamp, Frank de Boar, Ronald de Boar, Edgar Davids, Patrick Kluivert, Jari Litmanen, Marc Overmars, Frank Rijkaard, Clarence Seedorf, Edwin van der Sar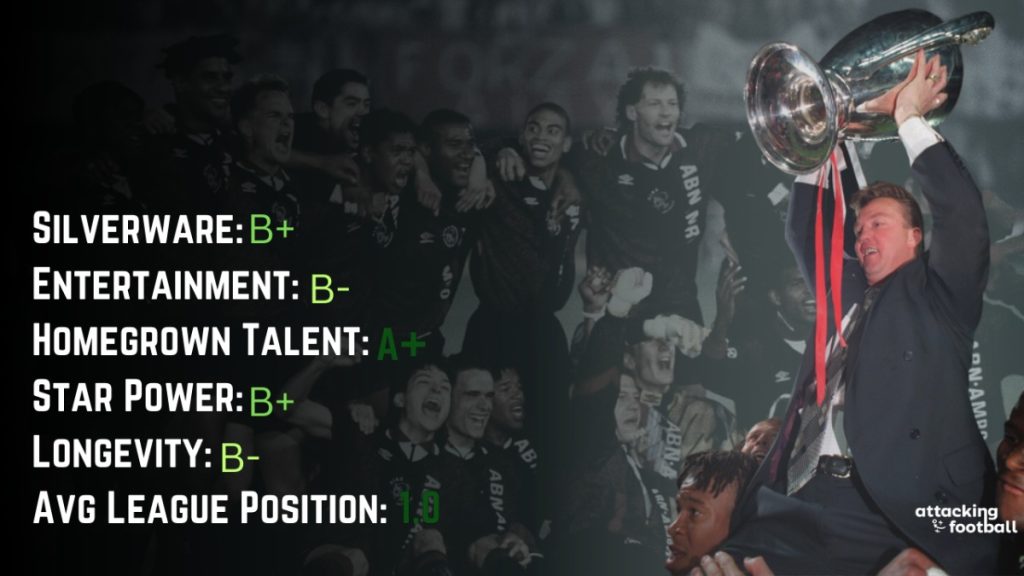 Despite being a devout student of fellow Dutchman Johan Cruyff's famous 4-3-3 "Total Football" method, Louis van Gaal produced a markedly different style from his idol. Personified by their manager's own notoriously rigid and methodical character, van Gaal's Ajax revolution was defined by set roles and distinct patterns of play. Possession was paramount as LVG's mantra was that your opponent cannot score if they do not have the ball.
Mostly favoring traditional technical Dutch players, LVG dominated the Netherlands and Europe with his deliberate brand of pressing football. His further development of youth players from the club's famous academy ushered in the most successful era since Cruyff's own silver-laden squads of the 1970s. Unfortunately, due to a talent raid from virtually every big club in Europe, LVG's Ajax was completely dismantled by the year 1998.
14. José Mourinho's Chelsea of 2005-2007
Noted Accolades: Premier League Champions (05, 06), FA Cup Winners (07), League Cup Winners (05, 07)
Defining Stat: Least number of goals conceded in Premier League history (15 goals allowed; 05).
Legends: Richard Carvalho, Petr Čech, Joe Cole, Didier Drogba, Frank Lampard, Claude Makélélé, Arjen Robben, John Terry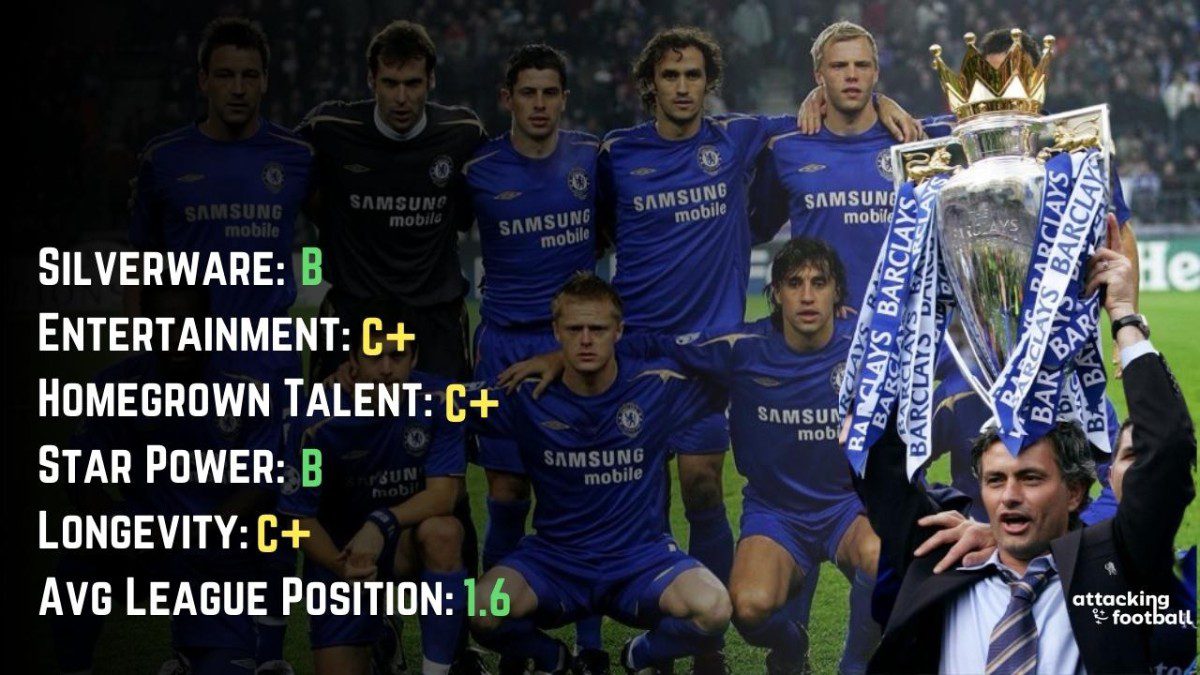 Splashing into London by christening himself "The Special One" after his incredible Champions League run with mile-long-shot Porto, José took full advantage of billionaire new owner Roman Abramovich's tangible ambition. Setting multiple domestic records for money spent, Mourinho built an impenetrable defense around academy stalwart John Terry and legendary goalkeeper Petr Čech.
Adding Ivory Coast's powerful target man Didier Drogba and Dutch magician Arjen Robben to an attack led by emerging star Frank Lampard, the moody Portuguese manager joined the heavyweight fight at the top of the Premier League previously inhabited only by Arsenal and Manchester United.
This first tenure of Mourinho's Chelsea life was marked by combative press conferences, grinding defensive football, and highlighted by lightning counterattacks, and ruthless finishes from Lampard and Drogba. As with all of José's managerial stints, the end of his reign was an angry and bitter divorce amid the flaming wreckage of preceding success.
13. Jürgen Klopp's Liverpool 2017-2021
Noted Accolades: Premier League Winners (20), Champions League Winners (19), FA Cup Winners (22), League Cup Winners (22), Champions League finalist (18, 19, 22).
Defining Stats: Despite winning only one title during this period, they achieved two of the highest point totals in Premier League history with 99 and 97. Also played in three Champions League finals in 5 years, tying several other teams in European history.
Legends: Trent Alexander-Arnold, Alisson, Fabinho, Sadio Mané, Andrew Robertson, Mohamed Salah, Virgil van Dijk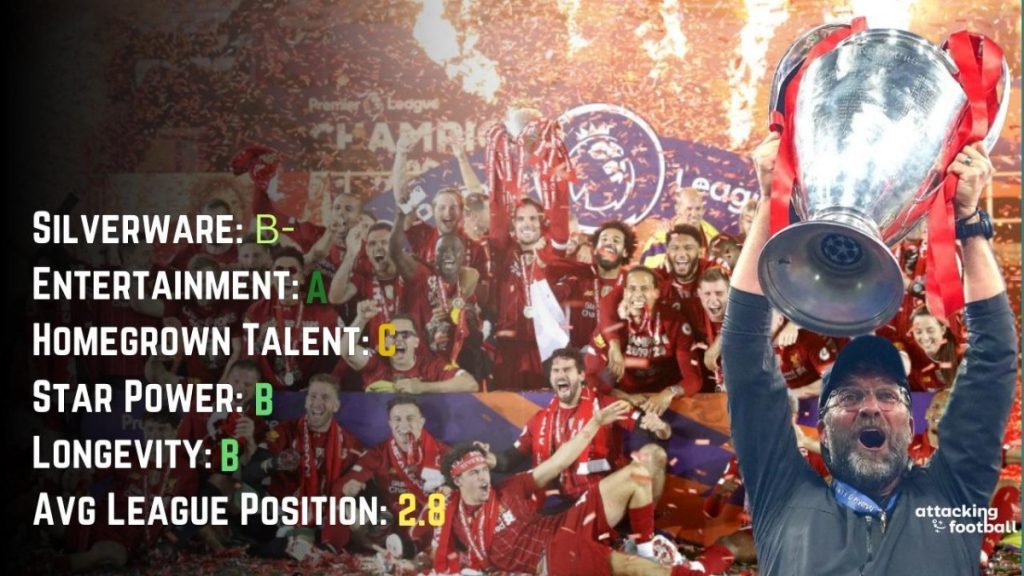 Decades starved and seemingly snakebitten in league play, Liverpool turned to charismatic German football architect Jürgen Klopp to conquer their demons and challenge Manchester City's lavish sporting project. Early results were disappointing: the scousers limped into 8th place in Klopp's first year and finished 4th in the following campaign, never challenging for a trophy in any meaningful manner. But fortunes were to change with the purchase of the rapid Egyptian lefty Mohamed Salah in 2017.
Salah, along with Senegalese speedster Sadio Mané and selfless Brazilian frontman Roberto Firmino formed an overwhelming strike force in an unremitting attack. Still listing a bit in the defensive half, balance arrived with the purchase of Dutch strongman Virgil van Dijk and Brazilian goalkeeping savant Alisson. Having effectively closed the backdoor, Klopp's Liverpool continually challenged European supremacy. However, despite playing in three European finals and racking up a multitude of points in league play, Liverpool only won four major trophies during this period of ascendancy.
12. Viscente del Bosque's Real Madrid 2000-2002
Noted Accolades: Champions League Winners (00, 02), La Liga Winners (03)
Defining Stat: Despite a team of the most entertaining and famous footballers ever assembled, the Galacticos only won La Liga once during this stretch.
Legends: Roberto Carlos, Iker Casillas, Luis Figo, Fernando Hierro, Fernando Morientes, Claude Makélélé, Raul, Ronaldo, Clarence Seedorf, Zinedine Zidane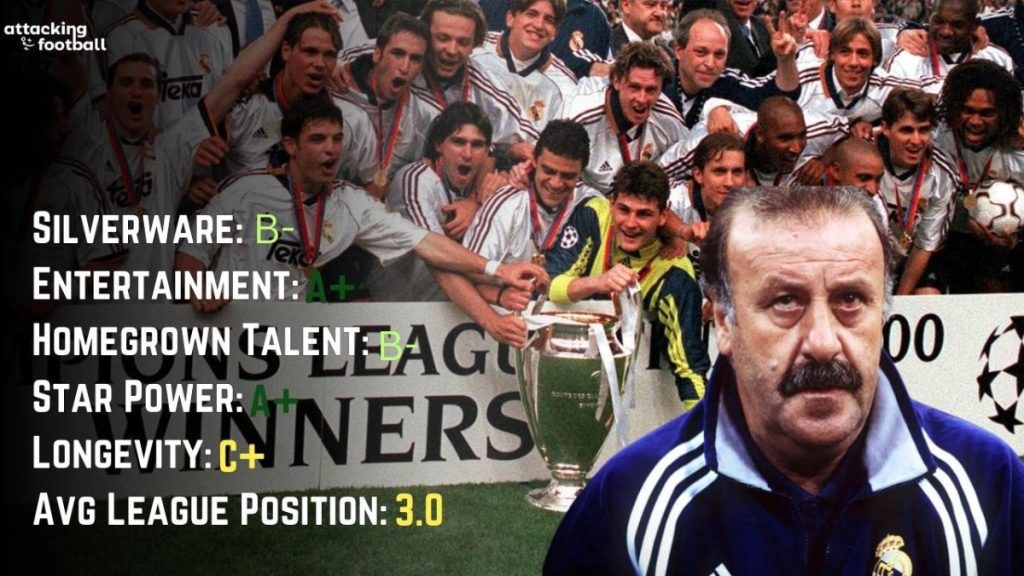 The idea of the "Galactico Era" describes a fairly loose time frame in Real Madrid's history. Most mark the start as the record purchase of Zinedine Zidane from Juventus, but the truth is that would cut out at least one Champions League trophy secured in the preceding years.
In reality, the Galactico Era was defined by the financial power of Real Madrid and not their on-field success. Zidane, Figo, and Ronaldo dazzled and created possibly the highest ceiling for entertaining football we have ever seen. Roberto Carlos reinvented the attacking prowess of an outside back, flying forward and often in the box during attacks. In his first season, Zidane scored a phenomenal winner in the Champions League final, and Real Madrid looked on the precipice of dominance.
The stoic del Bosque favored a deliberate approach with his team roles but gave creative license to his savants. Perhaps due to an overload of creativity, the team had a noticeable imbalance and lacked the character of gritty selfless players required for sustained success. Moving forward, the team often flopped out of European competitions in the early knockout stages and failed to impress, going trophyless for the following three seasons.
11. Arsène Wenger's Arsenal 1998-2006
Noted Accolades: Premier League Winners (98, 02, 04), FA Cup Winners (98, 02, 03), Champions League finalists (06)
Defining Stat: Completed the entire 2003-04 Premier League season without a defeat.
Legends: Dennis Bergkamp, Sol Campbell, Ashley Cole, Cesc Fàbregas, Jens Lehmann, Thierry Henry, Freddie Ljungberg, Robert Pires, Patrick Viera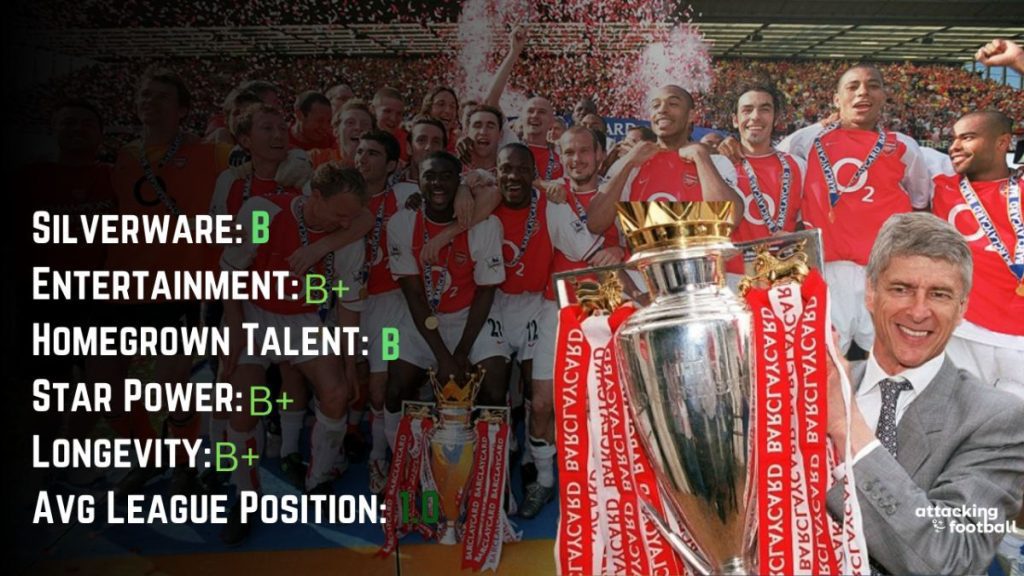 Coming off an impressive debut Premier League and FA Cup double in 1998, visionary French manager Arséne Wenger set about revolutionizing Arsenal Football Club. Placing the ball at the feet of his dastardly winger Thierry Henry, Wenger assaulted Prem defenses with a possession-based build-up coupled with a comprehensive midfield overload. Arsenal patiently passed the ball around the box and waited for the decisive run before shooting.
The composed technique under pressure characterized a squad built with fluidity at the forefront. Wenger battled with Manchester United's Sir Alex Ferguson head-to-head and fist-to-fist on the sidelines and in all competitions, creating some of the most contentious and monumental matchups in the history of the sport and ushering in a new global fanbase for the Premier League to found its financial dominance on. Wenger's failure to win the Champions League in any of his 24 years at the club is a slight stain on an otherwise outstanding career.
10. José Mourinho's Inter Milan 2009-2010
Noted Accolades: Serie A Winners (09, 10), Coppa Italia Winners (10), Champions League Winners (10)
Defining Stats: In 2010, completed a stunning treble, winning Serie A, the Coppa Italia, and the Champions League.
Legends: Samuel Eto'o, Zlatan Ibrahimović, Lúcio, Maicon, Diego Milito, Wesley Sneijder, Javier Zanetti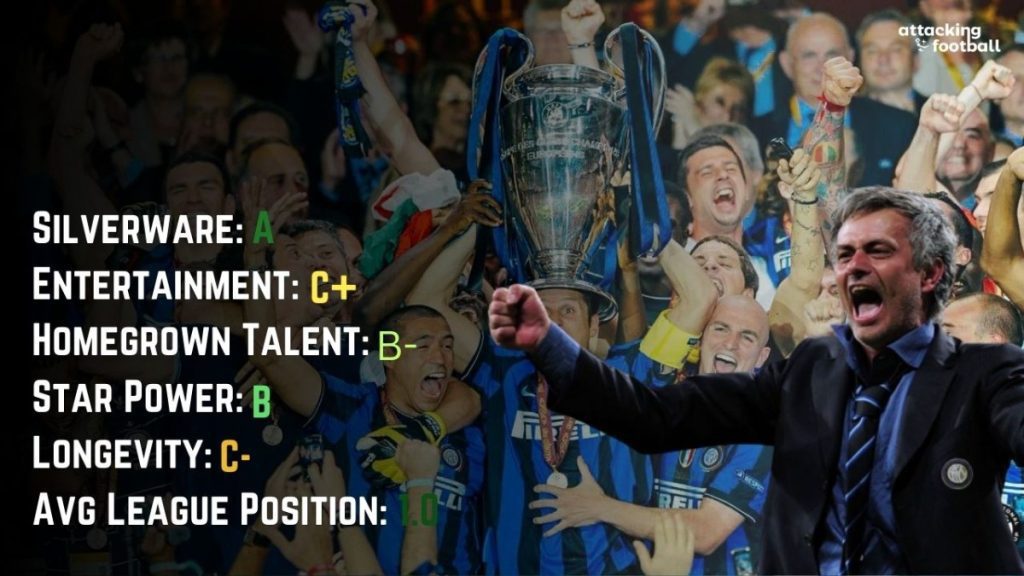 Rising like a scorched peacock from the ashes of his Chelsea tenure, José Mourinho brought all of his dark magic and gritty devices to the blue half of Milan in 2008. At Inter, Mourinho was given the freedom to win by any means necessary and encouraged to play the tetchy football he had patented at Porto and Chelsea. In his first season, he won Serie A and established Inter as the team to beat in Italy.
Following a transformative offseason where Zlatan and Samuel Eto'o swapped clubs and players with defensive weakness or questionable commitment were shipped out (Figo, Adriano, Veira), the Special One tailored a pristinely balanced club built in his own gritty image. Inter showcased a host of dedicated and professional footballers, including captain Javier Zanetti and Ballon d'Or threat attacking midfielder Wesley Sneijder, all focused on one objective: defeating their opponents by a single goal.
Mourinho achieved this and every ambition the club had set, winning a glorious treble before jetting off to Real Madrid before he could sour his amazing triumphs by being himself.
9. Carlo Ancelotti's AC Milan 2003-2007
Noted Accolades: Serie A Champions (04), Champions League Winners (03, 06), Champions League finalists (03, 05, 06), Coppa Italia Winners (03)
Defining Stat: Lost the 2005 Champions League final to Liverpool after taking a 3-0 lead into halftime.
Legends: Cafu, Rui Costa, Gennaro Gattuso, Filippo Inzaghi, Kaká, Paolo Maldini, Alejandro Nesta, Andrea Pirlo, Clarence Seedorf, Andriy Shevchenko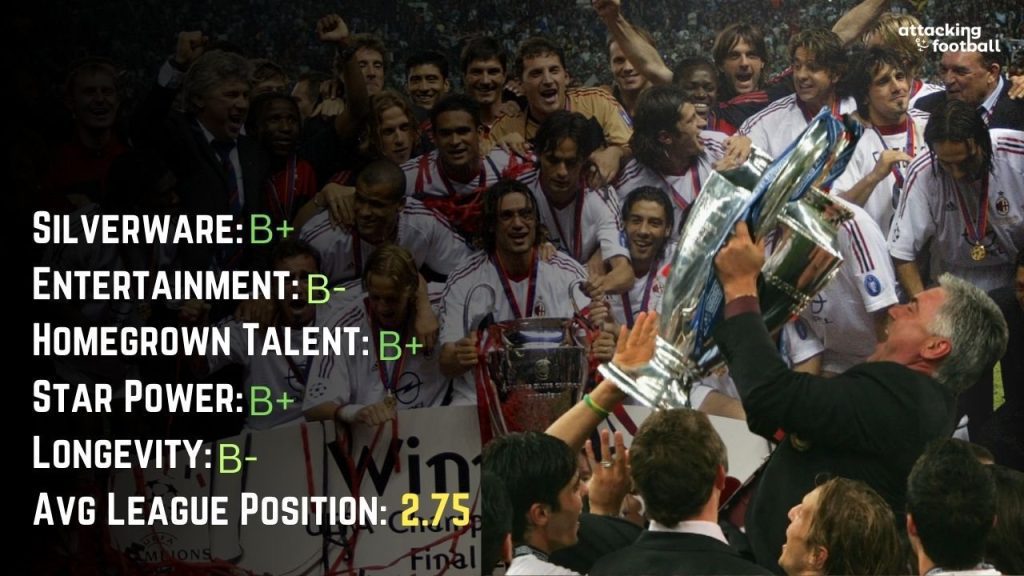 It is a testament to the cruelty of the game of football that Carlo Ancelotti's brilliant AC Milan team of the early 2000s is known for the collapse in Istanbul. It could also be a testament to the understated personality of the man himself, as Ancelotti's method has always appeared to be quiet but impactful. Having played for a superb Milan team in the 1980s, the Italian manager was bred to manage the tactically brilliant stars and set a standard for European success for years to come. While the team itself was not built on pace, their decision-making and intelligence within the contest were marvelous.
The legendary spine of Maldini, Nesta, Gattuso, and Pirlo dictated every progression like the conductors of a grand orchestra. Classic Italian methodical procession met precise movement when the deep playmakers sprayed balls in for the marauding Kaká or Shevchenko, with Inzaghi, one of the game's greatest poachers, always lurking in the half-space. Three-time Champions League finalists but only one-time Serie A winners, Ancelotti's AC Milan always saved their best performances for Europe.
8. Pep Guardiola's Manchester City 2017-2019
Noted Accolades: Premier League Champions (18, 19), FA Cup Winners (19), League Cup Winners (18, 19)
Defining Stats: Premier League record 100 points (18), Premier League record for most goals scored (106; 18), English domestic treble (19), longest consecutive winning streak in Premier League history (18 matches).
Legends: Sergio Agüero, Kevin De Bruyne, Ederson, Vicent Kompany, David Silva, Raheem Sterling, Kyle Walker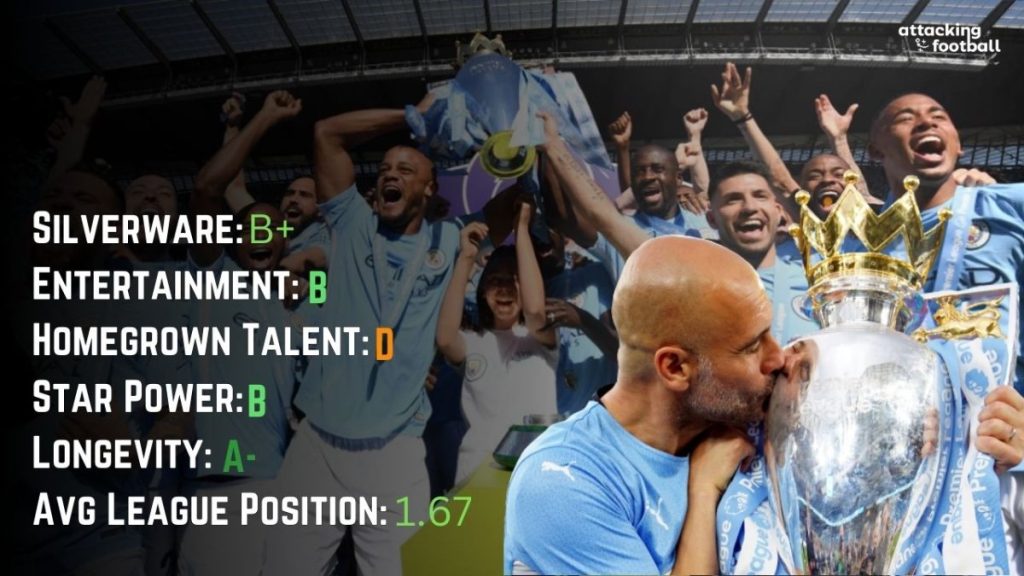 Following a sobering campaign and a distant third-place finish in his first year in the Premier League, Pep Guardiola set his course for a full categoric rebuild of Manchester City Football Club. Controversially funded by the oil state of the United Arab Emirates, Man City broke a multitude of positional and seasonal transfer records, including the most spent for a center back, right back, left back, and goalkeeper, all to the tune of approximately £600 million over three years. Never in the history of the sport had a brilliant manager been given the funds and control to build the exact team he required from top to bottom.
With the quickest and most technical players in the world, Guardiola's playing style mixed Cruyff's attacking fluidity with a devastating Catalonian pressing defensive style, passing teams to death after frantically recovering possession. Pep's plan came to full fruition in 2018 as the Blues steamrolled their way to 100 points in the league and smashed the Premier League goal-scoring record on the way. The following season was a near miss on their own impressive record as City produced a stunning 98-point encore.
However, despite constructing the most dominating seasons in Premier League history, Pep's dream team was astonishingly disappointing in the Champions League, never reaching a final during this period.
That is it for Part 1 of the Greatest Football Teams of All Time. Stay tuned to our Twitter or keep checking the website for Part 2 in the coming week.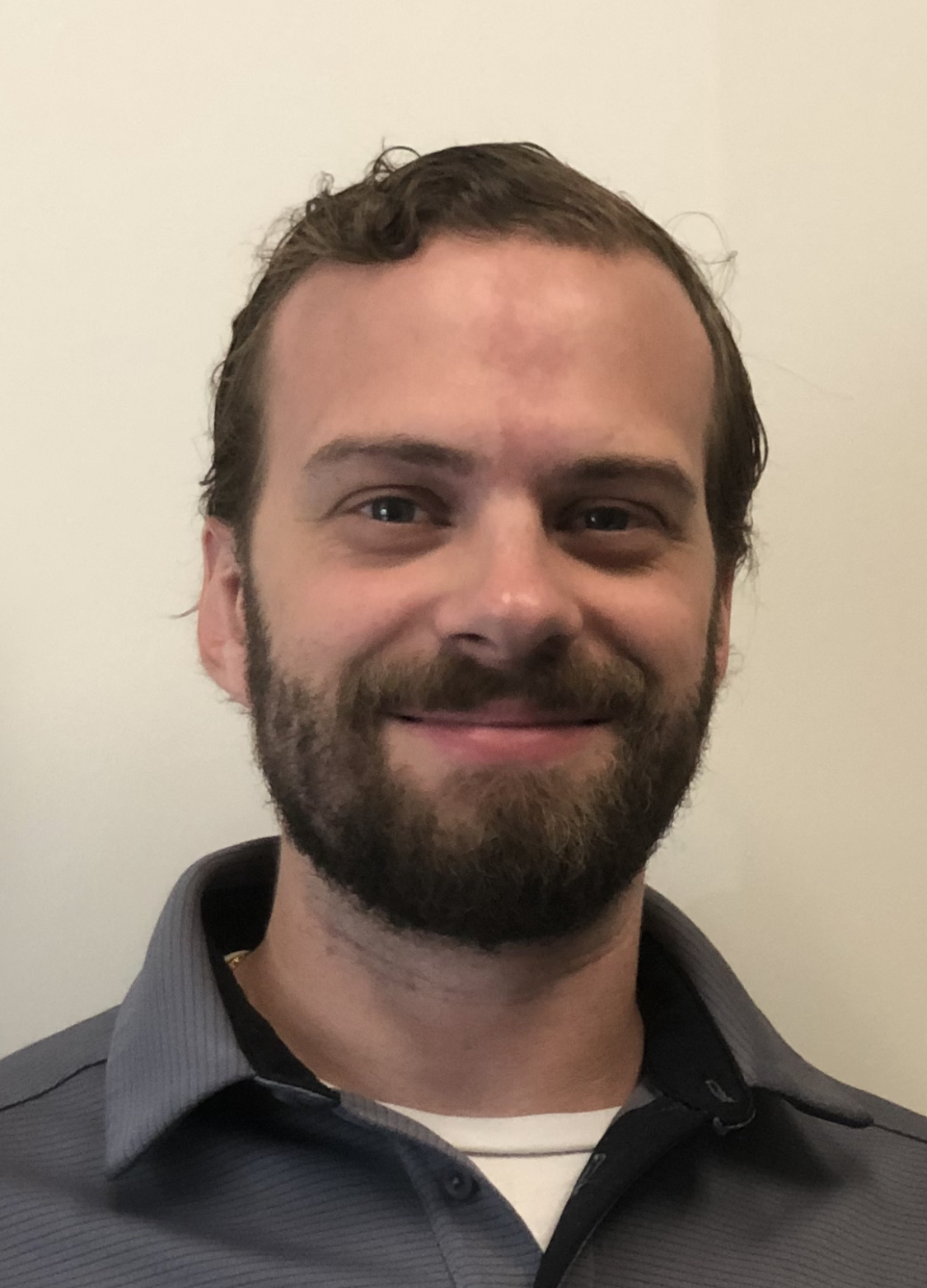 Tom Miller is the host of The 4th Officials EPL Podcast out of Baltimore, USA. You can insult him on Twitter @4thOfficialsPod.