Arsenal won their first major trophy in 3 years after beating treble winners Manchester City on penalties after a 101st minute equaliser from Leandro Trossard, guiding them to the 2023/24 season's first piece of silverware. The gunners went on to breeze the shootout after only 7 penalties taken, as Fabio Vieira's effort was enough to guarantee a 4-1 win for the Londoners. This might be just the Community Shield, but there's a lot that we've learnt from in English football's curtain raiser, and I'll be dissecting them in this article.
The Arsenal Lineup
Arsenal's system largely stayed the same, with a 433 that can dynamically change into a 4231. Three of the new boys all started, with record signing Declan rice coming in for former vice captain Granit Xhaka, Kai Havertz in for the injured Gabriel Jesus, and Jurrien Timber coming in for Alex Zinchenko. This meant that we didn't see the £65 million signing from Chelsea in his new LCM position that we expected and saw in preseason, with Rice assigned to the mezzala role instead.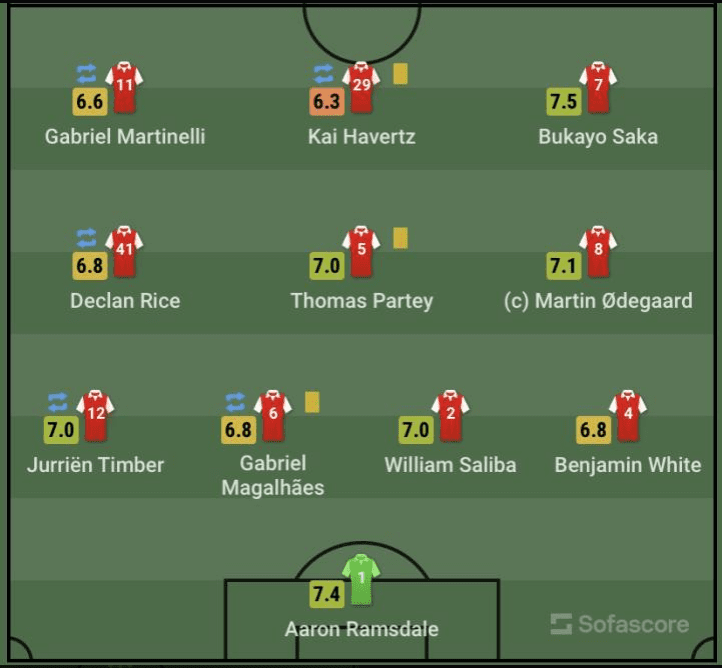 Match Summary
First Half
Manchester City started on the front foot and dominated the game in the first 20 minutes. In this period, it looked like history was going to repeat itself, as Arsenal has only won 1 game in their last 20 against the Citizens. Rodri's long range deflected attempt 14 minutes in came closest to troubling the Arsenal goal, as chances were hard to come by for Guardiola's side, despite keeping all the possession.
However, the red corner picked things up from there, leading to a big chance in the 25th minute, as William Saliba's through ball found the marauding Ben White. The right-back took it around Manu Akanji, before slipping in Kai Havertz who turned and shot with his left. Said attempt was saved by Stefan Ortega, as the rebound dropped to Gabriel Martinelli, whose shot was blocked by John Stones. Another big chance was to fall the Gunners' way. Martin Odegaard's through ball found Bukayo Saka down Akanji's flank; the winger cut it back to Havertz who shot straight at the City keeper again. The half ended with momentum on Arsenal's side.
Second Half
Play restarted as Pep's men regained confidence, with a 52nd minute header from Stones via a corner saved by Ramsdale. The breakthrough came when substitute Kieran Tierney's failed clearance was intercepted by a Kevin De Bruyne header, and academy product Cole Palmer curled a lovely, Riyadh Mahrez-esque finesse shot into the back of the net. City had the lead 77 minutes in. The treble winners had the chance to put the game to bed, as Phil Foden had a 1-on-1 chance saved by the Arsenal keeper's instep. And another in short notice after Rodri's near post header was saved by Ramsdale again.
Several low xG shots later, Arteta's men's chances looked bleak, before winning a corner after the clock hit three digits due to a long head injury. Following a clearance, Saka laid it off to super-sub Leandro Trossard, who fake crossed onto his left foot for a shot, before two fortunate deflections that guided the ball into the back of Ortega's net in the 11th minute of additional time.
Penalty Shootout
Penalties arrived, as captain Odegaard stepped up and slotted it home. City's skipper however, hit the crossbar from 12 yards, leaving the Londoners in the lead after the first takers. Both Trossard and Silva tucked theirs away, and so did Saka. Rodri was next up, and his poor attempt was the first and was to be the only shot saved in the shootout. Fabio Vieira then stepped up to the task and struck an unsaveable penalty into the top left corner, winning Arsenal the game and the first piece of silverware of the 2023/24 season.
The New Boys
Three new signings made their professional debuts for Arsenal in the Shield, and we'll be looking into and rating their performances here.
Kai Havertz – 6
Not the best debut for the German, although not completely disastrous. Just mostly confirming what we've already seen from his time at Chelsea. There were definitely positives, such as his hold up play. The German won 4/4 aerial duels, and some of his first touches were filthy. However, the glaring problem about playing him as a number 9 is still very much there. Havertz missed 2 big chances, with both shots going straight at Stefan Ortega. On the bright side, it highlights his good positioning, but also very obviously displaying his poor finishing. We'll see in the future what he does in central midfield, and whether he'll continue his impressive preseason form in that position.
Declan Rice – 7
Not necessarily a compilation worthy performance for the star signing, but he looked pretty solid. One thing is we saw him in very attacking positions, like we did with Xhaka. Which might be a little new for some fans, as he plays a very deep pivot in England games. Despite that, a lot of us will know about his attacking prowess and technical abilities, so it's lovely to see them put into good use. Of course, his defensive performance was impressive as usual. One massive block against Rodri, and a brilliant recovery against Bernardo Silva that got the crowd going. A solid seven from me.
Jurrien Timber – 8.5
Now, where do I start with this man. His start was a little shaky, on the back foot against one of the best dribblers in the world in Bernardo Silva. And his unfortunate misplaced pass being his last kick of the game before being subbed off. Nevertheless, the rest of his performance was exceptional. For a natural CB/RB, his runs and link up play down the left was brilliant.
We also got to see his defensive expertise with his interceptions and recoveries, as well as his big block on Palmer's first attempt. The most impressive thing though, was his possession game. He looked calm and collected on the ball, with confident touches and passes. Even though he was in a less-favoured position, he's already showing signs of an excellent modern-day defender on his debut. Great performance, 8.5/10.
The Familiar Faces
After hefty talks about the new signings, less talk about the boys who continued on with us from last season. We largely saw the same things with centre-back partners Gabi-Wilo still as brilliant as ever. Starboy Saka still direct and threatening, and our captain Odegaard, wow. Making football look simple as usual, you just have to enjoy and admire. One criticism is Kieran Tierney, who was below par today, nowhere near the best we've seen him in an Arsenal shirt. It doesn't seem like he's an Arteta-type fullback at all.
Speaking of the boss, he was booked again today after a clash with the officials. Squad depth is still a little bit of a problem, with us only using four subs of the possible six, which were all of our attackers. Of course, that number will become six when Gabriel Jesus and Reiss Nelson come back from injury. There's much to improve, but going toe-to-toe with the treble winners is certainly not an easy feat. I'd even argue that we were slightly better, and of course, we also won the game.
Explaining Additional Time
The game was played with an extra 12 and a half minutes added before the final whistle that took it to penalties, despite not having many clear stoppages in normal time. Why is that the case? Well, it seems we've implemented a technology similar to the FIFA World Cup that gets a more accurate time that was lost in the second half.
That most likely was the explanation for the +8 on the 4th official's board. But what about the rest of it? The answer is simple. Thomas Partey and Kyle Walker had a clash of head that required a six-minute-long treatment from the 91st minute that saw the referee add another six on. Trossard's goal prompted that final 30 seconds. I hope that cleared up the confusion with the drama.
Conclusion
The curtain raiser certainly taught us a lot of things about the new season, which will be up underway on Saturday 13th August 2023 at 12.30UK for Arsenal, with a home game against Nottingham Forest. We've learnt about our new players and how they potentially fit into the system. The positives and negatives of the players, and maybe even a new stoppage time rule. The performance was promising, but we have to learn from our mistakes and the potential will follow. It's a long season ahead, but one thing we do know is…
WE'VE FINALLY BEATEN MANCHESTER CITY :DDDDDD