Newcastle United has undoubtedly been the story of the 2022/23 Premier League season. Following an emphatic 4-1 win against Brighton at St. James' Park, Eddie Howe and Newcastle United look destined to finish inside the Top Four. Opta says they have a 94% chance of finishing in the top four for the first time in 20 years.
Howe's hiring came when Newcastle United sat 19th after eleven game weeks. Their Premier League future looked uncertain 18 months ago. Under Steve Bruce this season, they did not win a game.
On October 20, 2021, Bruce left Newcastle. This was 13 days after the finalisation of the $305 million Saudi Arabian acquisition of the club.
Eddie Howe's Flexibility & Dynamism
Howe had "incredibly impressed" Newcastle co-owner Amanda Staveley. She called Howe a "passionate" and "dynamic" coach continuing that "he is a great fit for what we are trying to build here."
In one of Howe's first games in charge, he would stumble upon an unlikely mainstay in his future sides, a decision that would be a true showing of his dynamism as a coach. In a 1-1 draw at home against Norwich City, Ciaran Clark would receive a red card in the 9th minute of the game.
Former Bundesliga Striker, Joelinton was signed for £40m as Steve Bruce's first signing in charge. The Brazilian had registered just 7 goals in his first 66 appearances for Newcastle. Joelinton looked certain to go down as one of the worst transfers in the club's history.
However, the early red card forced an early tactical tweak which resulted in Joelinton playing as a central midfielder in a 4-3-2 formation. He had a spectacular performance playing out of position. As per WhoScored, nobody in a Newcastle shirt made more tackles and interceptions in the match.
Joelinton would go on to play the most minutes (2,046) of any Newcastle player for the rest of this season and remains a key player in Eddie Howe's system to this day as a box-to-box midfielder.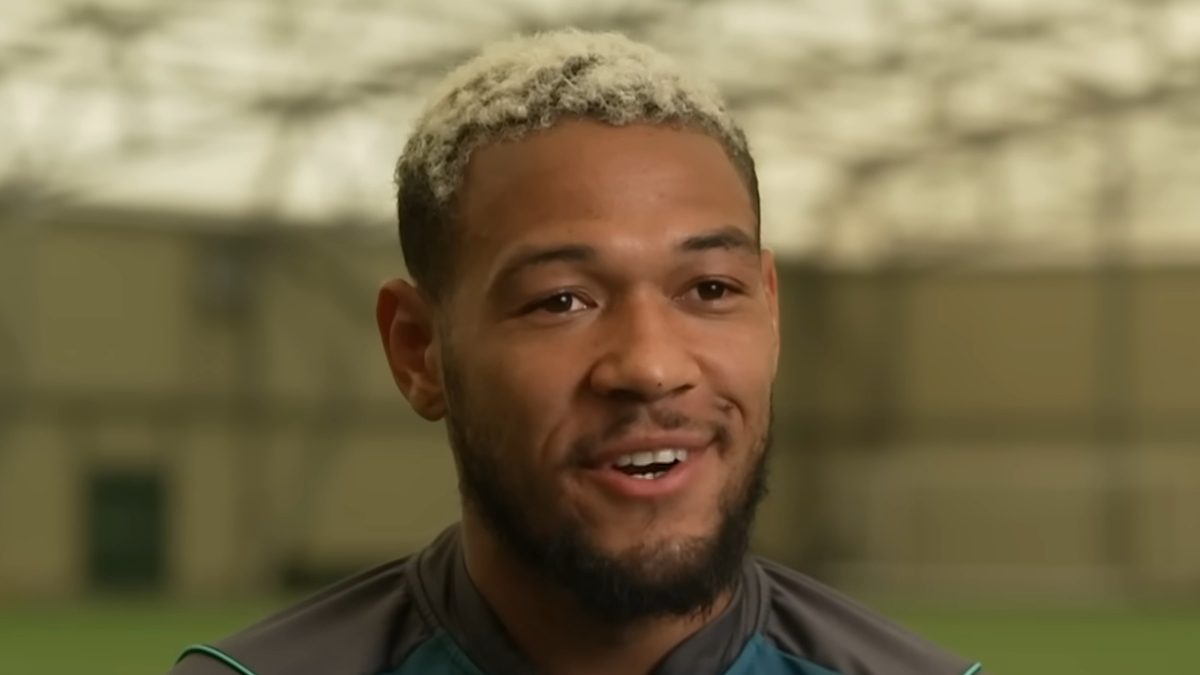 Howe's Defensive Transformation
When Eddie Howe was at Bournemouth, he gained a reputation for playing an attractive and attacking style, but The Cherries would often concede too many goals. This made people question his ability to manage a top side.
In the calendar year of 2021, Newcastle conceded 80 goals, a new record low. From January to June 2022, Newcastle would only concede 20 premier league goals. This gave them the 5th best defensive record in the league.
Eddie Howe built upon this assured defence and went on to win 66% of the remaining 12 games. This solid defensive record kept Newcastle up, and they avoided relegation with ease.
No other team in history has ever stayed up after not winning a game in the first 14 matches of the season.
In the 2022/23 season, Eddie Howe's Newcastle would go on to have the best defensive record in the league. Conceding only 0.9 goals per match, joint with Manchester City.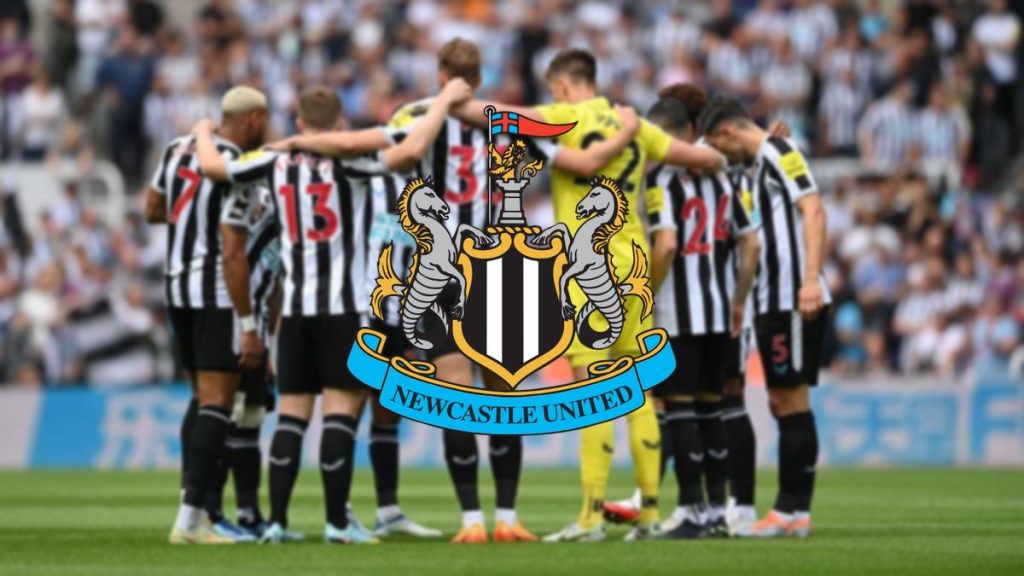 Newcastle United's Recruitment
Eddie Howe must take a large majority of the credit for Newcastle's transformation during his time at the club. While all his great work has been backed by the ownership's recruitment structure, there is no club that has a 100% record when signing players, yet Newcastle United have been very clever in their business.
Signings like Bruno Guimarães, Nick Pope, and Kieran Trippier for a combined £60M stand out as excellent pieces of business. Yet, the standout signing of Eddie Howe's era so far arrived last summer.
23-year-old Swedish striker Alexander Isak signed for Newcastle from Real Sociedad for a reported £60M in August 2022. It was looking like Isak would join Arsenal before making the move to the North-East of England.
Alexander Isak has been one of The Magpies' most influential players to watch this season. He's the caliber of player that gets you off your seat. His technical ability is superb, and he possesses the skillset of a complete striker.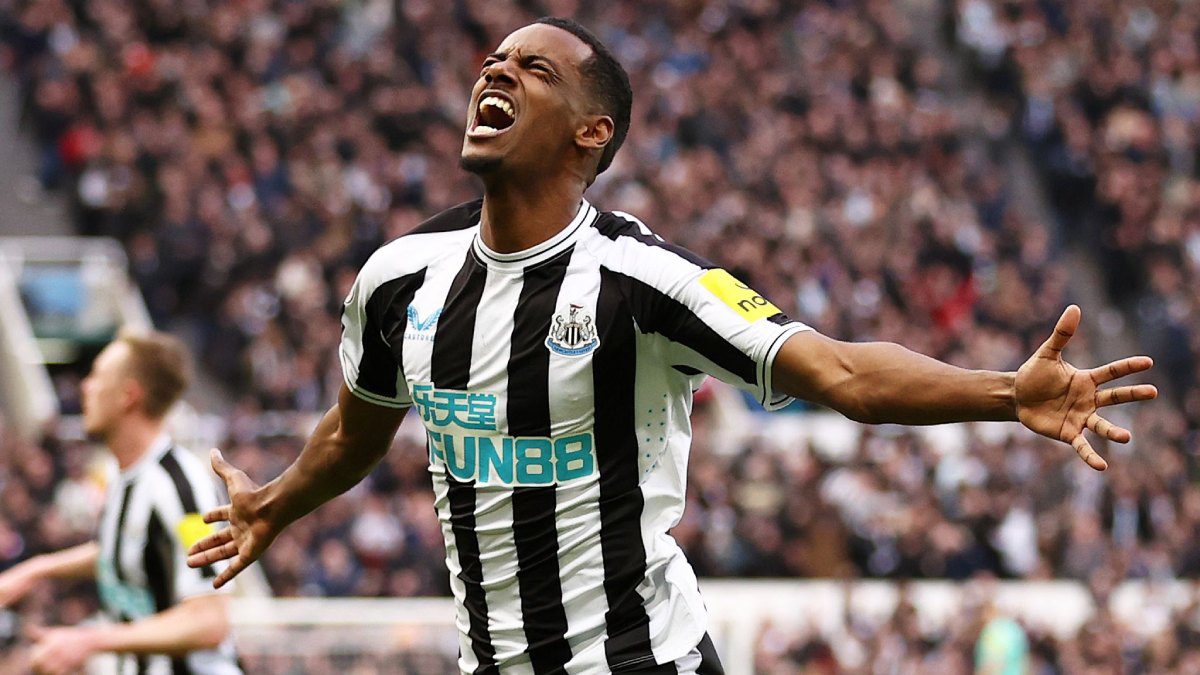 The former Real Sociedad man displays outstanding close control in tight spaces as well as the ability to transfer the ball in various directions with ease. This is also evident in some of his one-on-one encounters. The Swede has no issues switching possession from one side of his body to the other.
Isak's elite close control is also complimented by his tall, slightly lanky build, which makes him such a unique player to defend against. As the season has gone on, people have begun to compare him to a fellow wearer of the #14 shirt, Thierry Henry.
Following his contender for the assist of the season, away at Goodison Park, Eddie Howe was asked about the similarity between the two's style of play.
"Everyone is different, there are no two players that are the same, but I do think he has some of the characteristics Thierry had."

Eddie Howe via BBC Sport
Alexander Isak has scored 10 goals in the Premier League this season whilst also dealing with injuries. He is averaging a goal every 135 minutes, the 6th highest in the league this season.
When it comes to Newcastle's attack, Isak has struck up a great partnership with Callum Wilson. Isak is being deployed to play as a Left-Winger to accommodate for Wilson. Callum Wilson is 2nd in the league for goals per 90 this season, only behind Erling Haaland of Manchester City.
Eddie Howe sets up in a 4-3-3/4-5-1 at Newcastle United. Newcastle's initial press is extremely high and aggressive, with tight spacing between each line. The Newcastle defenders will continue to move their line of engagement to chase deep runners.
Read More: How Pep Guardiola is Conquering Football with a Century-Old Tactic
Newcastle's Tactical Setup
Eddie Howe sets up in a 4-3-3 or a 4-5-1 at Newcastle United. Newcastle's initial press is extremely high and aggressive, with tight spacing between each line. The Newcastle defenders will continue to move their line of engagement to chase deep runners.
In Howe's 4-3-3, Bruno Guimarães acts as the lone pivot and can drop into the back line or create a two-man block during the build-up. When this occurs, Newcastle shifts to a makeshift back three of Dan Burn, Fabian Schär, and Sven Botman, with Trippier assuming an offensive role from right-back.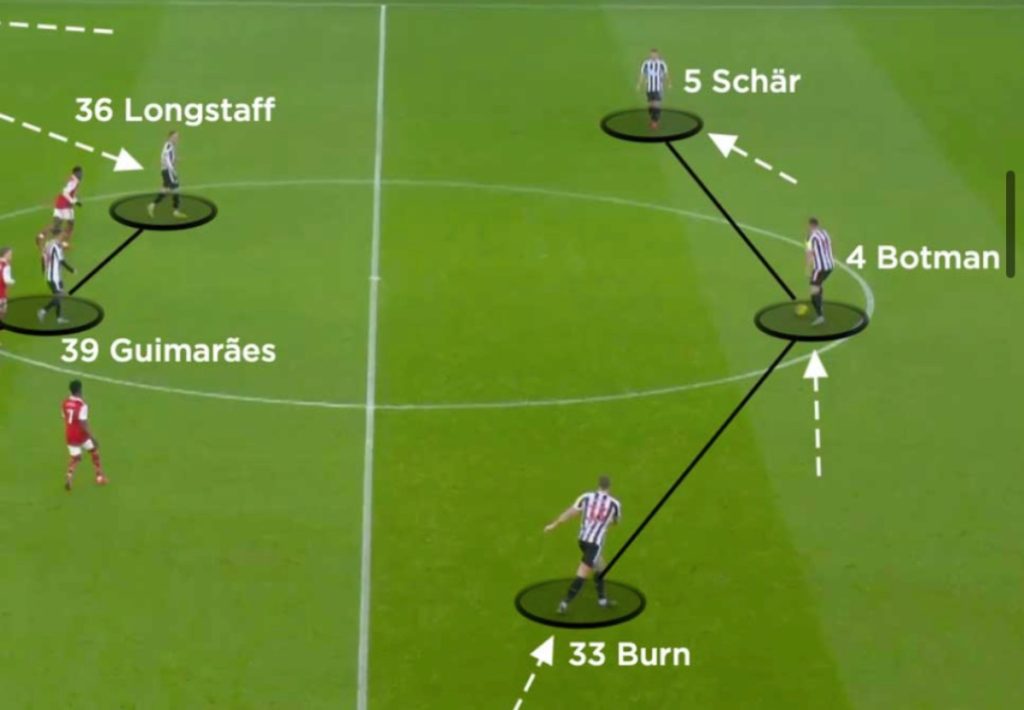 When Newcastle press, they try to move their opponents' play toward the touchline so that the two aggressive wide players, typically Miguel Almirón, Alexander Isak, or Joelinton, can pursue the ball carrier and try to win it back.
If the opponent commits their own full-backs high up the pitch, Newcastle is left with two-on-two confrontations in the wide areas, but they have shown they can handle such circumstances.
The central midfielders are visibly high up the pitch on the left wing to the left-half-spaces, often combining, which compliments Newcastle's goal to keep Dan Burn inactive in the offensive phases.
Kieran Trippier can be more daring since Miguel Almirón likes to cut inside on the left foot. This gives him the freedom to go up the pitch if he so chooses.
Whether it's Alexander Isak' or Miguel Almirón, there's a definite effort to isolate Newcastle's wide players in 1v1 situations and then use variants of wide overloads to assist their danger men to produce magic and get into the box. Meanwhile, Callum Wilson is looking to pounce in the penalty box.
Eddie Howe At Newcastle
This season from Newcastle United has been a huge achievement. Nobody expected them to break into the Top Six, never mind the Top Four. They also look likely to finish 3rd, given their largely superior goal difference over Manchester United.
There's no hiding from the fact that the Saudi Arabian takeover has massively aided Eddie Howe and his Newcastle project. But the job Howe has done, with a very similar group of players who were battling relegation 18 months ago with Steve Bruce, has been unbelievable.
Joelinton, Almirón, Longstaff, Wilson, and Schär were at the club before Eddie Howe took over. The increase in performances and attitudes from these five has been unbelievable to watch.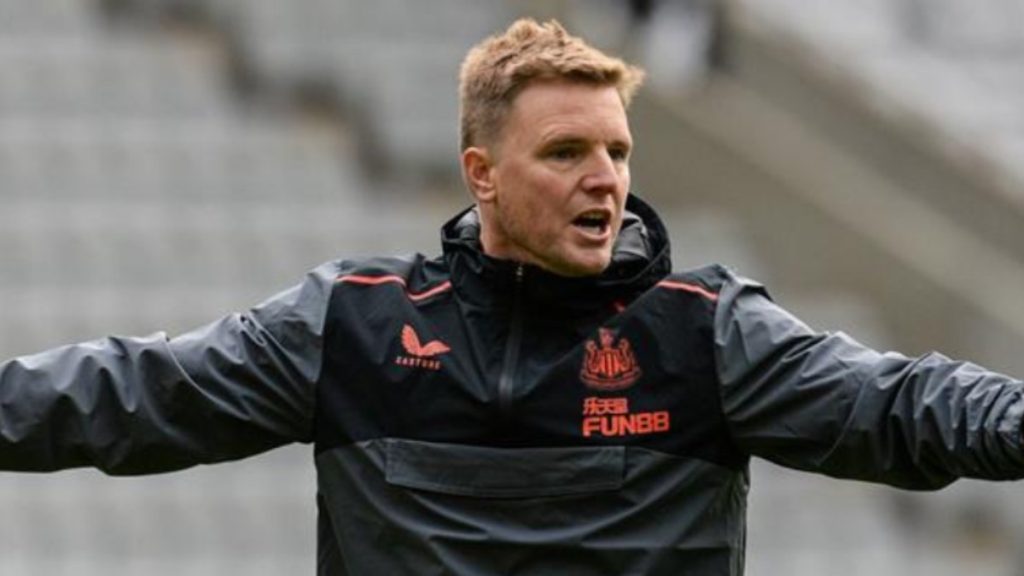 This Newcastle team is special and nearly wrote their names in history as they played in the EFL Cup final. They narrowly fell short to a Manchester United side 2-0, having to play a third-choice keeper through suspensions.
Neutral fans will be heavily looking forward to how this side develops. The Premier League is a much better product, with Newcastle competing at these heights. In a heavily contested year, Eddie Howe has a legitimate claim for Premier League Manager of the Season. Eddie Howe should be celebrated for such a fantastic job, especially as an English coach.
Monday Night could be a sight to behold if Newcastle United doesn't lose to 19th-placed Leicester City at home. This result will bring back Champions League football to St. James' Park for the 1st time in 20 years.
Talk about football, Lover of the game.