Gameweek 1 of the 2023/24 season of FPL came showering with points as the average score reached 64. The majority of the template picks justified their selection by repaying managers with returns while some who didn't return showed promising signs with strong underlying numbers.
Though it is ideal to roll the free transfer in GW2 to have better flexibility in GW3, it would be naïve not to address an issue that requires attention. In this article, I discuss the players that you should consider for your teams in GW2 keeping in mind the future game weeks. I will continue the series throughout the season so do check out Attacking Football every week before the FPL deadline!
THE DEFENDERS 
Judging by the past couple of seasons, Gabriel seemed the most nailed player in that Arsenal backline but FPL managers were in for a surprise when he was dropped from the starting XI after starting 73 consecutive matches in the league, which Mikel Arteta deemed as tactical. There were a fair few FPL managers starting with the likes of Timber and Mings, can consider themselves unlucky as both are set for a fairly long spell on the sidelines with injuries. I look at the replacements at different price points.
Ben Chilwell/Reece James (Chelsea, £5.6 million/£5.5 million)
Chelsea showed promising signs in their opening fixture against Liverpool, after an underwhelming 2022/23 campaign, and their full-backs seemed to be back to their attacking best. We can expect both Chilwell and James to be very attacking and have the potential to make a mockery of their price tags. Chilwell registered an xG of 0.11 and an xA of 0.23 while James generated an xG of 0.03 and an xA of 0.42.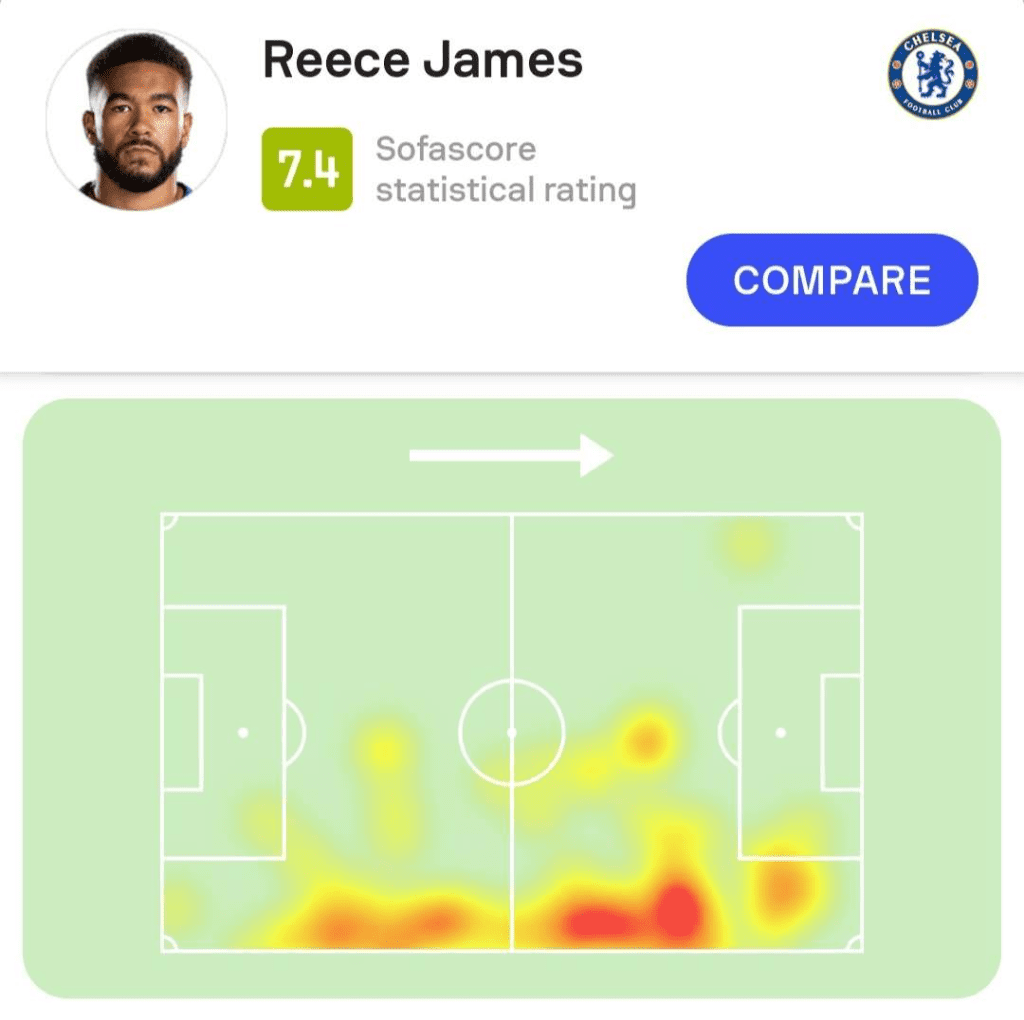 Chilwell stayed stationed at the left wing position and frequently found himself in goal-scoring positions. He also had a goal disallowed to a close offside call while James looked threatening with many key passes.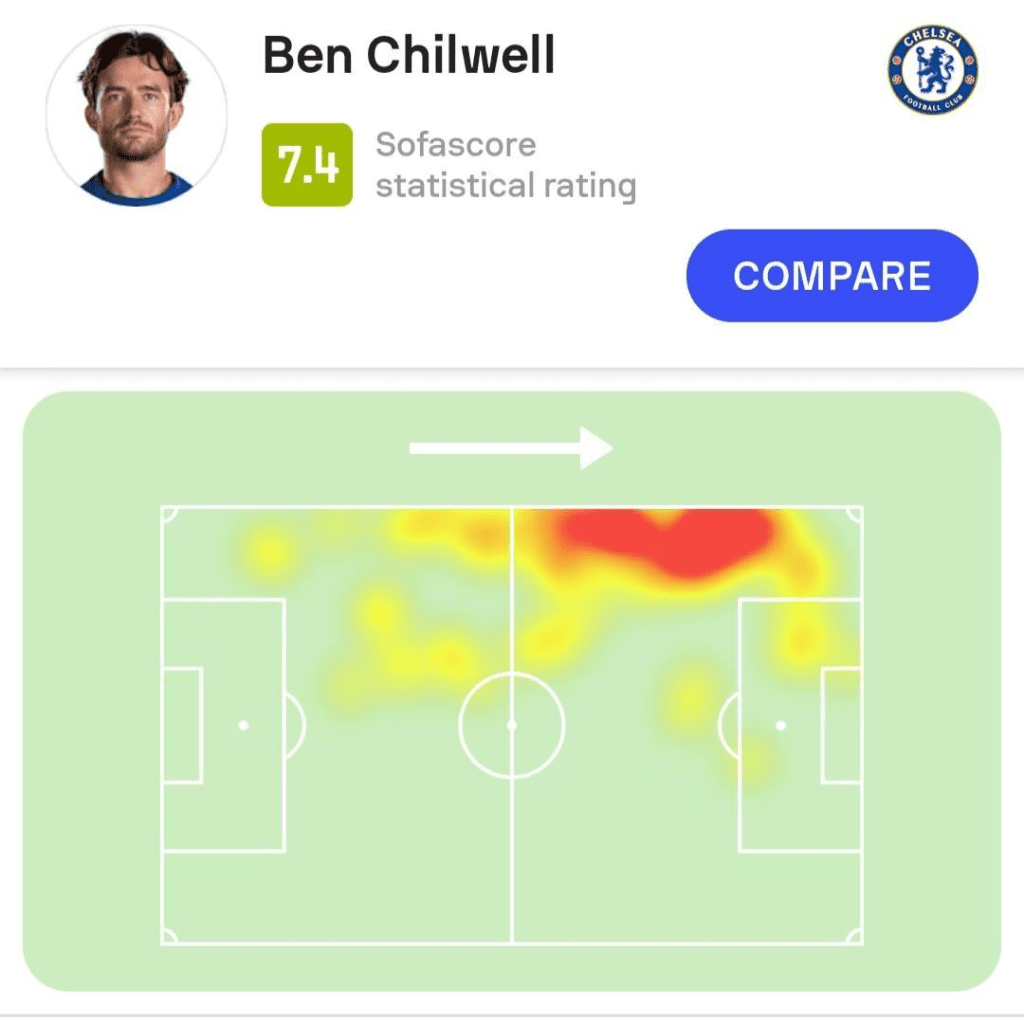 While West Ham (away) isn't an ideal fixture in terms of a clean sheet, the fixtures from GW3 to GW8 for Chelsea are one of the best if not the best in the league. Drafthound predicts 4.6 points for Chilwell and 4.2 points for James in GW2. 
Rico Henry (Brentford, £4.5 million) 
Brentford has a very favourable run of fixtures from GW2 with the Spurs fixture out of the way, starting with Fulham (away), Palace (home), Bournemouth (home), Newcastle (away), Everton (home), Forest (away), Manchester United (away) and Burnley (home). In the Spurs game, Henry grabbed an assist with an xGI of 0.74. His price tag makes him an option whom you would not feel uncomfortable benching in those tougher games away at Newcastle and Manchester United. In my opinion, he is the best option for this price point up until GW9. Drafthound predicts 3.5 points for him in GW2 with 18.4 points over the next five game weeks. Henry allows you to upgrade other areas of your squad.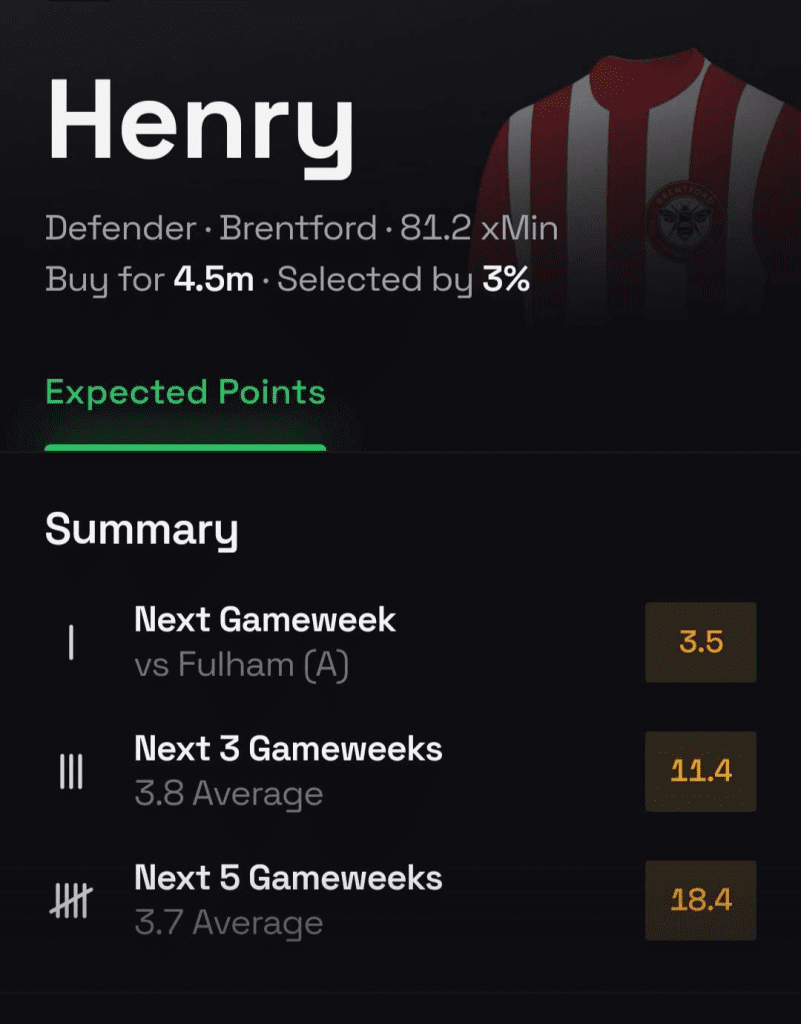 THE MIDFIELDERS 
Unless you own Kevin De Bruyne who is out injured till December, your team probably doesn't need a transfer in midfield. I would keep hold of Rashford, Bruno, Richarlison, and Eze despite their blanks in GW1. While the love for Rodri among FPL managers is understandable owing to his double-digit haul, it is not ideal blocking up a precious midfield spot with a player who is unlikely to keep up with the points return. I look at a couple of replacements for Kevin if you're looking to move him on. 
Mohamed Salah (Liverpool, £12.5 million)
If you are one of those FPL managers who started with Kevin De Bruyne and kept money in the bank to upgrade to Salah in GW2, that's a pretty straightforward move. I would probably even take a hit to bring in Salah if I am selling Kevin to captain him against Bournemouth. Salah could have matched Haaland's GW1 score had his goal not been chalked out offside marginally. According to Drafthound, Liverpool has 58% odds of scoring two or more goals with Manchester City at a distant second with odds of 33%. Mohamed Salah also tops the chart for any time scoring odds with 55% and has the highest expected points according to Drafthound's predictive model at 7.4 expected points. On penalties, Salah is not only a superb pick but also the best captaincy option going into GW2.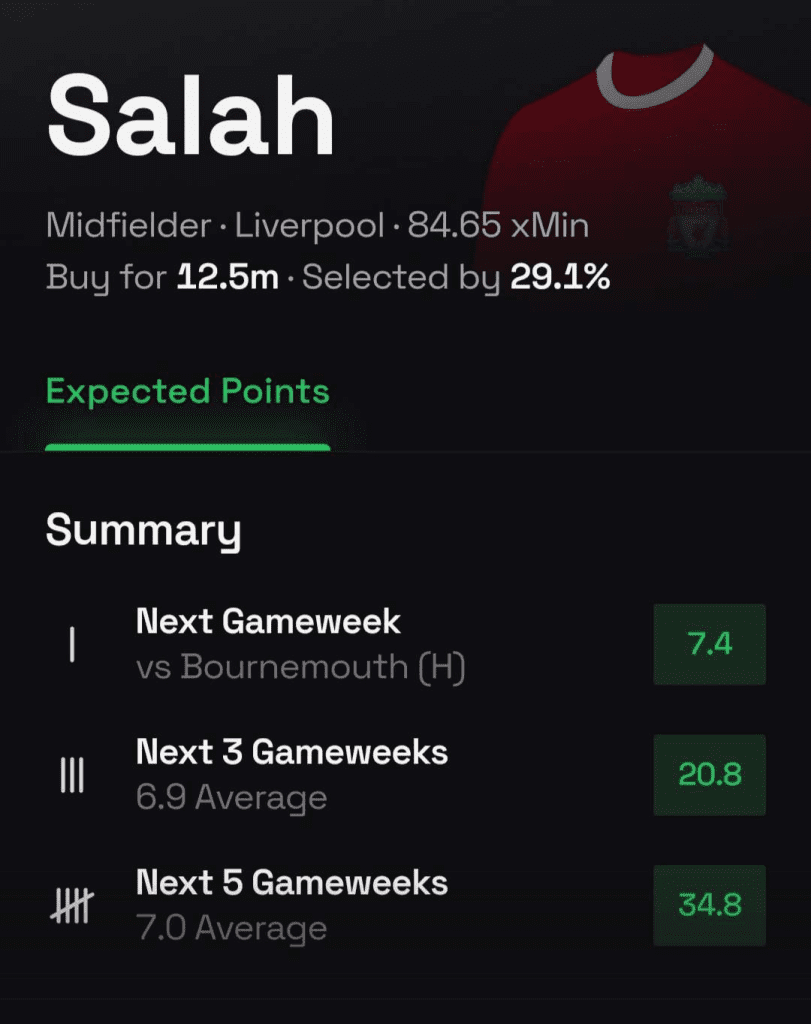 James Maddison (Spurs, £7.5 million) 
With an xGI of 1.01 in GW1 against Brentford, Maddison is the heart of that new-look Spurs side under Ange Postecoglou. He kept switching between the number 8 and the number 10 role and seemed to be involved in every Spurs attack. He's got more avenues for points as he is on free kicks and corner kicks as well. While the fixture against Manchester United doesn't look ideal on paper, Wolves racking up an xG of 2.27 against them at Old Trafford, is an encouraging sign. The fixtures after Manchester United (home) read Bournemouth (away), Burnley (away), and Sheffield United (home) which is mouthwatering in itself. Drafthound predicts Maddison to score 4.6 points in GW2 and 23.9 points over the next five game weeks.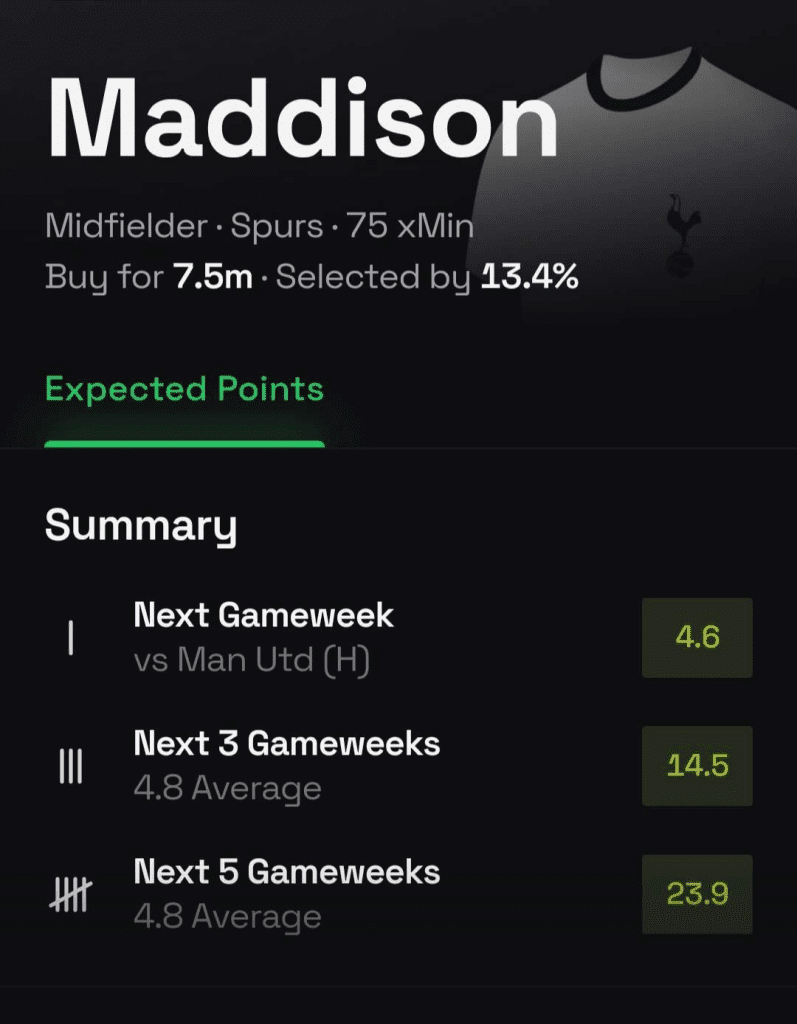 THE FORWARDS
This is a classic case of a game week where we need not make a transfer unless we get news of someone getting injured in the press conferences. I look at a couple of forwards who should be on your watchlist going forward in the future game weeks. 
Nicolas Jackson (Chelsea, £7.0 million) 
15.8% of the FPL managers who own Jackson can consider themselves extremely unlucky with a one-pointer as he registered the highest number of big chances in GW1. As mentioned earlier in the article, Chelsea has an extremely favorable run of fixtures from now until GW8 so we will be looking to bring in an attacker sooner rather than later. Jackson ticks all the boxes unless Chelsea signs another number 9. Drafthound predicts Nicolas Jackson to score 3.7 points vs West Ham and 19.0 points over the next five game weeks. He also has 35% odds of scoring any time ahead of the popular pick of João Pedro who is at 33%.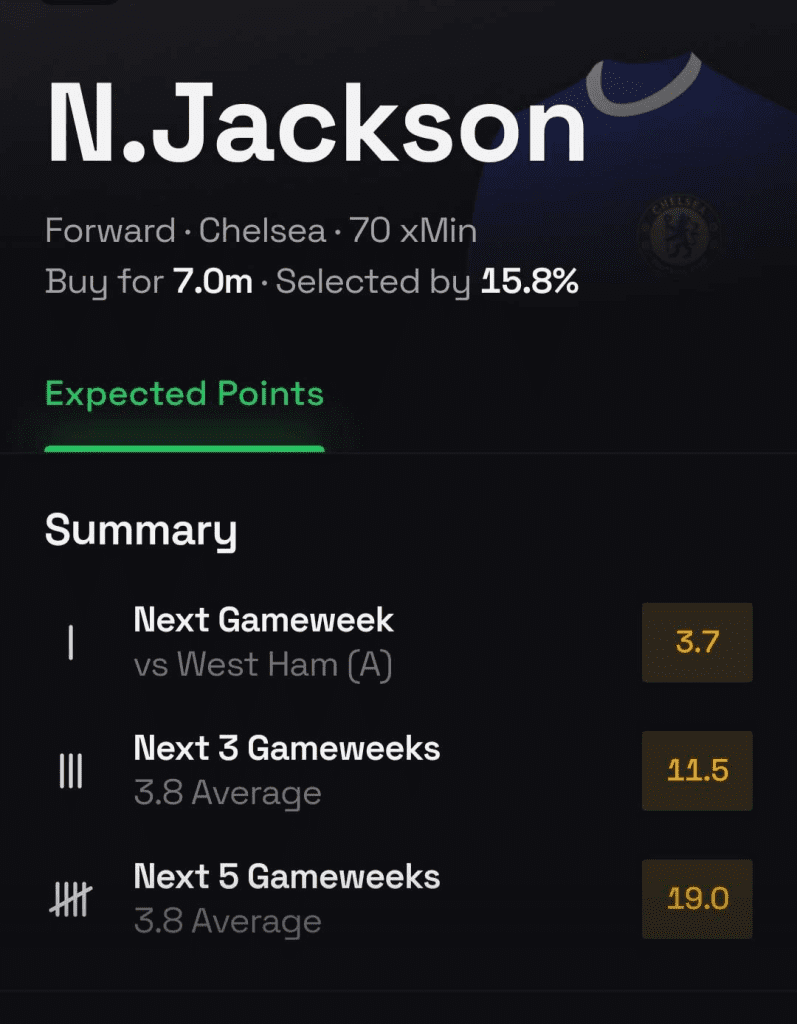 Ollie Watkins (Aston Villa, £8.0 million) 
Even though Villa was blown away by Newcastle in GW1, Watkins managed to return with an assist for Diaby's goal. Usually a 90-minute man, Watkins is on penalties and is expected to tick along nicely throughout the season. The reinforcement in the form of a former AS Roma man Nicolò Zaniolo will only make Villa better going forward and should make Watkins an even better pick. Watkins has 43% odds of scoring against Everton in GW2 with Drafthound projecting him to get 4.8 points this game week and 23.1 points in the next five.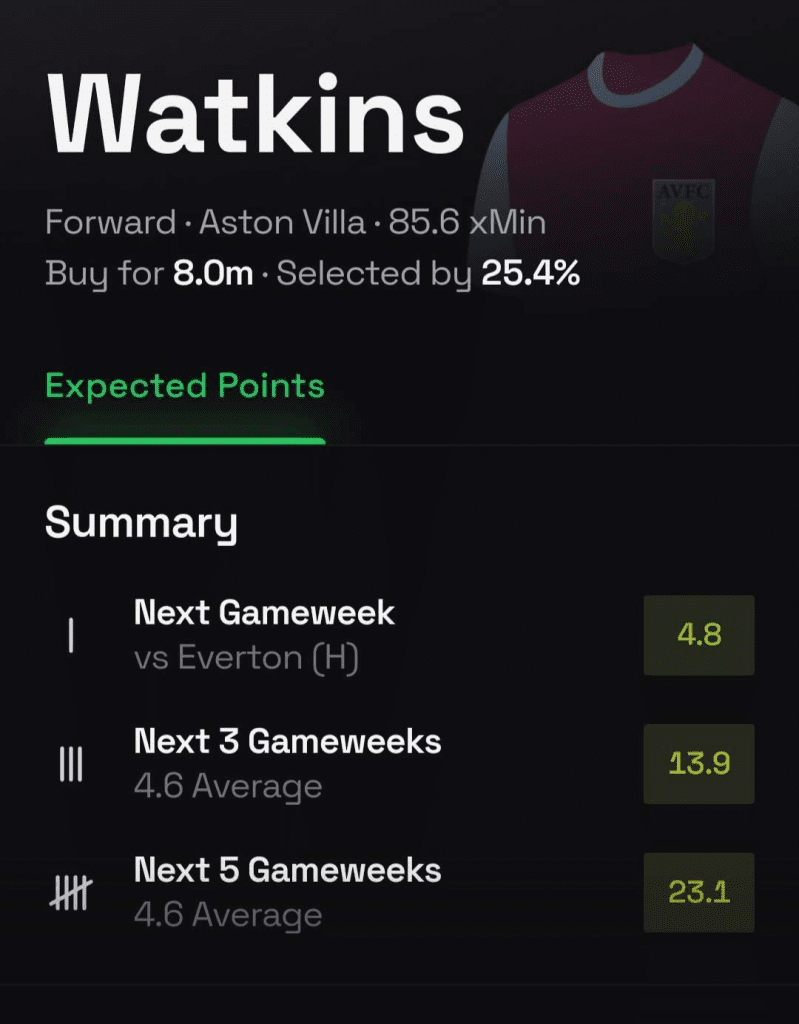 Conclusion
A note of caution for anyone opting for transfers earlier in the week is that Manchester City plays Sevilla on Wednesday night in the UEFA Super Cup in Greece and one should consider the possibility of players getting injured. Making transfers after all the press conferences would be the most sensible decision one can make. 

We have partnered with Drafthound to bring you all the analysis of the fixtures, projected points, bookmakers' odds, and a lot more. For every person that signs up through our link to Drafthound, it helps the website to continue to grow. If you want to access more of such amazing features join the website through the link below:
https://www.drafthound.com/fpl?utm_medium=fpr&via=attackingfootball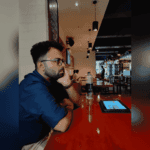 An obsessive planner who is always engrossed in data.
Addicted to FPL.
Specialise in captaincy picks.