The first gameweek of the season has finally passed and it's already ridden with controversy. As Antonio Conte said before the name change, "One regular day of Barclays. Will never happen". However, we have to look forward and move on to the next gameweek, even if it means ignoring a disgustingly obvious penalty not given.🤐
The Gameweek Calendar
All are based on UK time
The deadline will be at 6.15 pm on Friday 18th of August. The first match is a Friday night clash between Nottingham Forest and Sheffield United at the City Ground. All eyes will no doubt be on Matt Turner, who's the engaged managers' designated 4.0 keeper, who'll rotate into most teams having one of the easiest fixtures in the league. You can keep an eye on George Baldock and Morgan Gibbs-White if you're feeling brave and different, the former is back from his minor injury.
Saturday will host an array of fixtures, starting with a triple-header at 3 pm. Salah, Mbeumo, Estupiñan and co. all playing as Fulham hosts Brentford, Brighton travels up to Wolves, and Liverpool hosts Bournemouth in what was a 9-0 fixture last time out. The main headline will be at 5.30, as Manchester United pay a visit to the Tottenham Hotspur Stadium. Plenty to look out for in the "big six" clash. Maddison and Onana are the standouts for either side.
Topping it off at 8 pm with the Champions, City hosting Newcastle. 8 goals scored between the two in gameweek 1, but after their UEFA Super Cup win for the Blues on Wednesday night, their picks might not be so straightforward.
Sunday will see Villa play Everton at 2 pm, and then finish off with 2 London derbies. East meets West at 4.30 where UECL winners West Ham takes on arch-rivals Chelsea. Before Monday 8 pm, as Timber-less Arsenal pays Palace a visit to Selhurst Park to finish off gameweek 2. 9 fixtures as 2 new boys Luton and Burnley blank due to delays on Kenilworth Road's maintenance.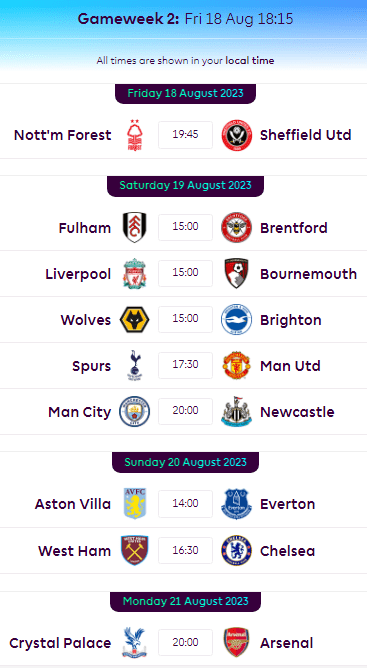 Early News
Disclaimer: This article was written a day before the deadline, so be sure to follow the news on the official FPL site, club sites, and social media platforms such as Twitter (X).
Starting off with the treble-winners, new skipper Kevin De Bruyne suffered a long-term hamstring injury and is expected to be out until December. John Stones suffered an injury in training after the morning after the USC final against Sevilla. Going in the opposite direction is Ruben Dias, who might be back to feature in gameweek 2. Arsenal's Jurrien Timber suffered an ACL tear that will sideline him for quite some time. Tyrone Mings also suffered the same fate, wish a speedy recovery to both defenders. Reece James has injury doubts (again) that will be reassessed. George Baldock is "ok" and will be available for selection on Friday night away in the East Midlands.
Transfer Targets
Normally, people tend to roll the transfer right after a wildcard. With the gameweek 1 draft essentially being one, it would be wise to roll into gameweek 3. "Luxury Transfers" are not recommended.
However, if your team has a major problem, then don't be afraid to use your free transfer this week. If you have one of the players with long-term injuries in your starting XI, or a player who you just realised is out of favour by their managers, you should probably consider making a transfer. Granted you don't have a good bench option. "Rotation Risk" players like Gabriel and Foden are holds for now, as they are great assets with good chances to play, you can assess them and make a more flexible and offensive move in gameweek 3.
The most popular transfer target right now is Ben Chilwell, and rightly so. He had a phenomenal game against Liverpool, taking up what is essentially a winger's position. Appearing in the box, and even scoring putting one in the net before it was flagged offside. With Chelsea's fixtures being absolutely excellent, there's no reason not to go for him. This transfer can wait a week though, and so does every other purchase. Chelsea and Tottenham have brilliant fixture swings from gameweek 3, so Maddison, Udogie, Jackson, and co. should be on your watchlist. Malo Gusto could also emerge as a strong 4.0 option, but it's best to wait and gather information before making this move in gameweek 3.
Captaincy and Dilemmas
The armband is not quite as straightforward as the perma-cap Haaland we've seen. Salah has BOU(H), whilst the Norwegian meat shield has NEW(H). Although the Liverpool star owners might have FoMO about not sticking the sacred (C) on the most popular captain in the game. Mohamed Salah is the best captaincy option in gameweek 2, captain if you own him. Otherwise, normal protocols put it on Haaland.
The biggest Dilemma this week will probably be the keeper situation, with Forest's Turner having SHU(H). I'd start him over the 4 most popular keepers (Pickford, Onana, Johnstone, Flekken). In fact, I'll start him over everyone except Emi Martinez, Ramsdale, and maybe Ederson and Steele.
Author's Team Reveal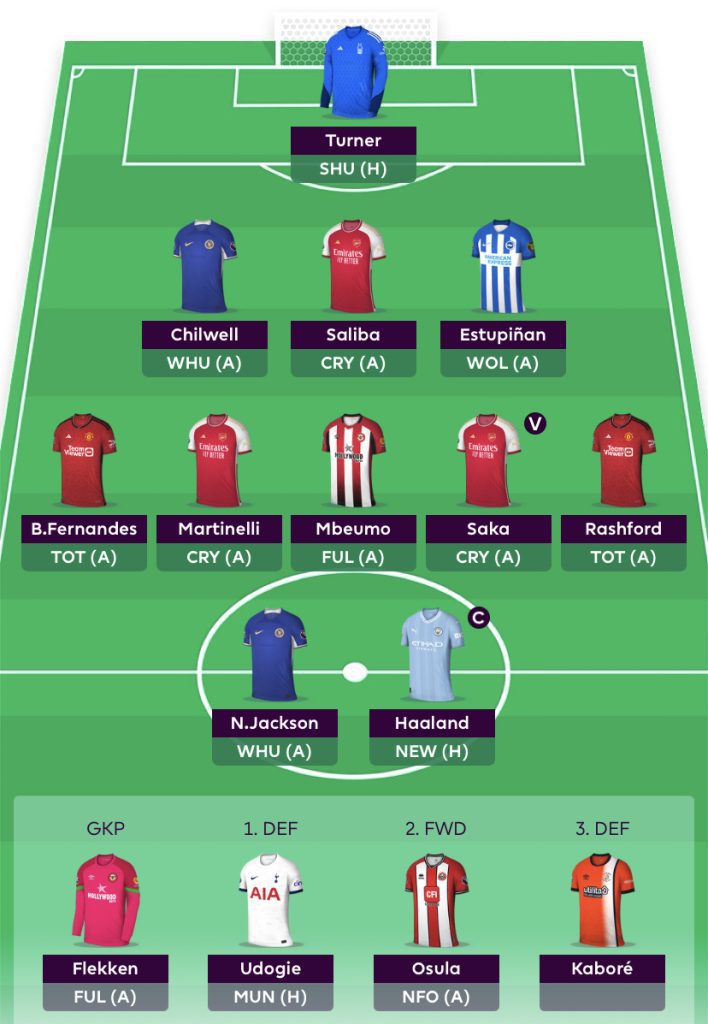 Not the best week at 76 points and hanging at 1.4M. No glaring issues with the team though, unlucky not to get more points. With Nick Jackson (7.0) already in the team, I'm a transfer ahead of everybody else. Looking good in the long run, very happy with the team. Rolling the transfer, a no-brainer.
Final Thoughts
Early deadline at 6.15 pm on Friday 18th. Captain Salah if you own him, if not, don't transfer, Captain Haaland. Chilwell is the priority transfer, target him if you have any defensive problems. Keep an eye on Chelsea and Tottenham players, but roll the transfer if you can. Start Turner unless you have a differential keeper with a good fixture. And good luck to everyone for gameweek 2!