The Gameweek 1 deadline is a couple of weeks away, and our final Gameweek 1 Draft is slowly starting to take shape. It would be ludicrous to claim this draft would exactly be my final one with us getting new information about the teams with each passing day. The transfer window being open, holds the potential to throw a spanner in the works. In this article, I share my latest FPL draft and the reasoning behind the selection of the players. I will share my final Fantasy Premier League draft closer to the deadline on the Attacking Football website.
We have also partnered with Drafthound this season to provide you with the expected points of our teams and to help you when picking your best team. For every person that signs up through our link to Drafthound, it helps the website to continue to grow. Please join the website through our link below:
LINK BELOW IS NOW HERE ON THE SAME LINE
THE GOALKEEPERS

Kepa Arrizabalaga (Chelsea, £5.0 million, 1.8% selected)
The opening fixture vs Liverpool is potentially putting off FPL managers from selecting Kepa in their teams which reflects his very low ownership. But the fixture run after that till Gameweek 9 is one of the best: WHU(A), LUT(H), NFO(H), BOU(A), AVL(H), FUL(A), BUR(A). Post Gameweek 9, we will be looking to use our first wildcard and hop off our Chelsea assets. According to Drafthound, Chelsea is fifth in Gameweek 2, second in Gameweek 3 and 4, and fifth in Gameweek 5 in terms of the clean sheet odds. With Moisés Caicedo potentially joining Chelsea, it would only boost their clean sheet potential.

Alphonse Areola (West Ham, £4.0 million, 30.6% selected)
Areola is potentially set to become the first-choice keeper at West Ham this season replacing the 38-year-old Lukasz Fabianski. Mostly sitting on the bench, coming on if need be, Areola is a no-brainer for our FPL teams at that price. If he starts he could end up in a lot more of people's FPL 23/24 draft's.
THE DEFENDERS


Gabriel (Arsenal, £5.0 million, 19.6% selected)
Arsenal's opening run of fixtures is amazing both from an attacking and defensive point of view. According to Drafthound, Arsenal has 53% odds for a clean sheet in Gameweek 1 and 39% (third), 40% (third), 36% (sixth), and 43% (second) in Gameweek 2, 3, 4, and 5 respectively. A constant goal threat from set pieces, Gabriel had an xG (Expected Goal) of 5.04 last season as a defender. He faces NFO, CRY, and FUL in the first 3 game weeks who were 19th, 17th, and 16th respectively in terms of chances conceded from set pieces. Drafthound predicts 20.6 expected points for Gabriel in the first 5 game weeks.

John Stones (Man City, £5.5 million, 24.1% selected)
We have all been burnt by the 'Pep roulette' in the past but Stones and Dias look fairly nailed in the heart of that Man City defence. In a recent interview Stones said, "I absolutely love the freedom to get forward and create and bring my qualities and that side of my game out… I surprise myself sometimes in the positions I get in.." Stones is expected to keep taking the pops from outside the box. Drafthound predicts Man City have the best odds for a clean sheet in 4 of the first 5 game weeks.

Pervis Estupiñán (Brighton, £5.0 million, 50.9% selected)
Brighton's first 3 fixtures are brilliant but it starts getting tricky from Gameweek 4 onwards. Starting without him isn't the worst option but betting against his high EO (Effective Ownership) is a risk I am not willing to take at the beginning of the season. Estupiñán has tremendous attacking potential though. He got 7 assists last season overperforming his xA (Expected Assist) numbers of 3.88. Whether or not he can sustain these numbers this season remains to be seen. Drafthound expects him to score 20.0 points in the first 5 game weeks. It was not a difficult decision to include him in my fantasy premier league team.

Ben Chilwell (Chelsea, £5.5 million, 7.0% selected)
Chilwell appears to have cemented his place as the first-choice left-back in Mauricio Pochettino's Chelsea side, and there is no doubt about his attacking potential. He can be benched in the opening fixture vs Liverpool but after that Chelsea's fixtures are quite enticing for Chilwell to show his true potential. Drafthound predicts 19.0 expected points in the first 5 game weeks for Chilwell.

George Baldock (Sheffield Utd, £4.0 million, 7.1% selected)
The fifth defender in my team and will be a bench option. He should start in the wing-back role for Sheffield and will not be needed in my team unless catastrophe strikes in my first XI. He could have been Beyer or Bell but Luton and Burnley were blank in Gameweek 2.
THE MIDFIELDERS


Bukayo Saka (Arsenal, £8.5 million, 53.6% selected)
Jurrien Timber's wide role on the left side of the Arsenal defence vs Barcelona in the recent friendly allowed the other side to be more compressed and Saka drifted in more centrally making him a much bigger goal threat than before. Among all the Arsenal attackers, Saka's xMins (Expected Minutes) looks the most secure and he is on penalties. According to Drafthound, Arsenal's odds of scoring over 2 goals are 49%, 31%, 42%, 31%, and 42% respectively in the first 5 game weeks. Drafthound predicts 26.7 expected points for Saka in the first 5 game weeks.

Marcus Rashford (Man United, £9.0 million, 43.0% selected)
Rashford had an outstanding campaign last season scoring 17 goals and 7 assists. Out of the 65.3 NPxG (Non-Penalty Expected Goals) generated by Man United last season, Rashford was involved in 23% of it, making him the biggest goal threat in the United side. Bruno Fernandes comes second with a 12% involvement. Drafthound predicts, 25.0 expected points in the first 5 game weeks for Marcus.

Bruno Fernandes (Man United, £8.5 million, 25.3% selected)
244 points in the 2020/21 campaign, playing for a top 4 side and on penalties, makes Bruno Fernandes an irresistible option at that price point. Though Fernandes played in the right-wing role in the recent friendly against Real Madrid, it is expected that he would take up the number 10 role with Mason Mount playing deeper of the two on most occasions. With Man United looking to sign an out-and-out number 9, his assist numbers are expected to increase as well. Drafthound predicts Bruno to score 23.9 expected points in the first 5 game weeks.

Bryan Mbeumo (Brentford, £6.5 million, 22.6% selected)
Brentford's opening run of fixtures is remarkable. With Ivan Toney out, Mbeumo and Wissa are expected to start up front. I prefer Mbeumo to Wissa because he is the better player of the two and is classified as a midfielder which would get him an extra point for a goal scored. Mbeumo is potentially on penalties as well.

Kaoru Mitoma (Brighton, £6.5 million, 37.3% selected)
Brighton are one of the most attacking sides in the league and are capable of scoring a couple of goals against any opposition. The first three fixtures are as juicy as they can get: LUT(H), WOL(A), WHU(H). Mitoma is secure in terms of xMins and has the potential to get off to a flying start. Drafthound predicts him to be the highest-scoring Brighton attacker in the first 5 game weeks.
THE FORWARDS


Erling Haaland (Man City, £14.0 million, 86.3% selected)
Surprisingly, 13.7% of managers don't have Haaland in their Gameweek 1 Draft. Even at that price, he is a must-have because he is just the best asset in the game. Of the 71.1 NPxG generated by Man City last season, Haaland was involved in 32% of it with Gündogan being a distant second with 9% involvement. Haaland is on penalties and is the permanent captain option. There is no reason not to own him. Drafthound predicts 39.1 expected points for Haaland in the first 5 game weeks. Man City are first in 4 of the 5 game weeks according to Drafthound's scoring over 2 goals odds. Haaland also has a 71% anytime scoring odds and a 34% chance of scoring a brace in Gameweek 1.

Gabriel Jesus (Arsenal, £8.0 million, 31.7% selected)
Expected to start up front in that Arsenal attack, Jesus is the best forward option at his price point. Of the 69.1 NPxG created by Arsenal last season, Jesus was involved in 19% of it (the highest). Jesus has any-time scoring odds of 45% in Gameweek 1 (joint second with Salah). With an incredible set of opening fixtures, Drafthound predicts him to score 23.8 expected points in the first 5 game weeks.

Divin Mubama (West Ham, £4.5 million, 2.7% selected)
He would probably be last on my bench. David Moyes has ruled out the possibility of sending Mubama out on loan so he is expected to make cameo appearances from the bench. A playing £4.5 million forward to come off the bench if need be is a bonus.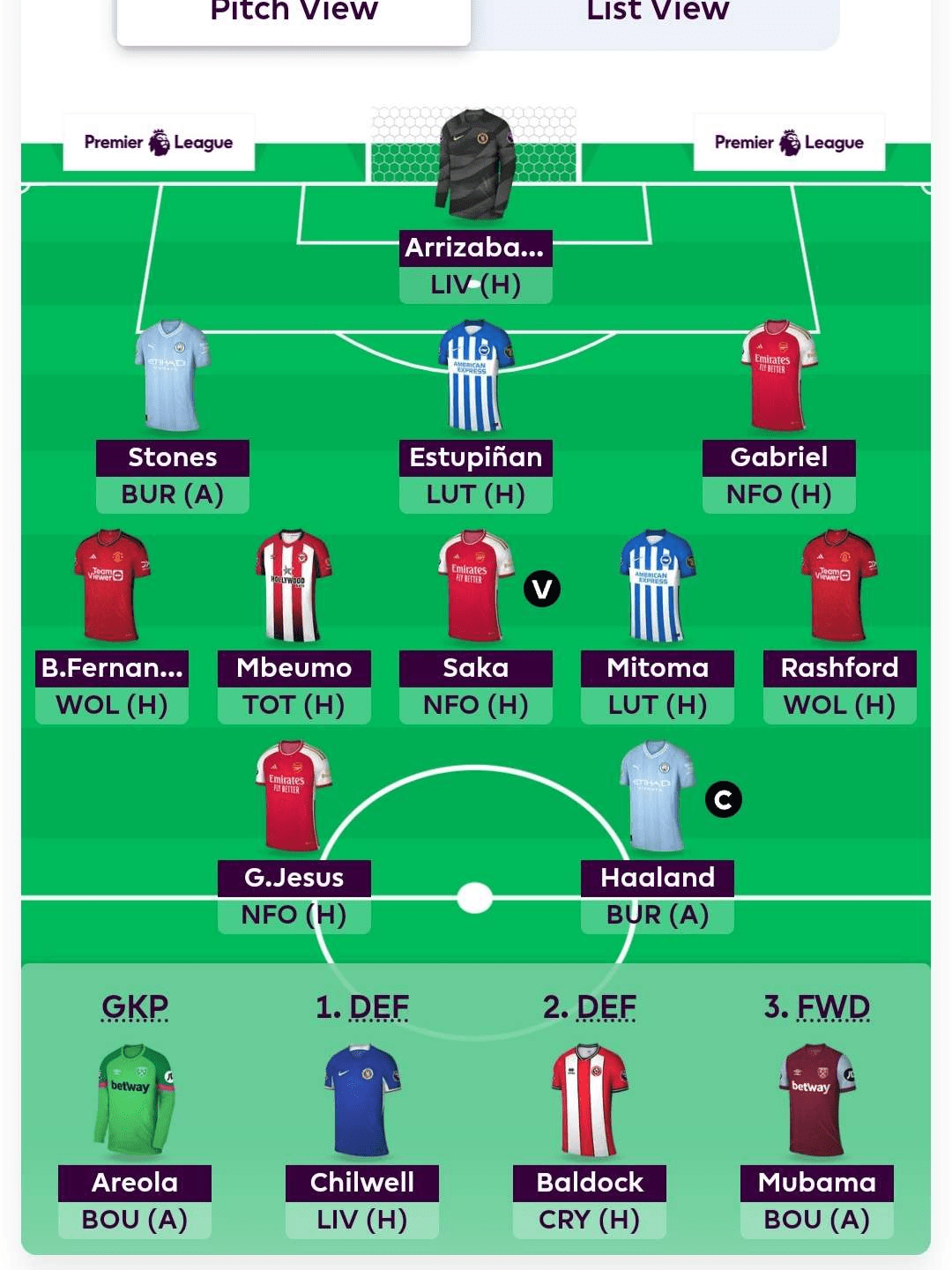 According to Drafthound's model, this draft gets 61.0 xPoints (Expected Points) in Gameweek 1. It also leaves me with £0.5 million in the bank which enables me to upgrade Estupiñán to Shaw or Mitoma to Sterling or even get to Son in one move in future game weeks. All the best for the upcoming season of Fantasy Premier League.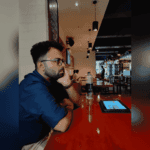 An obsessive planner who is always engrossed in data.
Addicted to FPL.
Specialise in captaincy picks.