While many would have looked at Liverpool's Deadline Day pursuit of Ryan Gravenberch as a panic buy, it was, in fact, a transfer years in the making.
Just the season before, the Dutch midfielder was one of the top names on Jürgen Klopp's shortlist. He was identified as one of three "game-changers," according to Sky Sports reporter Melissa Reddy. He was listed alongside Jude Bellingham and Aurélien Tchouaméni. Not bad company to be with. However, the former Ajax man decided to switch the scenery of his home nation to move to European giants Bayern Munich.
Fortunately for Liverpool, Gravenberch struggled to get game time and ultimately wanted a move away just one season into life in Germany. The Reds could finally swoop in and get their man.
Ryan Gravenberch's Role in Midfield
In the early days of Ryan Gravenberch's Anfield career, Klopp has been utilising him as the left-sided central midfielder. One of his jobs is for the 21-year-old to collect the ball deep through pressing and drive the ball forward. It is an ability that the No.38 is so effective at. Take a look at the 33rd minute of Liverpool's Europa League match against Toulouse as an example.
The central midfielder gets the ball within his half before gliding up the pitch into the opposition's box. While his pass to Curtis Jones didn't directly result in a goal, Jones' shot would fall into the path of Darwin Núñez to strike home Liverpool's third of the game. You can view the sequence in the video below:
While some Liverpool supporters might jest Manchester United fans by saying that "Gravenberch is what United fans thought Pogba would be," there is a little truth behind it.
Without question, Paul Pogba was a world-class player in his own right. But even the most hardcore Pogba and Manchester United fans would say his time at Old Trafford did not live up to expectations.
When it comes to comparisons between Pogba and Ryan Gravenberch, many will point to the obvious physical similarities. Both are tall, athletic, and influential players who, despite their lanky nature, can shift the ball quite fluidly while dribbling.
However, what truly stands out is the way the Dutchman dribbles and shields the ball, drawing unmistakable comparisons. The 6'2″ midfielder's grace and finesse while possessing the ball are uncanny to Pogba's style.
Gravenberch In the Final Third
We have clarified his role and what Ryan Gravenberch can do with the ball. How practical he is going forward is the obvious next question.
Although it is a much smaller sample size, posting only 936 minutes for FBREF's data collection, Gravenberch is reaching high attacking numbers. On average, he is producing 4.81 Shot-Creating Actions per 90, ranking him in the 98th percentile according to FBREF. For those who do not know, this is any action that results in his team taking a shot, a pass, a blocked shot, or a tackle.
For reference, a player like Martin Ødegaard produces 4.62 SCA per 90. At the same time, Bernardo Silva came out with 3.22 SCA per 90. Now, in no way are we comparing Gravenberch to these two world-class players in their own right, but it just shows that the Dutchman can hack it further up the pitch.
Additionally, his ability to find and move into attacking spaces will be essential for Liverpool. He ranks in the 96th percentile for Progressive Passes Received. This is any pass that carries a team closer to the opposition goal, with the ball moving at least 10 yards.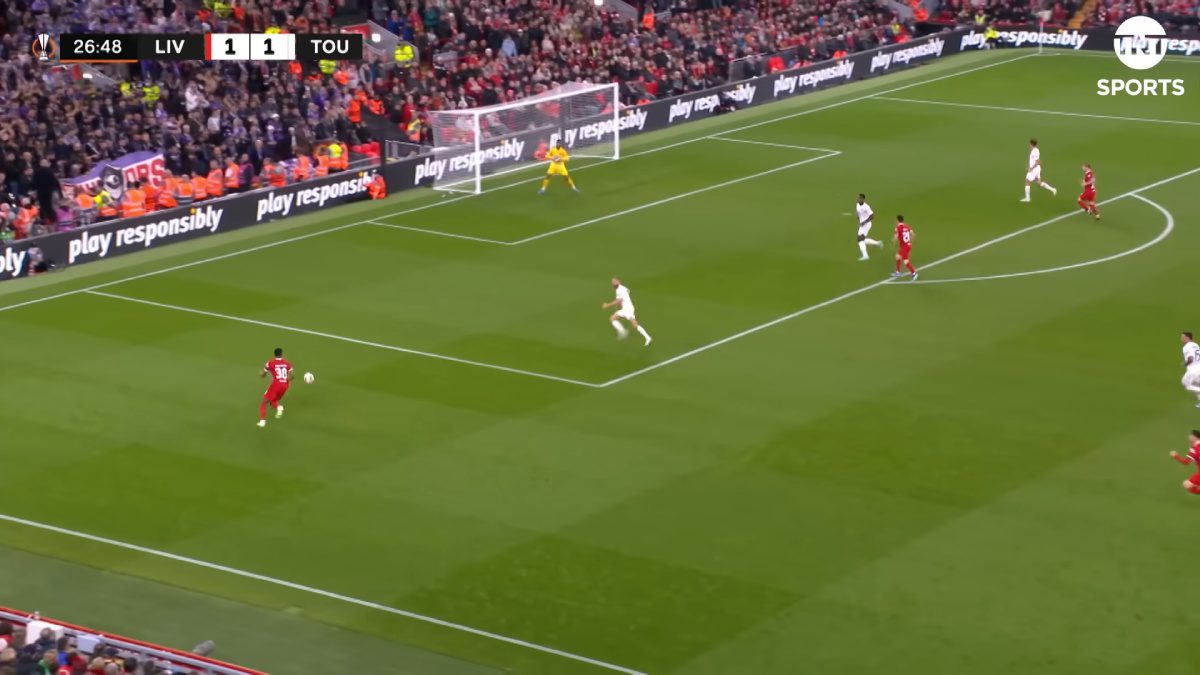 The Transformation of Liverpool's Midfield
With their midfield signings in Summer 2023, Liverpool's midfield is going not only through a rebuild but an entirely new caliber of profile. Gone are the days of Georginio Wijnaldum playing on the left side of midfield to keep the ball ticking and retain possession. Naby Keita is no longer there to add a dynamic presser. Thiago is still at the club, but with his constant injuries, you can only predict his days at Anfield are ending. This is the first physical presence, not a No. 6 Liverpool have added to their midfield during Klopp's reign.
It is still early, but The Reds have gone from a workhorse trio in Henderson, Fabinho, and Wijnaldum to a triumvirate of highly technical midfielders. There is undoubtedly a lot more dynamism in this new-age Liverpool.
Whether it works out in the long run remains to be seen, but the signs are certainly positive, with the club sitting just three points off top. However, we remain confident that Ryan Gravenberch will be a key player for his team for years to come.
Read Next: Five Brilliant Players Every Club Should Be Looking At in January, including another midfielder Liverpool could sign!
Die-hard Liverpool fan, enjoyer of Steve Finnan and Luis Diaz, writer of words and explainer of things.