Gameweek 5 of Fantasy Premier League is back after the international break, with Wolves hosting Liverpool at The Molineux on Saturday at 12:30 pm BST. Gameweek 4 was high-scoring, with Erling Haaland, Son Heung-min, and Evan Ferguson bagging hat-tricks. GW5 is significant as it marks the beginning of the fixture swing for many teams over the coming game weeks.
If you follow my Best Transfer Tips series, you must know that the transfer targets are not based on one game week but multiple game weeks. You should also check out my Gameweek 4 article, as it is relevant for Gameweek 5. Also, explore Attacking Football's tables and fixtures for the teams to plan your transfers.
We have partnered with Drafthound, bringing you all the analysis of the fixtures, projected points, bookmakers' odds, and more for the 2023–24 FPL season. Every person who signs up through our link to Drafthound helps us grow. If you want to access such features, join the website through this link. Let's dive into our transfer targets for Gameweek 5.
Kieran Trippier (£6.5 million, Defender, Newcastle)
Newcastle have kept zero clean sheets this season and only two in the last twenty-two Premier League games. Though this statistic is not encouraging, the Magpies are only behind Manchester City for big chances conceded during this period. Despite a tough run of fixtures, Newcastle have been sixth in xGC this season. They are still an elite defensive side.
Despite tough fixtures, Trippier has created ten chances in the first four game weeks, only behind Pervis Estupiñán with twelve chances created. High chance creation should help him be among the bonus points when Newcastle keep a clean sheet. The England international is averaging 0.14 xGI/90 this season, which will improve with great upcoming fixtures. Drafthound predicts 4.7 points in Gameweek 5 and 23.2 points in the next five for Trippier. He is a set-and-forget pick.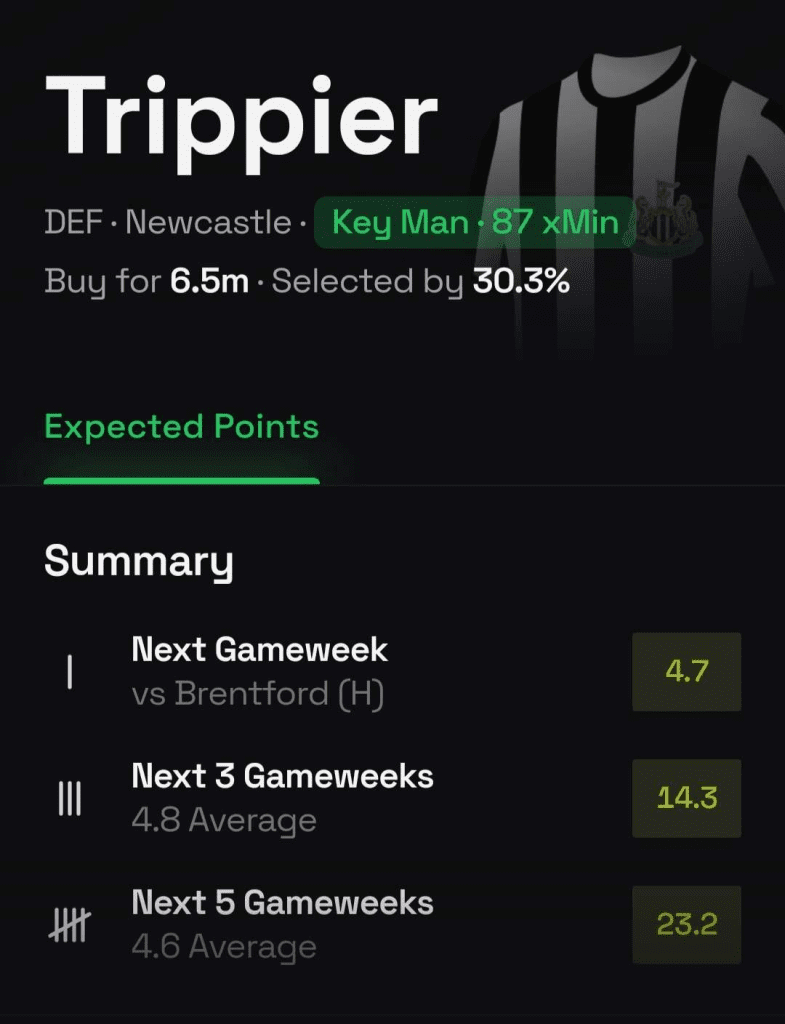 Fabian Schär (£5.0 million, Defender, Newcastle)
Budget being a constraint, Fabian Schär can be a decent alternative to Kieran Trippier. Newcastle's consistently strong defensive underlying data, backed by excellent fixtures of Brentford(H), Sheffield United(A), Burnley(H), West Ham(A), Crystal Palace(H), and Wolves(A), should augur well for the Magpies' clean sheet potential. Schär's xG of 4.63 and xA of 2.05 in the 2022/23 season is proof of the Swiss international's goal threat.
The 31-year-old defender's goal threat being significantly higher than his assist threat makes him an enticing FPL option. Though the centre-back's xGI of 0.05 per 90 minutes is not impressive, he always has the knack of scoring a goal. Drafthound predicts him to score 4.2 points against Brentford and 20.9 points in the next five. Newcastle's odds of keeping a clean sheet in the next few matches would tempt me to go for both defenders.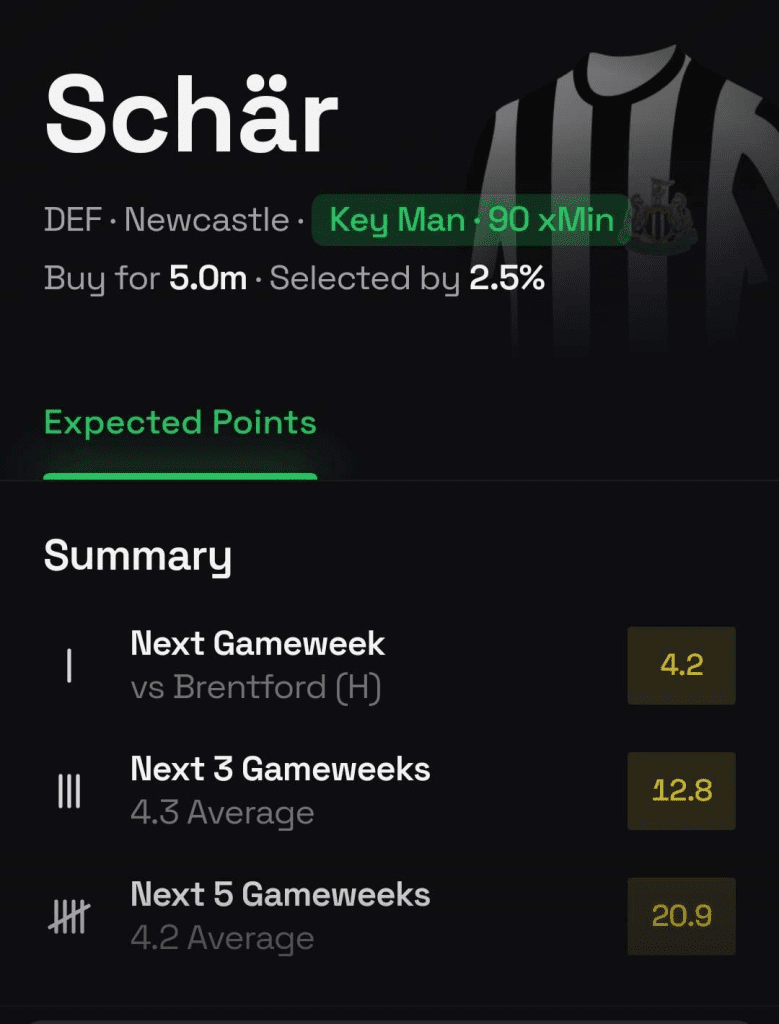 Son Heung-min (£9.1 million, Midfielder, Spurs)
The South Korean international set the stage on fire in Gameweek 4 when he scored a hat-trick from an xG of just 1.12, showing how exquisite a finisher he is. Son's xGI of 0.13 against Brentford, 0.51 against Manchester United, and 0.34 against Bournemouth spiked to 1.19 against Burnley when he started ahead of Richarlison as the number nine. It would be surprising if Ange Postecoglou decides not to start Son up front yet again.
Potential penalty taker, the focal point of the Spurs attack, facing a newly promoted side at home, has the recipe for yet another scintillating performance from the Spurs' skipper. In my opinion, he is the best captaincy candidate for Gameweek 5. Drafthound's model predicts Son to score 8.6 points against Sheffield United and 37.2 points in the next five game weeks. Spurs also have the highest odds (50%) of bagging more than two goals in Gameweek 5.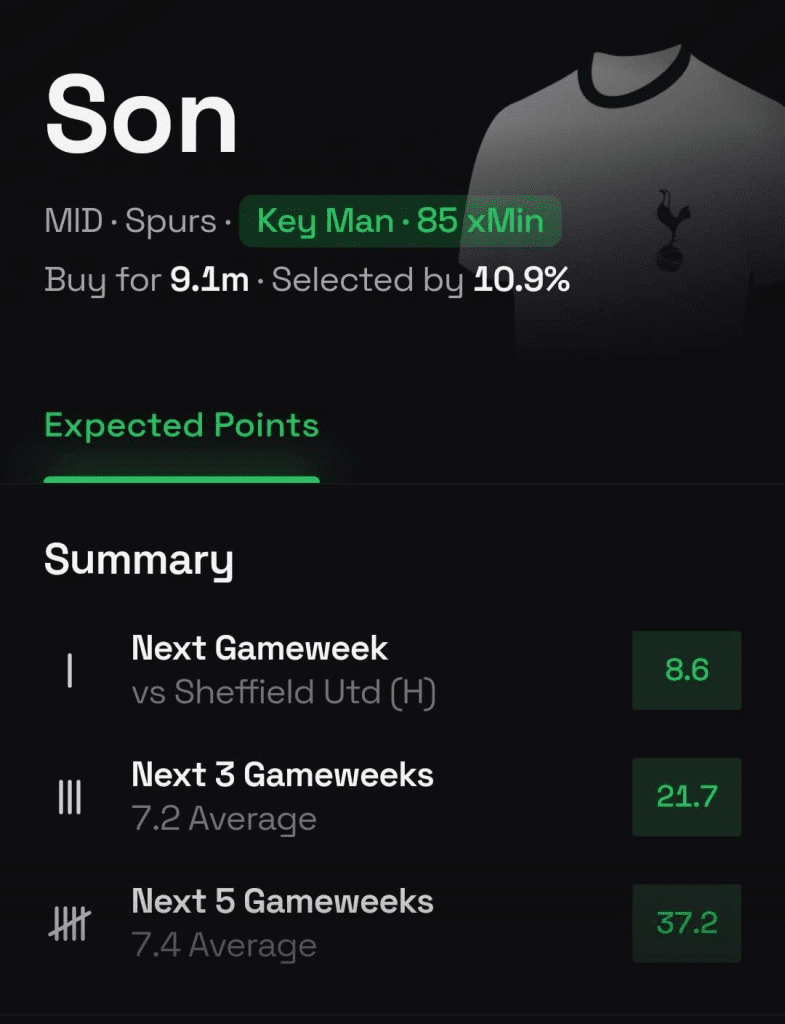 James Maddison (£7.8 million, Midfielder, Spurs)
The talisman in Ange Postecoglou's Spurs side, Maddison is at the heart of every Spurs attack. He is involved in corner kicks, and free-kick duties and has an outside chance to be the penalty taker. The former Leicester City man has returned in three of his four Premier League games and would look to continue the run of form against the Blades. Though he has Arsenal(A) and Liverpool(H) in Gameweek 6 and 7, he is an excellent long-term pick.
During the first four weeks of games, Maddison has a non-penalty expected goal involvement of 3.42, which places him behind only Bryan Mbeumo at 3.44. For those who are tight on budget, Maddison is an excellent alternative to Son. According to Drafthound, Maddison is expected to earn 7.5 points against Sheffield United and 32.5 points in the following five game weeks. Drafthound's data also suggests that Maddison has a 40% chance of scoring and a 36% chance of assisting a goal in Gameweek 5.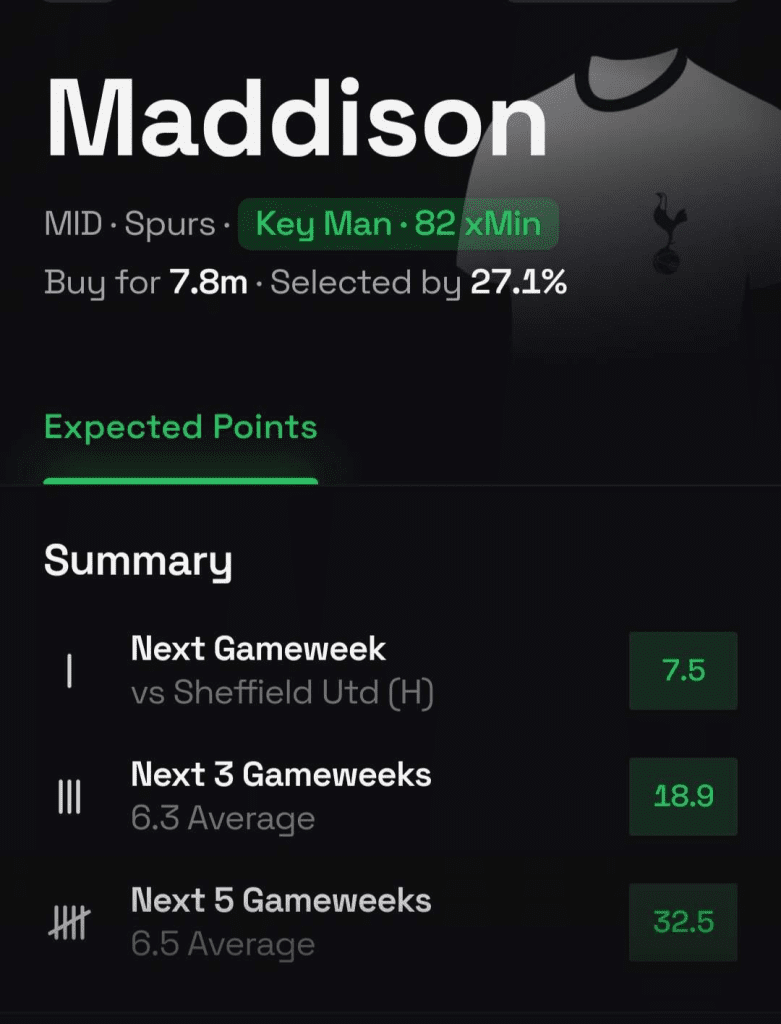 Morgan Gibbs-White (£ 5.9 million, Midfielder, Nottingham Forest)
If you are in search of a short-term transfer option, consider Morgan Gibbs-White as a viable choice. The ex-Wolves player has played the full 90 minutes in every league game this season and his price point is quite reasonable. By choosing him, you could upgrade your third forward position to Carlton Morris from Luton Town, who has a double game week approaching. Despite facing tough opponents like Arsenal, Manchester United, and Chelsea in his first four games, Gibbs-White has decent underlying statistics with an xGI of 0.31 per 90 minutes.
Based on their recent performances, Burnley has not been performing well defensively. In their past matches against Manchester City, Aston Villa, and Spurs, they have conceded an xG of 2.21, 2.51, and 2.27 respectively. This upcoming game may prove to be a perfect opportunity for Gibbs-White to showcase his skills. It may be wise to consider benching him for the game against Manchester City in Gameweek 6, but he has three excellent fixtures coming up against Brentford (H), Crystal Palace (A), and Luton Town (H). Although Drafthound predicts only 4.5 points for him in the game against Burnley, Gibbs-White may be the spice in your team to tantalise the taste buds.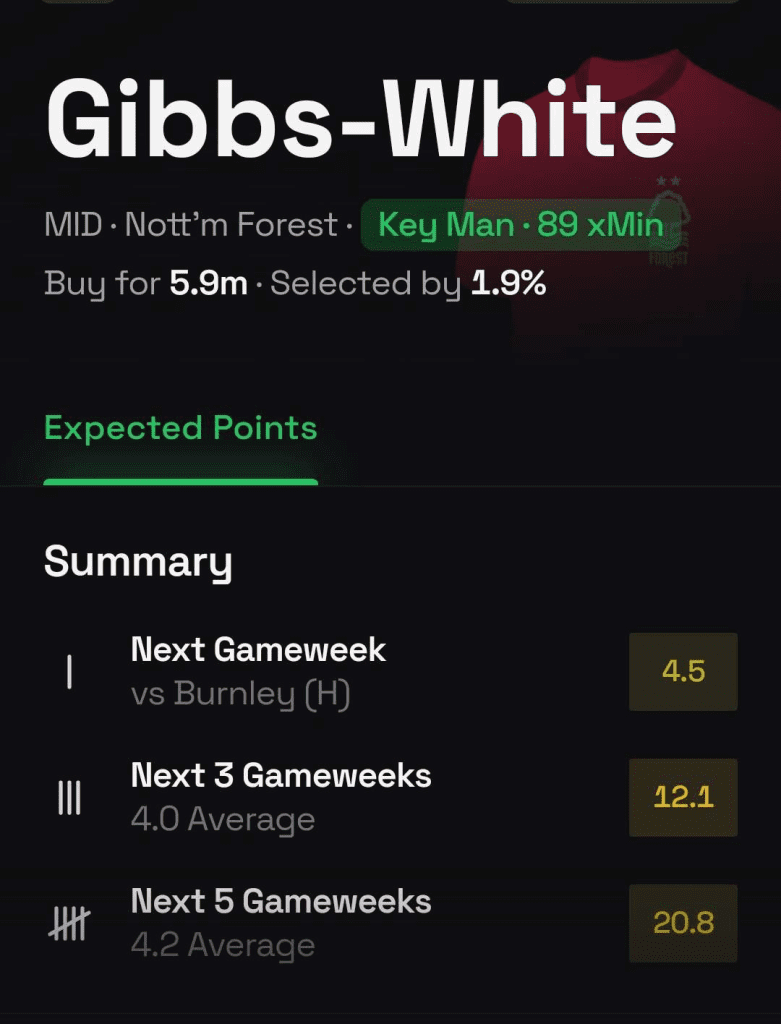 Ollie Watkins (£8.0 million, Forward, Aston Villa)
If you are on a wildcard, consider adding Watkins to your team as he has a string of promising matches from Gameweek 5 against Crystal Palace, continuing until Gameweek 14. In this season's Premier League, he has provided 3 assists, but he has the potential for more. Against Liverpool, Burnley, Everton, and Newcastle, he generated xGIs of 0.22, 0.79, 0.20, and 0.33 respectively. With his 0.43 xGI per 90 minutes, he is expected to improve the numbers in these favourable fixtures.
Although Watkins hasn't been playing the full 90 minutes like he did last season, I still think he'll perform well. He showed his potential last season with 15 goals and 8 assists. Drafthound predicts that he has a 42% chance of scoring and a 22% chance of assisting in Gameweek 5. Based on their model, Watkins is expected to earn 4.9 points in Gameweek 5 and 24 points in the next five games.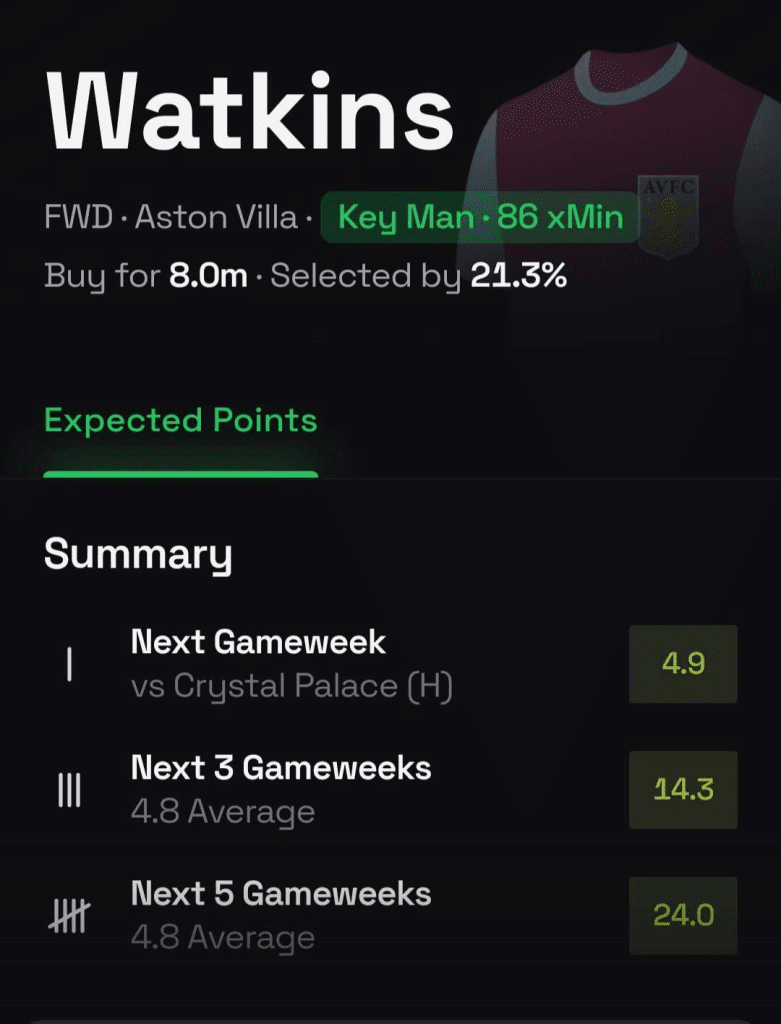 Alexander Isak (£7.7 million, Forward, Newcastle)
Based on his recent minutes, Alexander Isak is expected to play around 68 minutes per game. This trend is likely to continue, as Callum Wilson has been more effective as a substitute. As I mentioned earlier in this article, Newcastle has a promising schedule ahead, which is good news for Isak's chances of scoring. However, it's important to be cautious as Newcastle will face tough competition in the UEFA Champions League. Despite this, it appears that Isak is a reliable option for playing time.
It is promising to see the Swedish football player's expected goal involvement rate of 0.49 per 90 minutes in this Premier League campaign, suggesting he may repeat his performance from Gameweek 1. He will also have the opportunity to take penalty kicks when Callum Wilson is not on the field, which could be an avenue for additional points. Drafthound predicts a 40% chance of Isak scoring in Gameweek 5 against Brentford, as well as an estimated 5.1 points in GW5 and 25.1 points in the following five matches.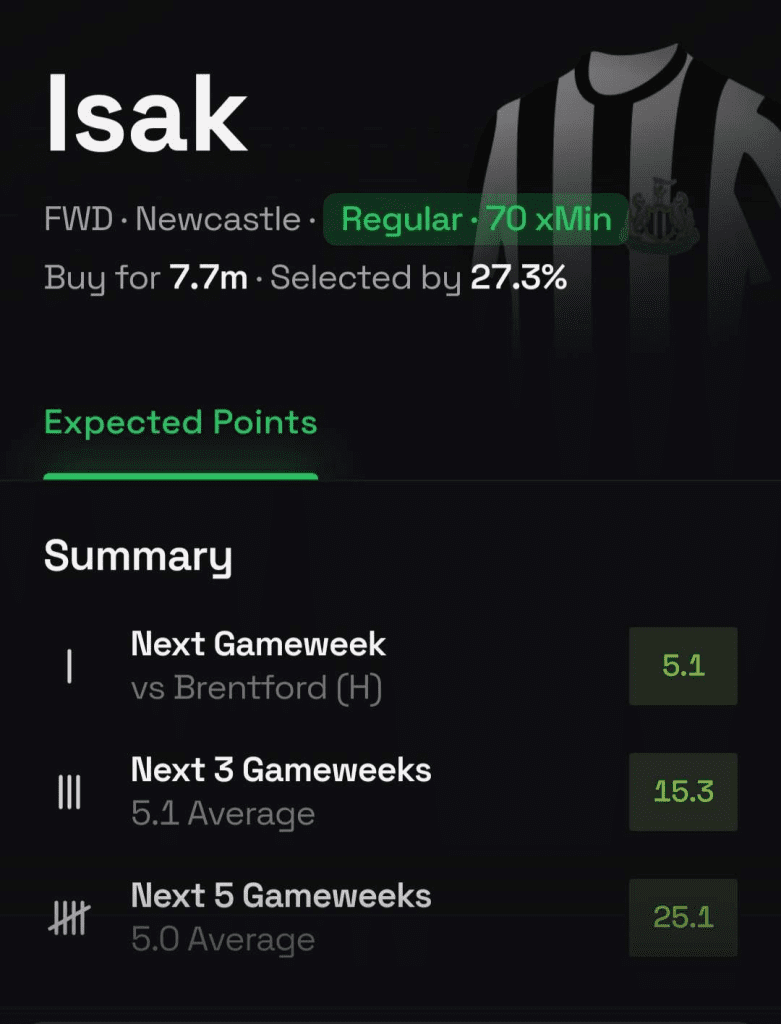 In Conclusion
GW5 is just after the international break, meaning players will be reporting to their respective training grounds travelling from different continents maybe carrying slight niggles. Managers will be cautious about risking players given the midweek commitments of European football and domestic EFL Cup competition. It is advisable to delay the transfers till all the press conferences are concluded.
Gameweek 5 looks set to be yet another high-scoring game with premium assets facing green fixtures on the FDR. Wishing you all the very best for the upcoming game week.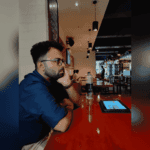 An obsessive planner who is always engrossed in data.
Addicted to FPL.
Specialise in captaincy picks.