The Premier League for the 2023/24 season is finally here with Burnley hosting Manchester City at Turf Moor at 8:00 pm BST. Though the tendency is to wait as late as possible for confirming our FPL teams in anticipation of some leaked team news, we run the risk of the servers crashing.
Given the deadline is only a few hours away, our teams are almost locked in barring a few 50-50 decisions here and there. Double Arsenal defence or double Arsenal attack? Is the Manchester City defence worth investing in? I look at odds straight from the bookmakers to help you nail those 50-50 dilemmas in Gameweek 1.
We have partnered with Drafthound to bring you all the analysis of the fixtures, projected points, bookmakers' odds, and a lot more. For every person that signs up through our link to Drafthound, it helps the website to continue to grow. Please join the website through our link below:
https://www.drafthound.com/fpl?utm_medium=fpr&via=attackingfootball
Win Percentage
According to Drafthound, Arsenal has the best odds of winning their fixture against Nottingham Forest at 85%, with Brighton having the second-best odds vs Luton Town at 77%. Manchester City and Manchester United are joint third at 75% with fixtures against Burnley(A) and Wolves(H) respectively.
Nottingham Forest, Luton Town, and Wolves make the bottom three.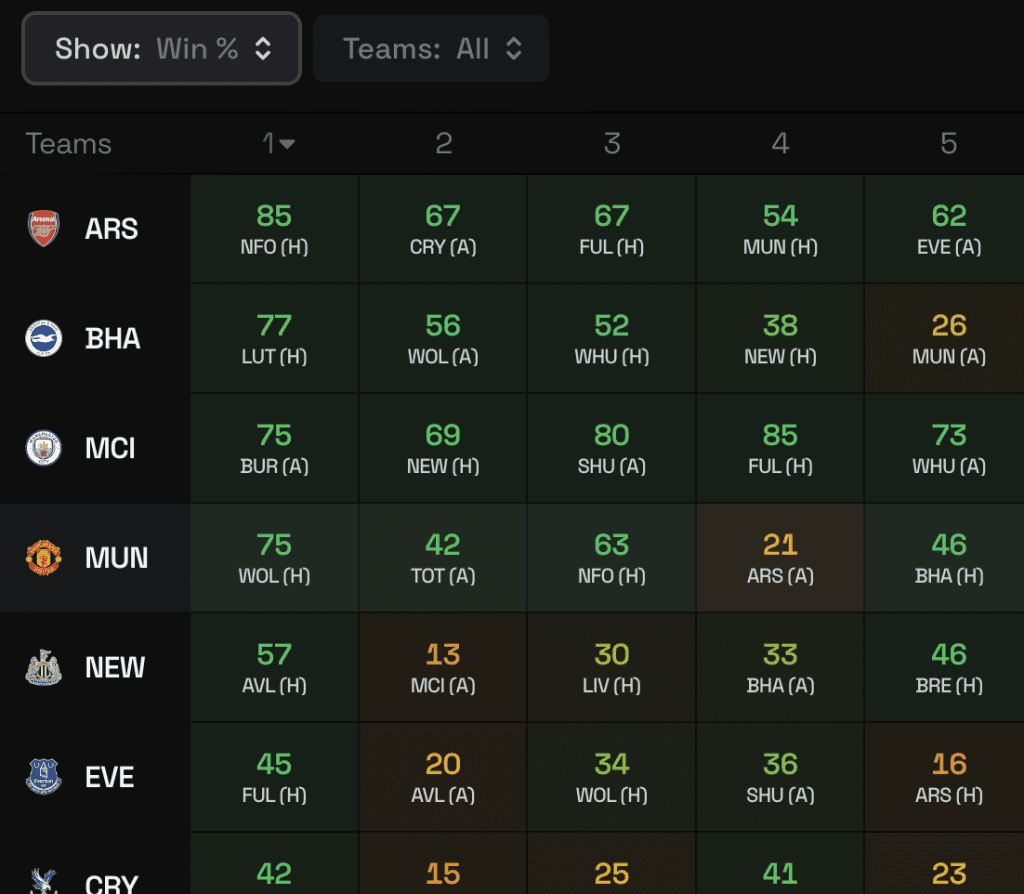 Clean Sheet Percentage
Drafthound reveals that Arsenal and Brighton have the best odds of keeping a clean sheet both at 55%. Both the Manchester clubs come next at a 50% chance of keeping a clean sheet. Newcastle United are a distant fifth with 38%.
Goalkeepers Aaron Ramsdale or Jason Steele will both likely score highly in Gameweek 1, but long term both are rotation risks that are probably not worth considering. Gabriel and William Saliba are both good picks from Arsenal, while at Brighton Pervis Estupinan is one of the more popular picks in the game.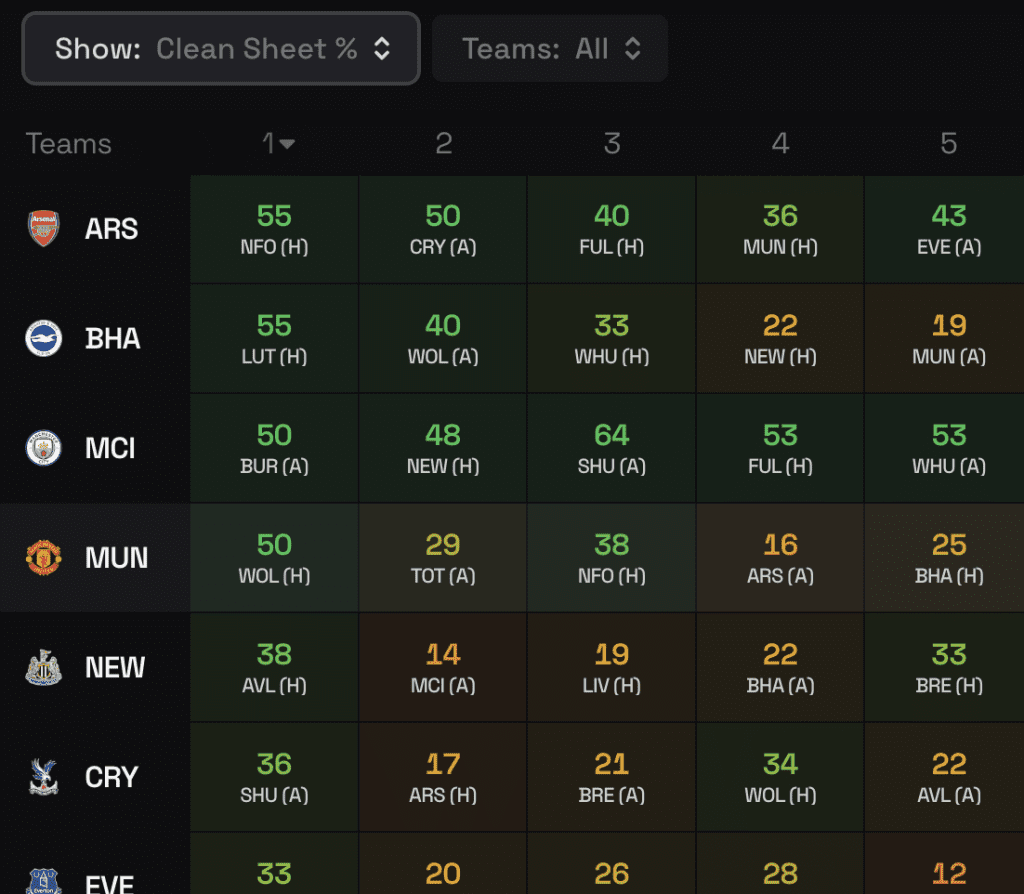 Over-2-Goals Percentage
It's no surprise that Drafthound believes that Arsenal has such high odds of scoring two or more goals at The Emirates against a Nottingham Forest side that struggled last season. Arsenal has the best odds in this category with a 58% chance. Manchester United comes second at odds of 45%, with Brighton and Manchester City with odds of 44% each completing the top four.
It might be worth looking at a number of assets from these teams like Bukayo Saka, Marcus Rashford and even someone like Solly March as their clubs are expected to score multiple goals in Gameweek 1.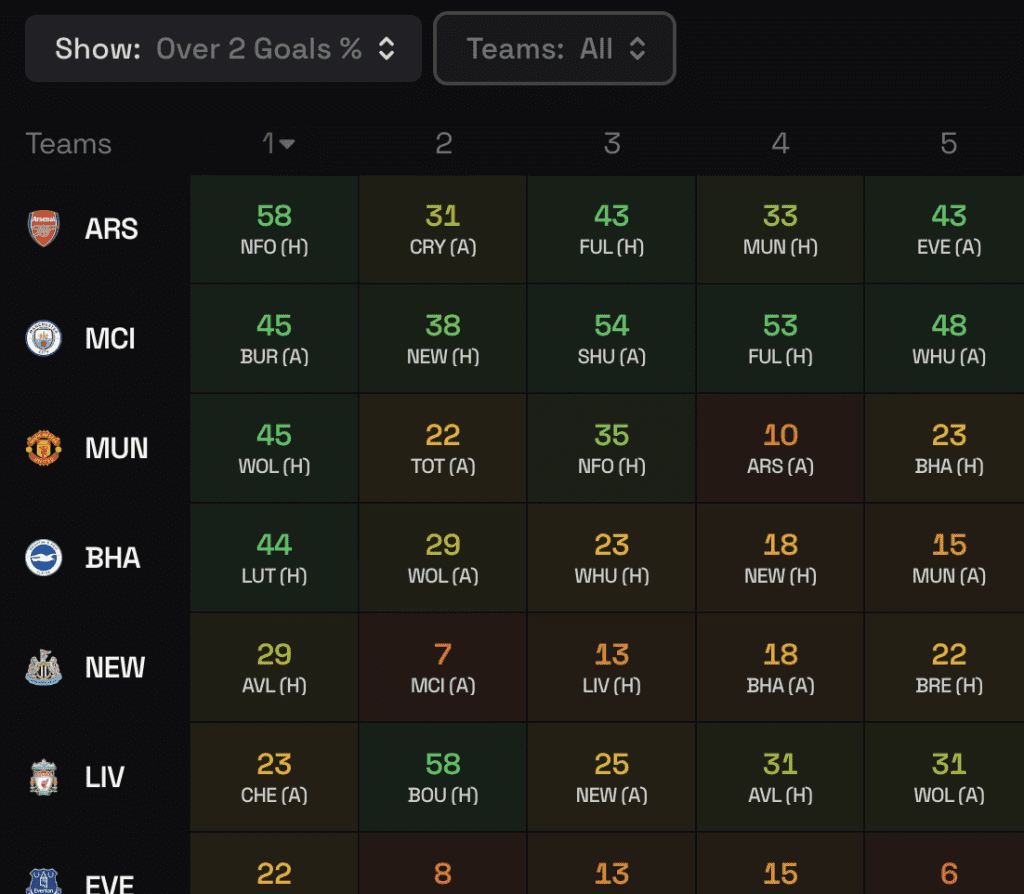 Anytime Scoring Odds
Assuming all are starting, Drafhound believes it's Erling Haaland who has the best chance of scoring at 58%. Marcus Rashford comes in at joint second with Danny Welbeck with 49% odds of scoring. Bukayo Saka isn't far away with 44% odds of scoring either. What is worth considering is that the odds of scoring are based on the player's expectancy to start the game. I wouldn't personally recommend bringing in someone like Danny Welbeck.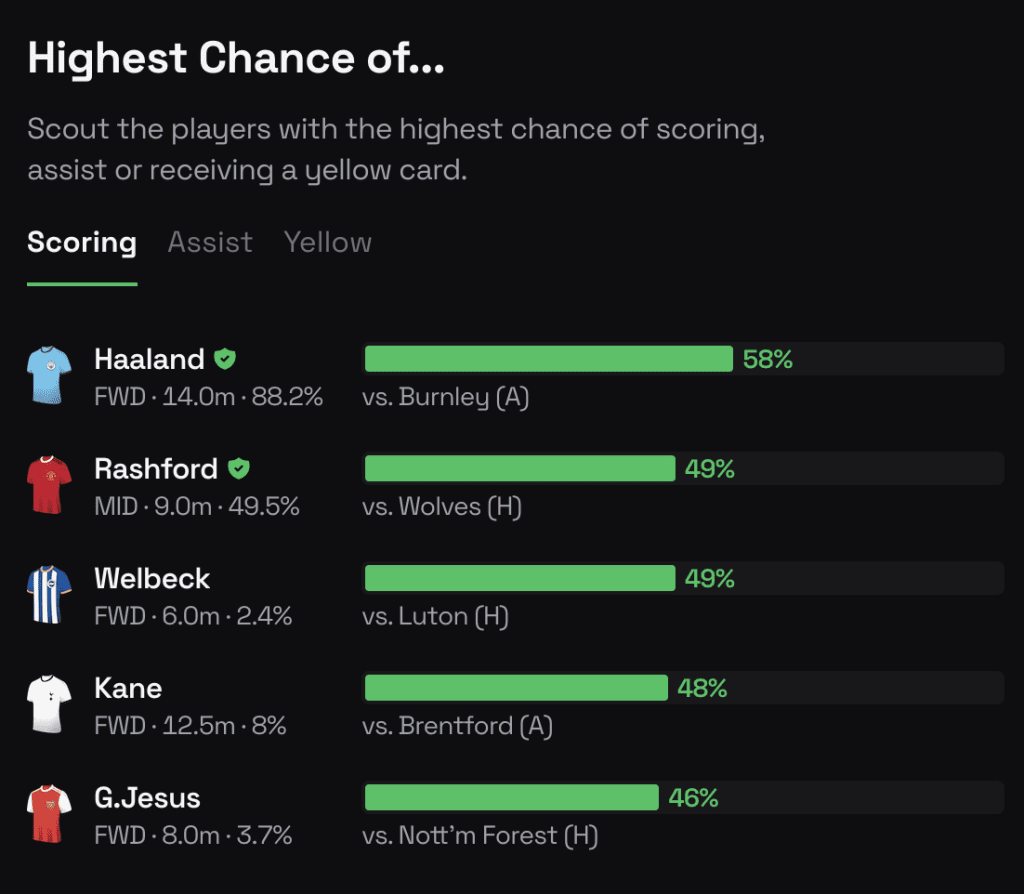 Anytime Assist Odds
According to Drafthound, it is Kevin De Bruyne who tops the anytime assist odds list at 46%. He is followed by his fellow Manchester City teammate Jack Grealish at 32% while Bukayo Saka comes in at third with chances of 30% to assist anytime.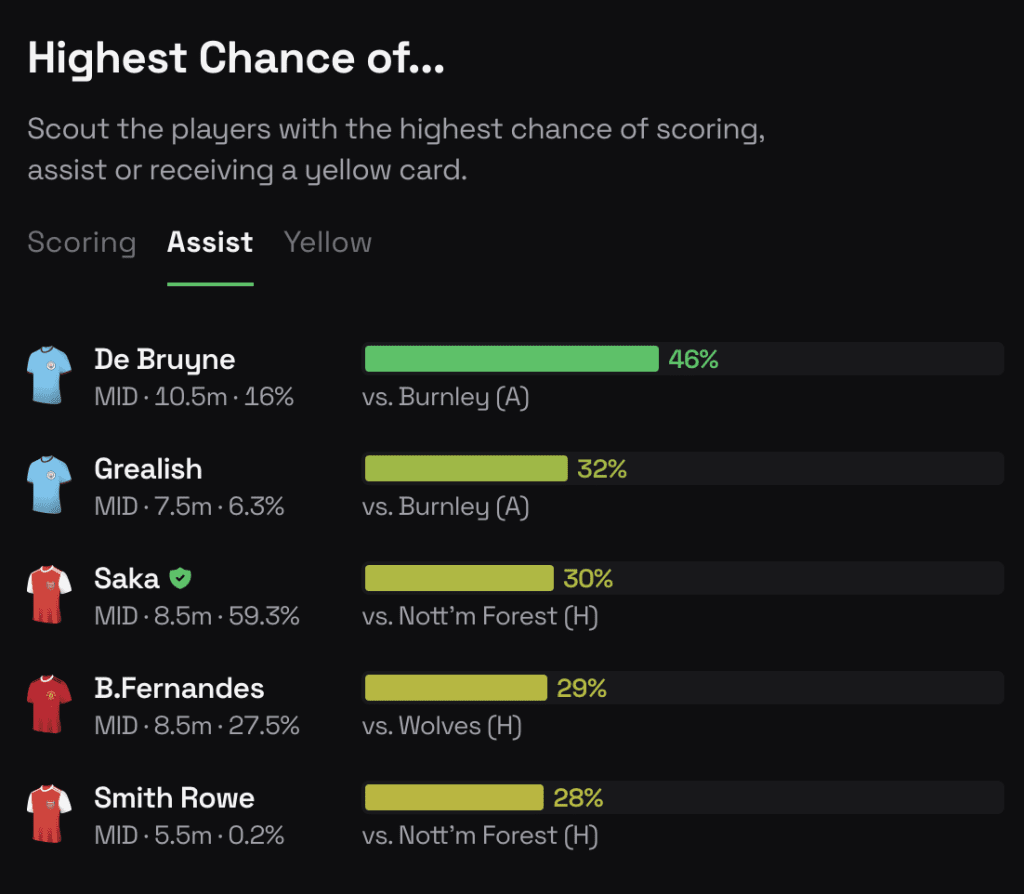 Expected Points
Drafthound's model predicts Erling Haaland to be the highest-scoring player in GW1 with 6.9 expected points. Marcus Rashford comes in at second with 6.6 expected points. Bukayo Saka, Gabriel Martinelli, and Martin Ødegaard make the top five with 6.5, 6.2, and 6.0 expected points respectively.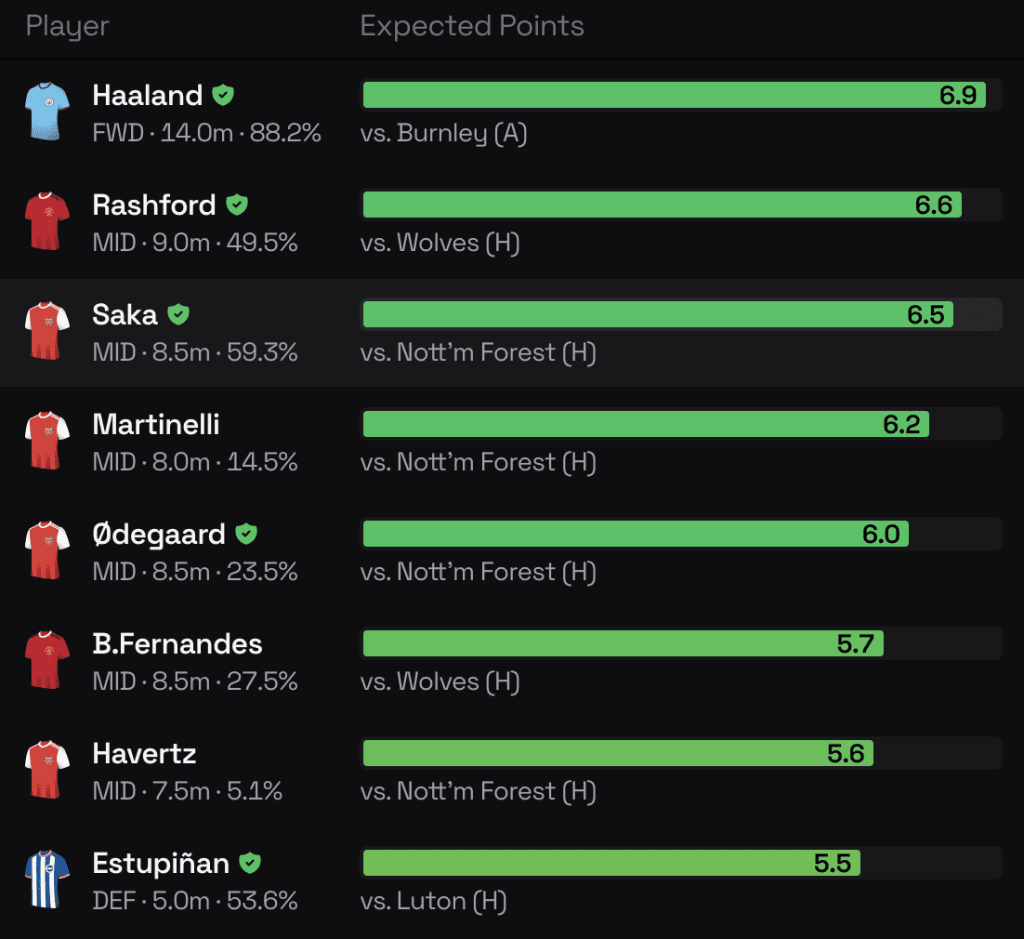 If you want to access more of such data, you can do so by clicking on the link below: https://www.drafthound.com/fpl?utm_medium=fpr&via=attackingfootball

Wishing you all the very best for Gameweek 1 and hope that you get off to a flyer.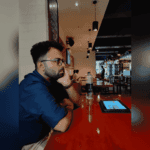 An obsessive planner who is always engrossed in data.
Addicted to FPL.
Specialise in captaincy picks.