Already so many brilliant moments in the first 3 gameweeks as we move towards the international break and transfer deadline day. Sterling, Gusto, and Maddison came good just as predicted in last week's article, hopefully, the streak continues. Lots of things to discuss this week though, so let's see how you can best attack gameweek 4, in this article.
The Gameweek Calendar
All based on UK time
The deadline will be at 6.30 pm on Friday 1st of September. With the first match being the new-look Kenilworth Road's grand opening. Where Luton Town will play West Ham. After the games with Brighton and Chelsea, we wonder if we should maybe target the Hammers' players.
Saturday will see 6 PL fixtures, starting at 12.30 pm, when Sheffield United takes on Everton. Four matches at 3 pm, Champions Manchester City hosts Fulham while Chelsea continue their home run against Nottingham Forest. Postecoglou's Tottenham will pay a visit to Turf Moor to play Burnley, while Brentford play host to Bournemouth. Finishing up at the Amex yet again, as Brighton take on Newcastle at 5.30 pm to close off Saturday.
Sunday sees 2 matches at 2 pm, Liverpool are back at Anfield to play Villa. Coming back after a dramatic win in the Northeast. Whilst Wolves visit the Capital to play Palace. Ending another Super Sunday evening with possibly the biggest game of the season yet, Arsenal vs. Manchester United. Finishing off gameweek 4 in style.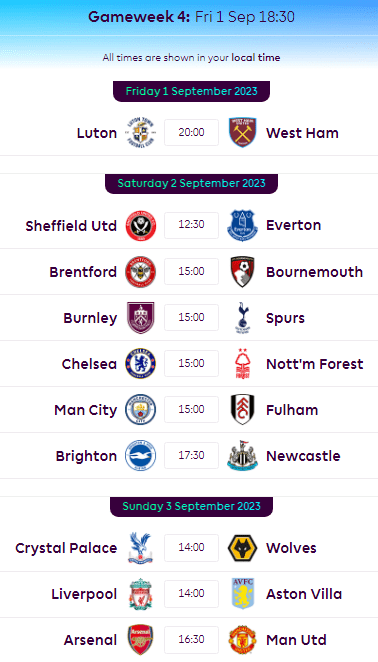 Early News
Disclaimer: This article was written 12 hours before the deadline, so be sure to follow the news on the official PL site, club sites, and social media platforms such as Twitter (X).
Enciso is confirmed to be out long-term. Richarlison has a knock, no updates yet. Gameweek 1 POTW Raphael Varane is out for 4 weeks. Sven Botman is "Out for Brighton but should be back after the international break according to @NUFCWill1892 on X. 4.0 defenders in the news, as Baldock returns from injury but Beyer goes out for 2 weeks.
Transfer Targets
Check out PSB's article on the best transfers for this gameweek here.
As the day comes between the big clash between Arsenal and United this week, a lot of us will be looking to move on some of their assets, some defenders, but mostly, the midfielders. As this is the final week before the international break, we should be looking to roll the transfer into gameweek 5 if possible. Anyway, we'll be looking at the players that you should target this week.
4 defenders got huge double-digit hauls last week, Matty Cash, Destiny Udogie, Joachim Andersen (4.6), and Malo Gusto (4.1). However, we shouldn't be chasing lost points, as in Gusto's case, Reece James is projected to be back in gameweek 5, hence his minutes are not secure. Cash is a brilliant FPL asset, but I would be cautious with the move, and won't be doing it this week. Liverpool away is a very strong attack, and I won't expect clean sheets. He has (liv, che, BHA) in his next 4, 3 very strong attacks with 2 away games. However, his attacking potential is there, and not a "wrong" pick by any means.
Andersen's a centreback, not the highest goal-threat or clean-sheet potential. He's not a bad asset, but don't expect 11 points every week. He has 3 great matches and 4 horrible fixtures in his next 7. Making him a strong asset only for someone who needs a rotator. That leaves Udogie, who I think is by far the best defender to target this week. Spurs have 2 good fixtures coming up, and the Italian's positioning is so high up the pitch, I wouldn't blame you for expecting attacking returns every other week. Their defence looks relatively solid, and Udogie is a very strong pick. An alternative could be Rico Henry (4.6) who has Bournemouth this week and good fixtures ahead.
Onto the midfielders, and we now have this huge debate about the main targets. James Maddison (7.7), Phil Foden (7.6), and Raheem Sterling. This is not as straightforward as "Udogie best, Henry 2nd" like the defender's section. This debate will be discussed in the next paragraph. Although we have something else to talk about. Luton have been horrendous in their first two, and we wonder if they're a team to target. The Hatters host West Ham and Jarrod Bowen (7.1) could be a strong differential. If you're looking to wildcard into gameweek 5, I believe Michail Antonio (6.1) a solid one-week punt too.
Captaincy and Dilemmas
Disclaimer that these are all opinions, that are based on both data and eye tests, as I, like loads of managers, got Udogie vs. Saliba wildly wrong last week. But Erling Haaland has Fulham at home. That's out of the way.
2 main dilemmas here surrounding midfielders this week. Who to sell, and who to buy. Let's start off with the sales. The popular midfielders that people are looking to offload this Friday are the Arsenal and United boys, alongside Eberechi Eze, who has been disappointing so far at the start. Saka and Fernandes are the best assets for me, although they're not perfect by any means. Both on penalty duties, with Fernandes playing deep but accumulating phenomenal xGI, whilst Saka is a brilliant finisher who plays for one of the best attacks in the league.
Eze is a keep for this week but can sell after the break. He's operating very deep, but Wolves at home is a great fixture. I don't think there's a rush to sell Rashford, Martinelli or Odegaard, so I'd rather roll the transfer if you only have 1. If you have a transfer to burn though, attacking the fixtures by selling one of these three is a good idea. I'd be inclined to put the Norwegian as a top priority now that we know Saka's still on penalties. Martinelli is better this week, Rashford is better long-term, so, up to your strategies.
The English boys are the picks of the bunch in gameweek 4, Maddison (bur), Sterling (NFO), and Foden (FUL). Who is the best asset? The answer is…. we have no idea. All three assets offer different things, and you should take your pick from the information that I'll provide. Maddison has the best data by far, with over 1 xGI/90, 0.33 more than the second best, and should be the best for minutes. However, he has Arsenal away in the near future and is the least explosive of the three if you're looking for a short-term punt.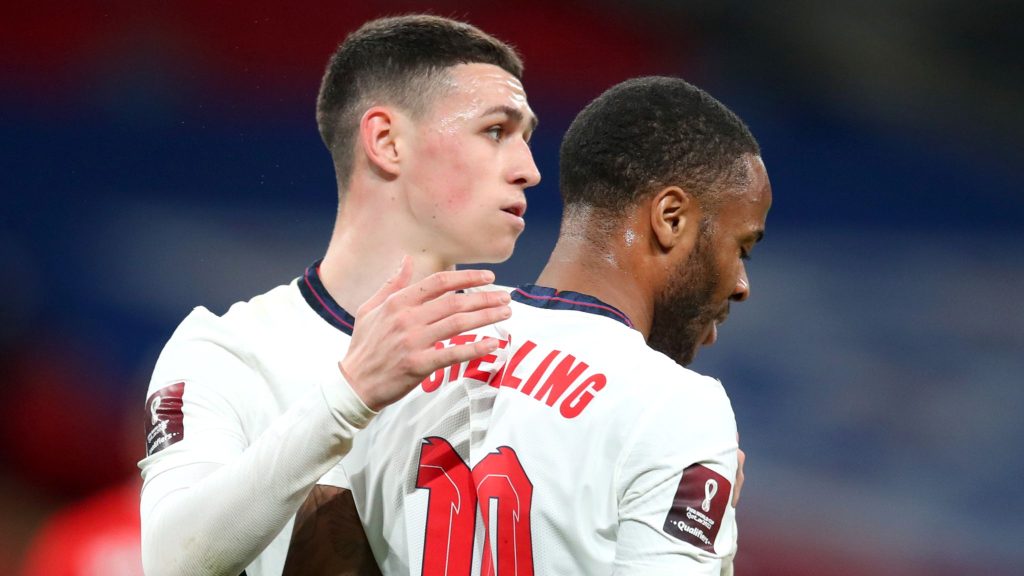 Sterling is, of course, the man on fire. 19-pointer last week, but that's irrelevant now. What is, is he has the best fixtures out of the three, and plays the highest up the pitch, and is certainly a very explosive player, and so is Phil Foden. The main concern with the Stockport Iniesta is his minutes, as we all know with City roulette. The upside with Foden is he plays for the best attack in the league, against a horrid Fulham defence. The fixtures coming up are also saucy indeed. Certainly a very strong pick.
Author's Team Reveal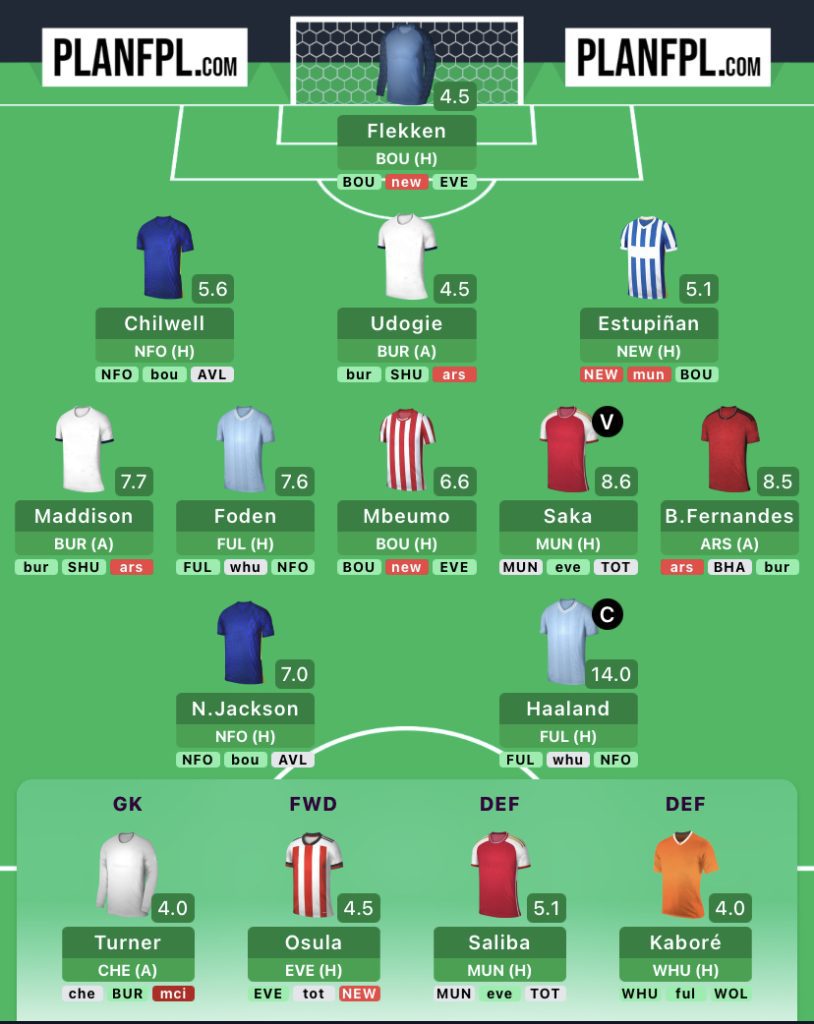 Last week was a mixed bag. 60 all out and a big green to the top 400k. The free transfer went okay, luckily as Foden was benched but picked up an assist. +2 on a luxury transfer is alright, as Martinelli blanked again. For this week though, another 2 free transfers. I've decided to keep it safe and use just the 1. Selling Rashford for Maddison. Contemplated Osula to Alvarez and starting him over Fernandes, and might've done it if it wasn't for the international break risk. For now though, 1 ft, and setting up for the future.
Transfer: Rashford (9.0) > Maddison (7.7), 3.2m itb.
Final Thoughts
Last Friday night deadline after 4-in-a-row at 6.30 pm on the 1st of September. Captain Haaland. Try to roll if you can. Keep Saka, Bruno, and hold Eze for one last chance. Take your pick on the rest, I prefer to sell Arsenal's captain. Midfielders dilemma in short: Maddison – Best data, most consistent, least explosive. Foden – Best attack, huge haul potential, best fixtures, worst minutes, benching risks. Sterling – Most advanced, best fixtures, worst attack. Good luck for gameweek 4, and get some fresh air during the international break! …or tinker with your team like a true FPL addict, whatever floats your boat. All the best!!