After a horror show of a gameweek for engaged managers, surely the only way is up from here. Many managers are looking at a Wildcard, but we'll be looking at the entire gameweek, whether you activate the chip or not.
The Gameweek Calendar
All based on UK time.
No early kickoffs, which means the deadline will be at 1.30 p.m. on Saturday, 23 September. Three matches at 3 p.m, with title holders City playing host to Nottingham Forest, the main fixture to target this week. Luton, who has an attractive DGW next week, will host Wolves. Certainly, one to keep an eye on.
Palace play Fulham in a London derby. Brentford are back to their good run of fixtures as they play Everton at the Gtech at 5.30 pm, before finishing off with Manchester United, who pay a short trip to Turf Moor as they face Burnley.
A super SUPER Sunday as the final 5 games are played, including 4 at 2 p.m. The floodlights will be on N5 as the unbeaten rivals face off in the North London derby, Arsenal vs. Tottenham. Brighton hosts Bournemouth as Villa travels to Chelsea, while Liverpool plays West Ham, all at the same time.
The gameweek finishes off in Yorkshire, as Sheffield United plays Newcastle at Bramall Lane. Making the Magpies another attractive team to target.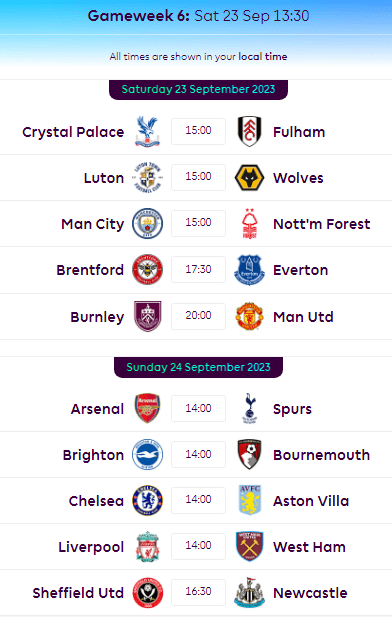 Early News
Disclaimer: This article was written 12 hours before the deadline, so be sure to follow the news on the official PL site, club sites, and social media platforms such as Twitter (X).
Rico Henry suffers a long-term injury. Bernardo Silva is out for gameweek 6, while Kovacic and Grealish "might come back". Jarod Bowen is ill and is a doubt. Gabriel Martinelli is still very unlikely to make it this week.
Transfer Targets
Check out PSB's article on the best transfers for this gameweek here.
Once again, we're looking at two teams to target, with the Magpies being one of them. Champions League football coming into the picture means more rotation for the sweet striker spot. This makes Isak/Wilson less of a good pick, despite having a very high ceiling.
The main Newcastle target should be the defenders; Botman is my personal favourite, coming in at 4.6, although Trippier (6.5) and Schar (5.0) are also brilliant options. Nick Pope (5.5) is also a top pick if you're unhappy with your goalkeeper situation.
I knew today would come when I hung my head in shame and finally recommended Julian Alvarez (6.9). Check out my "beef" with La Araña on my Twitter. Here's where it all started. He's undoubtedly your priority transfer. Well done if you already own him.
"Almost nailed," according to Pep Guardiola, although I'll take that with a pinch of salt. What we know is he plays for the best attack in the league, is on set-pieces, and is very good at them, and that he's the forward to have for GW6.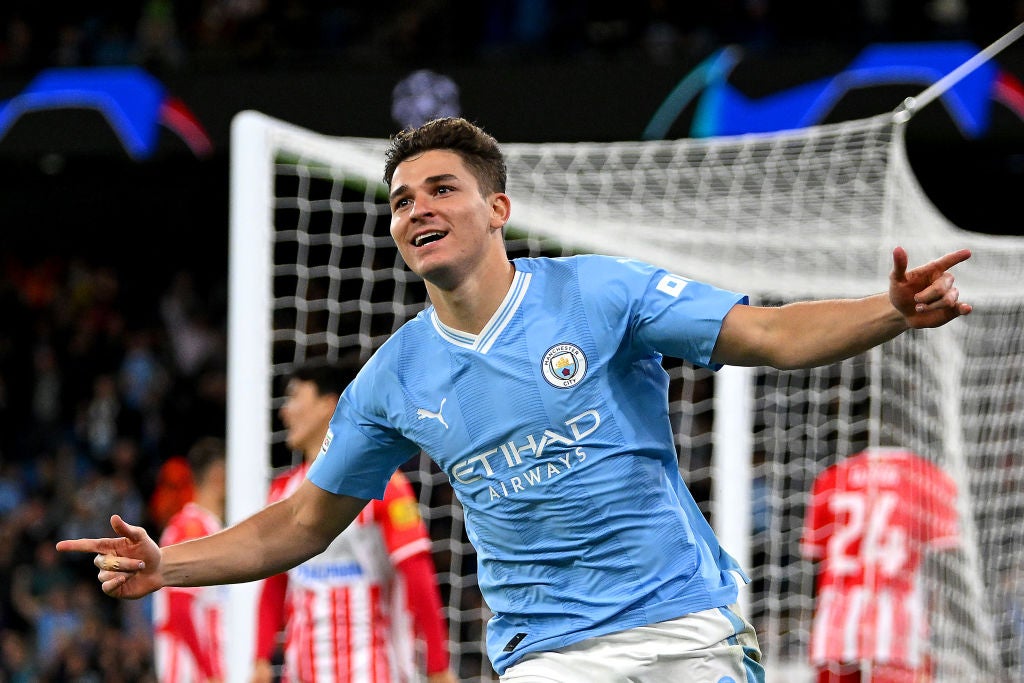 Buy other City assets at your own risk; they're only good options if they get minutes. So go with your guts. Carlton Morris is also an interesting option with WOL and a DGW coming up. Hold your Luton and Burnley assets for now.
Captaincy and Dilemmas
Erling Haaland plays Nottingham Forest at home.
The first dilemma we'll start with is Newcastle's defenders. I do believe that they all merit their prices, with Botman having the least attacking threat and Trippier having set-pieces and bonuses. So this choice is completely up to your playstyle with how much you'd want to spend on defenders. Personally, my choice will be Botman, but don't let that discourage you from picking Schar or Trippier.
With who to buy comes who to sell, and should we sell Chilwell? A benching, minutes issues, fixtures turning, and Chelsea being generally below par, I don't think he's a bad sell at all. Of course, selling him comes with a risk, with his attacking potential, so it's up to interpretation.
For the don't sells though, I would hold your Luton and Burnley defenders, as they have a double in the forth coming Gameweek 7.
Finally, though is a question of whether we should Wildcard after the nightmare that is Gameweek 5. My answer will generally be no. I don't think one bad gameweek merits one to pop the strongest chip in the game. However, if your team has been underperforming for some time or has multiple issues, there's no shame in using it, even if it's not "optimal".
Author's Team Reveal
Coming soon…
Final Thoughts
Deadline at 1.30 pm on Saturday the 23rd of September. Buy Alvarez, buy Newcastle's defense, make Morris a differential pick, and keep your wildcard unless absolutely necessary. Good luck for gameweek 6! It can't be worse than gameweek 5…. right…?