The 2023/24 FPL season's Gameweek 5 caused chaos for the FPL X (formerly Twitter) template, resulting in many managers making rage transfers or using their Wildcards in GW6. Whether you're using a Wildcard or not, it's crucial to target players from Newcastle, Liverpool, and Aston Villa, who have excellent upcoming fixtures. While Burnley and Luton Town are currently at the bottom of the league, their double-game weeks deserve attention.
If you follow my Best Transfer Tips series, you'll know that transfer targets aren't based on just one gameweek but on multiple gameweeks. Additionally, my Gameweek 5 article remains relevant for Gameweek 6, so I recommend checking it out. It's wise to have an idea of when you plan to use your Wildcard and make your transfers accordingly.
We have partnered with Drafthound, bringing you all the analysis of the fixtures, projected points, bookmakers' odds, and more for the 2023–24 FPL season. Every person who signs up through our link to Drafthound helps us grow. If you want to access such features, join the website through this link. Let's dive into our transfer targets for Gameweek 6.
Sven Botman (£4.5 million, Defender, Newcastle United)
Newcastle United has managed to concede the fewest big chances in the opening five game weeks, despite playing against teams like Manchester City, Liverpool, Aston Villa, and Brighton. The upcoming fixtures against Sheffield United(A), Burnley(H), West Ham(A), Crystal Palace(H), and Wolves(A) are expected to improve their numbers even further. In my Gameweek 5 article, I discussed how much I favoured Kieran Trippier, and he remains my top pick if budget is not a concern. However, I would recommend Sven Botman over Fabian Schär since he is 0.5 million cheaper and has better stats this season in shots, penalty area touches, and bonus points accumulation.
Sheffield United's poor ranking (20th) for xG conceded from set-pieces and headed attempts gives a boost to Trippier's, Botman's, and Schär's potential points. According to Drafthound, Newcastle has the second-best odds for a clean sheet this week at 44%. Drafthound's model predicts that Trippier, Botman, and Schär will score 26.0, 25.4, and 22.3 points, respectively, in the next five matches. Thus, bringing in a Newcastle defender should be a priority defensive transfer in Gameweek 6.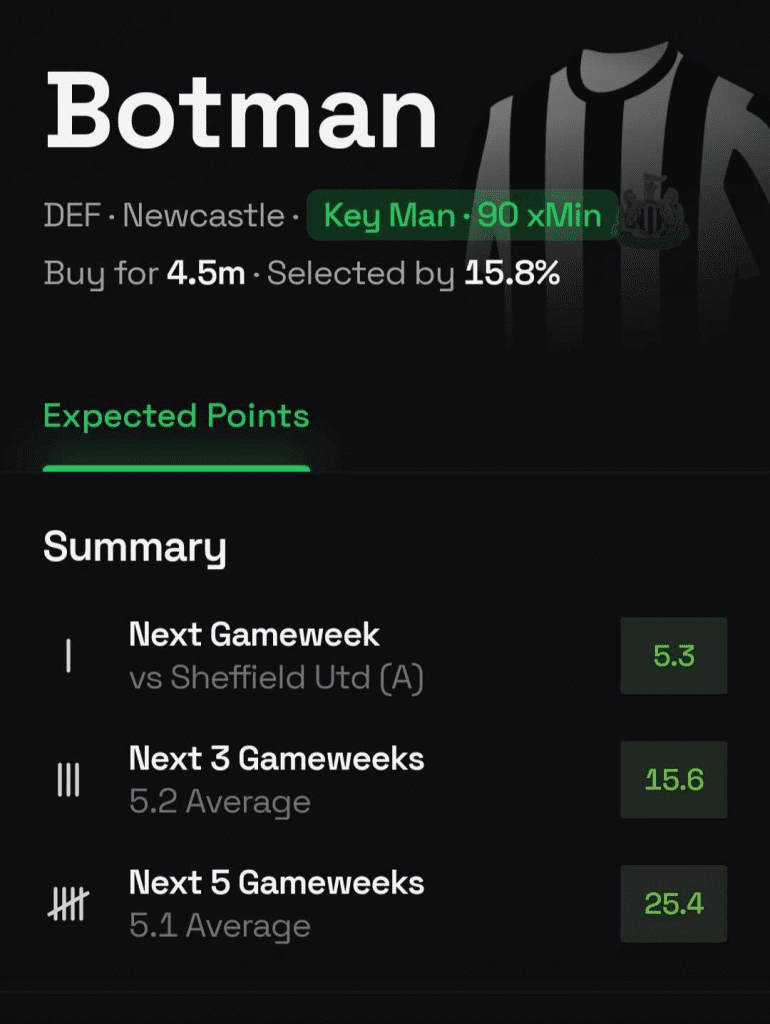 Diogo Dalot (£4.9 million, Defender, Manchester United)
As an FPL enthusiast, I believe that now is the best time to invest in Manchester United assets, despite many managers getting rid of them. The team has indeed conceded ten goals in five league games, and they're currently 12th in the league for expected goals conceded, which doesn't look good. However, it's important to note that they've faced tough opponents like Spurs and Arsenal away, as well as Brighton at home, who have impressive attacking records. Moreover, the team has had to deal with injuries to key players during crucial times.
I strongly believe that good fixtures can lead to good form, and Manchester United has favourable fixtures ahead until Gameweek 13. With Aaron Wan-Bissaka's injury, Dalot has secured his place in the starting XI for the Red Devils. Except for their games against Brentford(H) in Gameweek 8 and Manchester City in Gameweek 10, I think that Manchester United has a good chance of keeping a clean sheet until Gameweek 13. Additionally, Dalot is an attacking player with a knack for scoring goals. The return of Varane and Amrabat will help tighten up the United backline. Drafthound predicts clean sheet odds of 36%, 40%, 30%, and 38% for Manchester United in the next four league games.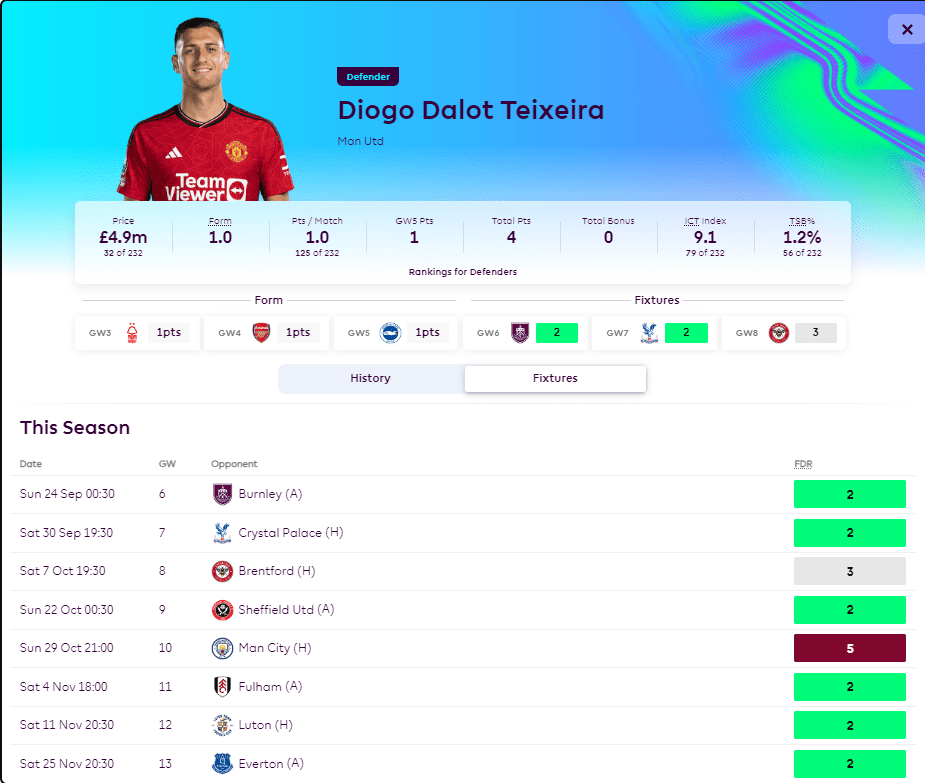 Eberechi Eze (£6.3 million, Midfielder, Crystal Palace)
In the past five league games, Eze has only scored once, and as a result, his price has dropped by 0.2 million since the start of the campaign. Despite this, he has had great underlying numbers, and he will likely start converting his chances soon. Additionally, as the person responsible for penalty kicks, Eze has favourable fixtures up until Gameweek 15, which starts with Fulham (H) in Gameweek 6. He is currently available at a discounted price and could be an ideal enabler to have alongside Mohamed Salah for the upcoming fixtures.
So far this season, the former Queens Park Rangers man has recorded an expected goal involvement (xGI) of 1.09 against Sheffield United, 0.40 against Arsenal, 0.42 against Brentford, 0.76 against Wolves, and 0.66 against Aston Villa, averaging 0.67 xGI per 90 minutes. According to Drafthound, Eze has a 29% chance of scoring and a 27% chance of assisting in Gameweek 6. They also predict that he will earn 5.2 points this game week against Fulham and 24.3 points in the next five, despite facing Manchester United (A) and Newcastle (A) in this fixture run.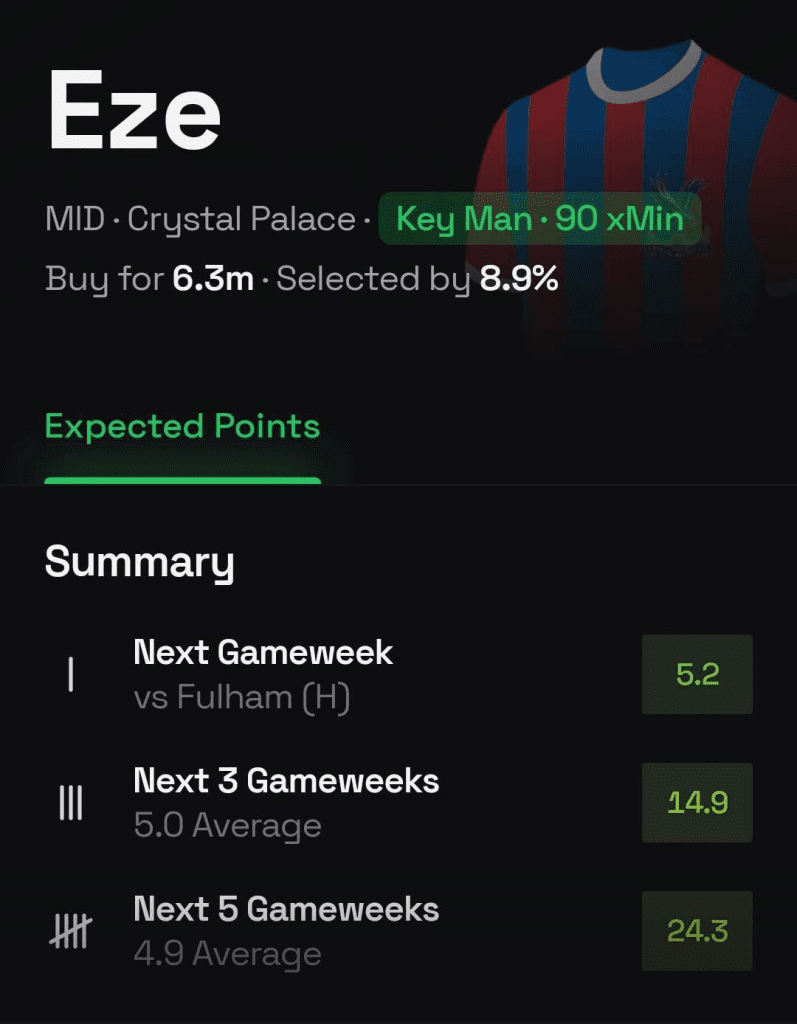 Moussa Diaby (£6.6 million, Midfielder, Aston Villa)
Since joining the Villans from Bayer Leverkusen during the 2023/24 season, Diaby has made an impressive start with four attacking returns in five league games. Despite being priced generously in FPL, the Frenchman plays a crucial role in Unai Emery's Villa side. In the Premier League campaign, Diaby has an expected goal involvement (xGI) of 0.47 against Newcastle United, 0.52 against Everton, 0.28 against Burnley, 0.17 against Liverpool, and 0.45 against Crystal Palace.
Although facing Chelsea at Stamford Bridge is not an ideal fixture to bring Diaby in, the upcoming fixtures until Gameweek 14 are amazing, and you could be a transfer ahead of the curve. Diaby's potential to cause havoc is high in games against Brighton at home, Wolves away, West Ham at home, Luton Town at home, Nottingham Forest away, and Fulham at home. According to Drafthound's model, Diaby is predicted to score 4.0 points in the game against Chelsea and 22.0 points in the next five games. If your Wildcard is active, Diaby should be one of the names in your lineup.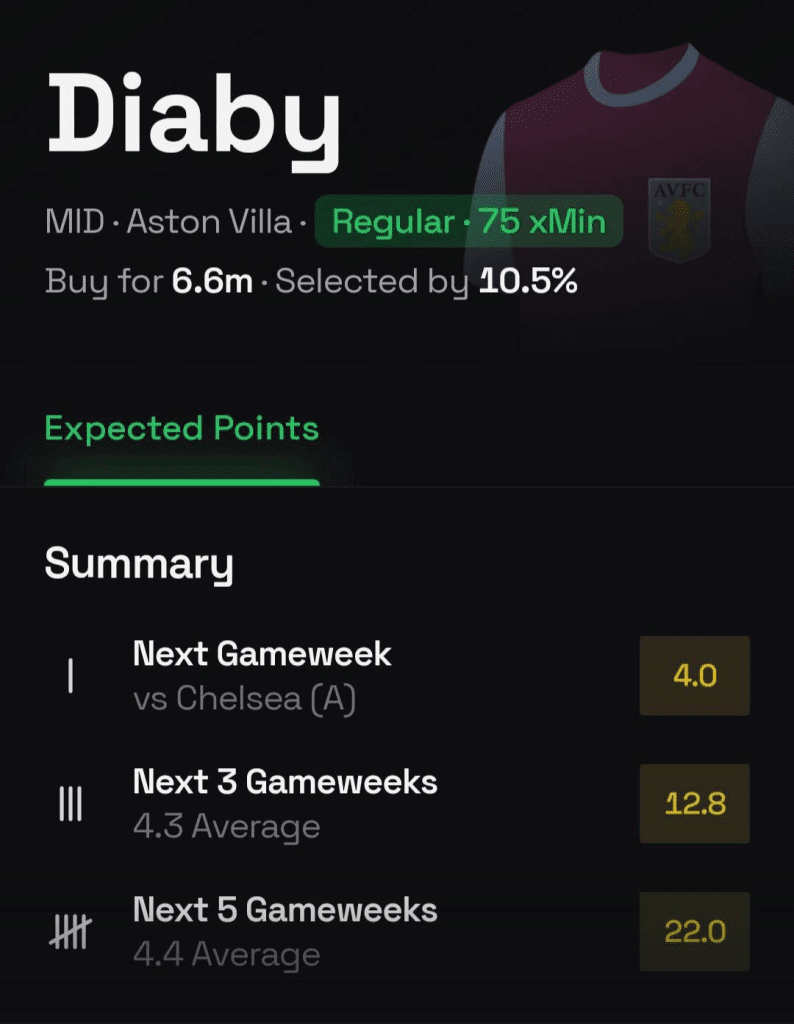 Julián Álvarez (£6.9 million, Forward, Manchester City)
If you've been keeping up with my Best Transfer Tips series and added Julián Álvarez to your team when I recommended him in Gameweek 3 for 6.6 million, then you're in luck. Since then, this Argentine player has scored 25 points, and his price has gone up by 0.3 million. So far this season, Álvarez has had seven attacking returns, despite an expected goal involvement of only 0.76 against Burnley, 0.13 against Newcastle United, 0.97 against Sheffield United, 0.67 against Fulham, and 0.49 against West Ham. He is an attractive option due to his corner-kick duties, direct set-piece duties, and his position as number 10 for Manchester City.
He has created 16 chances this season, which is second only to Pedro Neto with 17. Although he has exceeded his expected assists (xA) with 5 assists from an xA of 1.24, his ability to assist Haaland, an elite finisher, suggests that he will continue to exceed expectations. In Gameweek 6, Álvarez has the third-best odds of scoring at 48% and a 27% chance of assisting. According to Drafthound, he is expected to score 6.9 points against Nottingham Forest in Gameweek 6 and 32.9 points in the next five games.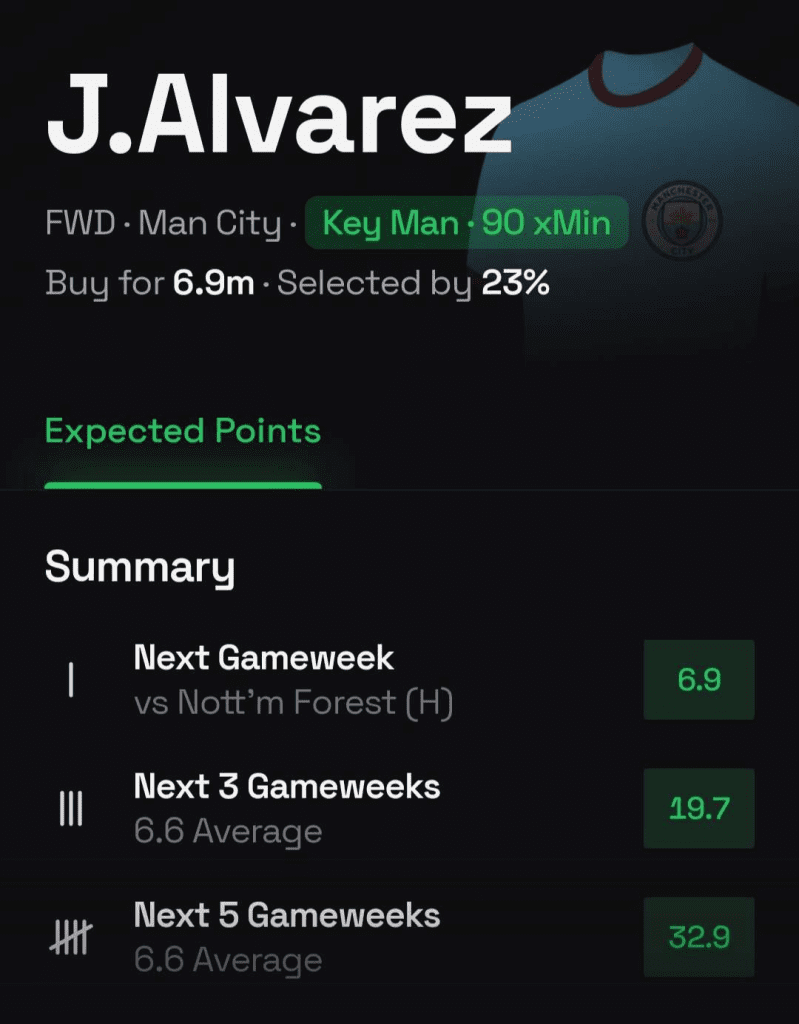 Carlton Morris (£5.5 million, Forward, Luton Town)
Indeed, Morris may not have been on our radar as an FPL option if Luton Town didn't have a double-game week. However, this upcoming opportunity in Gameweek 7 lines up well for those planning to activate their Wildcard in Gameweek 10. Despite playing for a struggling team, Morris has managed two returns in four games, which is decent. As the designated penalty taker, Morris could be a worthwhile short-term option for Gameweek 6's match against Wolves at home, Gameweek 7's away game against Everton, and the home match against Burnley.
The upcoming fixtures against Spurs and Nottingham Forest in Gameweeks 8 and 9 could also provide opportunities for him to shine. Morris has an xGI of 0.48 per 90 minutes this season, which is respectable, despite most of it coming against Brighton. In the game at Craven Cottage, Morris was the sole striker, but in the upcoming home game against Wolves, Elijah Adebayo is expected to start alongside Morris, which could enhance his attacking threat. Drafthound predicts that Morris will earn 3.9 points against the Wolves and 22.6 points in the next five fixtures.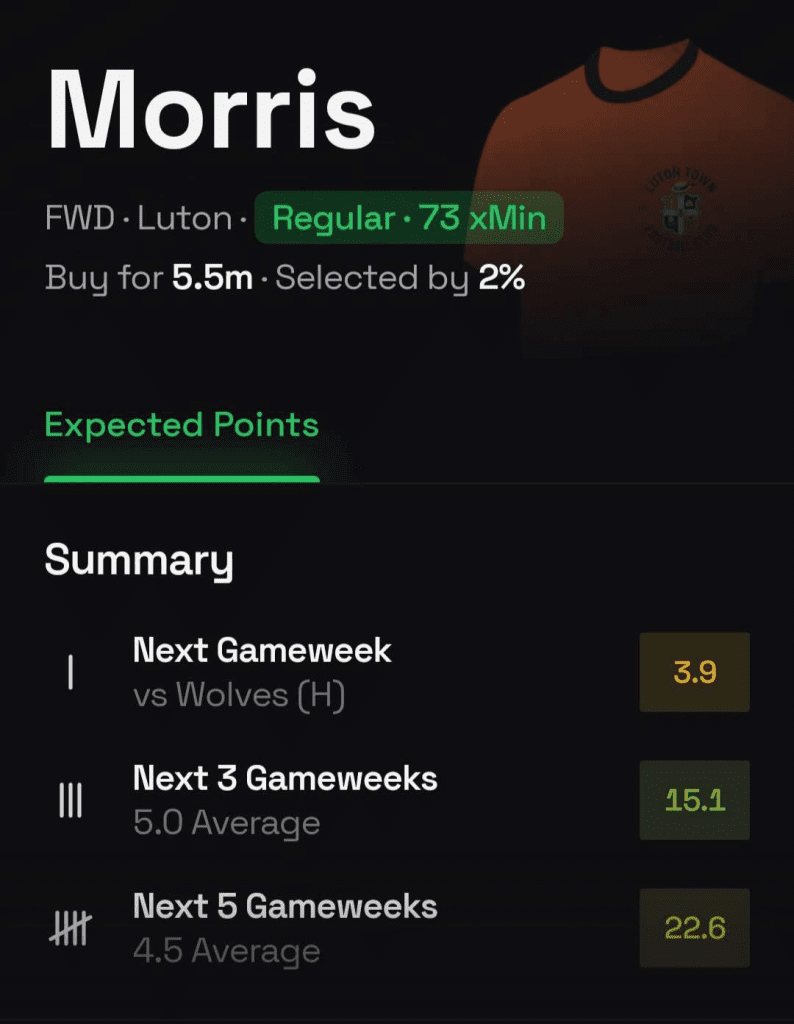 Thomas Kaminski (£4.5 million, Goalkeeper, Luton Town)
If you're not currently dealing with any urgent issues in your team and you're feeling frustrated with the Pickford and Turner combination, Kaminski may be the solution for you. Some may criticise my recommendation of the Luton Town keeper, who has already conceded 10 goals in four games, but there are benefits to considering him if you are planning on a Gameweek 10 wildcard. With Kaminski, you'll get Wolves at home in Gameweek 6, Everton away and Burnley at home in Gameweek 7, and Nottingham Forest away in Gameweek 9. You can always switch him out in Gameweek 10.
Luton has shown some strength in their only home game against high-flying West Ham this season, and I believe this trend will continue at home against Wolves and Burnley. The Everton game away in Gameweek 7 also looks promising, as Everton has yet to score a goal from 17 shots on target at Goodison Park this campaign, most of which were low xG shots. These factors could increase the Belgian shot-stopper's potential to earn you points in the double-game week. With the lack of clean sheets in the league, Kaminski gives you an additional shot for points with an extra fixture.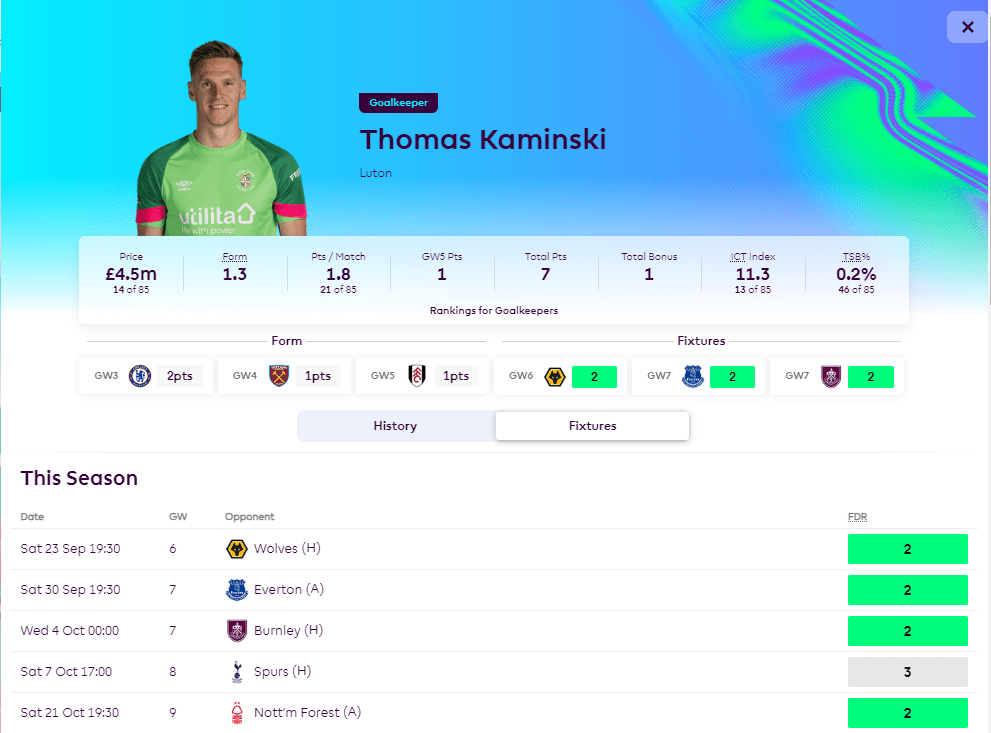 Conclusion
With Manchester City, Arsenal, Manchester United, Newcastle United, Liverpool, Brighton, and Aston Villa playing in Europe in mid-week, it is sensible to listen to the press conferences before making those transfers. With the Gameweek 6 deadline being at 1:30 p.m. on Saturday, we can expect some early team leaks. Holding on to the transfers can prove advantageous. Gameweek 5 may have proved to be a disaster for many managers, but it can be considered a bit of an anomaly. A gentle reminder that FPL is a marathon rather than a sprint. I wish you all the best for Gameweek 6.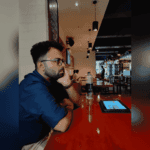 An obsessive planner who is always engrossed in data.
Addicted to FPL.
Specialise in captaincy picks.