Apologies for the disappearance last week, but we are back for one of the most quintessential part of the 2023/24 season so far. Many managers are wildcarding after strings of poor-showing gameweeks, let's see whether you should hit that tempting chip or not?
The Gameweek Calendar
All based on UK time.
The gameweek 8 deadline will be at 11 am on Saturday, 7th October. The early kickoff in Luton as the Hatters host high-flying Tottenham, with an early opportunity to go top before 1st and 3rd play each other. Spurs a team to target. Four 3 pm matches takes place on Saturday with the highlight being the battle of the underperformers, Manchester United against Brentford, where non-wildcarders will be fixated on. Burnley hosts Chelsea as Sheffield United travel to Fulham. Everton play Bournemouth at the same time, with the final game at 5.30 pm being Crystal Palace taking on Nottingham Forest.
Super Sunday is coming up with 3 matches at 2 pm Liverpool travel southeast to the Amex to play Brighton, 2 midweek European victors face off as West Ham hosts Newcastle, with the West Midlands derby taking place, Aston Villa against Wolves. Right before the Emirates sees a gargantuan titan clash as last season's top 2 go head to head, Arsenal take on Manchester City, causing havoc for FPL managers with double/triple-ups of both team.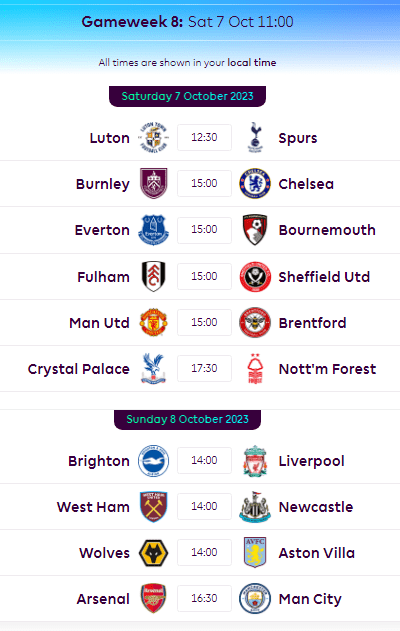 Early News
Disclaimer: This article was written 12 hours before the deadline, so be sure to follow the news on the official PL site, club sites, and social media platforms such as Twitter (X).
Many many news this week, as players drop like flies. Sven Botman confirmed out for gameweek 8, with a chance to be back after the international break, with Anthony Gordon suspended after 5 bookings, Callum Wilson is in contention. Pervis Estupinan is out for around a month, as Eze's injury turns out to be a serious one. Bukayo Saka and Moussa Diaby have a chance to play in gameweek 8 after their recoveries, Heung-Min Son is fully fit after the training photos scare.
Transfer Targets
The main transfer target this gameweek for non-wildcarders are the captaincy options, with Haaland (14.1) taking on Arsenal away, managers are looking to alternatives. Mohamed Salah (12.6) and Heung-Min Son (9.4) are the top choices, the South Korean's Tottenham teammates such as Maddison (8.0), Richarlison (6.7), Pedro Porro (5.1), and Destiny Udogie (4.8) if you don't have them already are top options as Tottenham plays Luton. Villa players now also have brilliant fixtures long-term, hattrick hero Ollie Watkins (8.0) and Matty Cash (4.9) are attractive options, and so is Moussa Diaby (6.7) if he's fit to play. If you're planning a gameweek 9 wildcard, Fulham players could absolutely work as one-week-punts.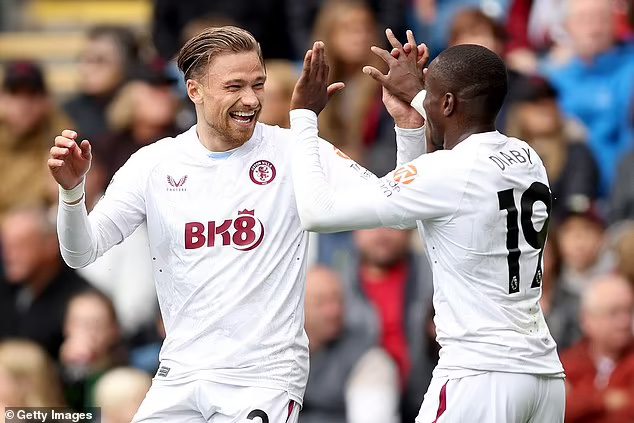 Captaincy and Dilemmas
This is one of the most interesting week for captaincy yet, with the big Norwegian man playing in the most difficult fixture in the league, Mohamed Salah against a shaky Seagulls defence, or Son against "team-to-target" Luton town are both more attractive options, with the Korean being the most popular among engaged managers.
The main dilemma on everyone's lips is "should I wildcard?", and the answer to that depends on multiple factors. Lots of engaged manager's teams might look awful now, with multiple injuries and fixture clashes could tempt you to wildcard, although there's certainly other windows to do so. Gameweek 9, 10, and 18 are 3 effective fixtures to wildcard, and that saved chip could prove vital at a later stage, and playing a City/Arsenal asset, or a budget player for 1 week can turn out worth it. However, if you have a lot of issues that you can only fill less than 9 okay players, then I'd play the chip now. It is very team dependent.
Gameweek 8 Wildcard Draft
There's certainly not a set template, but we'll take a look through the foundation of a WC8 team.
Goalkeepers
Alphonse Areola (4.2) and Matt Turner (4.0) are the cheapest 2 keepers in the game, with the former playing for a very strong West Ham side. Bargain picks for a heavy up top draft.
Defenders
Matty Cash (4.9) and Destiny Udogie (4.8) are the locks in your backline, 2 offensive fullbacks in a strong attack. A Newcastle defender is essential, with a decision to be made between the cheaper Dan Burn (4.6) or Kieran Trippier (6.8) with sacrifices to be made elsewhere. Charlie Taylor and Tariq Lamptey at 3.9 are the best cheap defender options if you need 2. If you only need one as you have a 4th playing defender, my personal favourites are Pedro Porro (5.1), Gabriel (4.7), or Trent Alexander-Arnold (7.9) is a sleeper pick if you sacrificed one of the premiums.
Midfielders
Mohammed Salah (12.6) and Heung-Min Son (9.4) are inevitable, and they should be the first name of everyone's team sheet. The mid-priced mid options contain James Maddison (8.0), Jarod Bowen (7.3), and Moussa Diaby (6.7). Two cheap mid picks, Pedro Neto (5.7), or Anthony Gordon (5.6) if you can bench him this week. Carney Chukwuemeka (4.3) is the 5th mid you're looking for if you're planning a 343/442 draft.
Forwards
Four choices, choose wisely. Obviously Erling Haaland (14.1), Ollie Watkins (8.0), Julian Alvarez (7.0), or Darwin Nunez (7.4) if you want to try ride the upside. Cameron Archer (4.5) is the cheapest forwards with minutes, Divin Mubama (4.3) is the cheapest.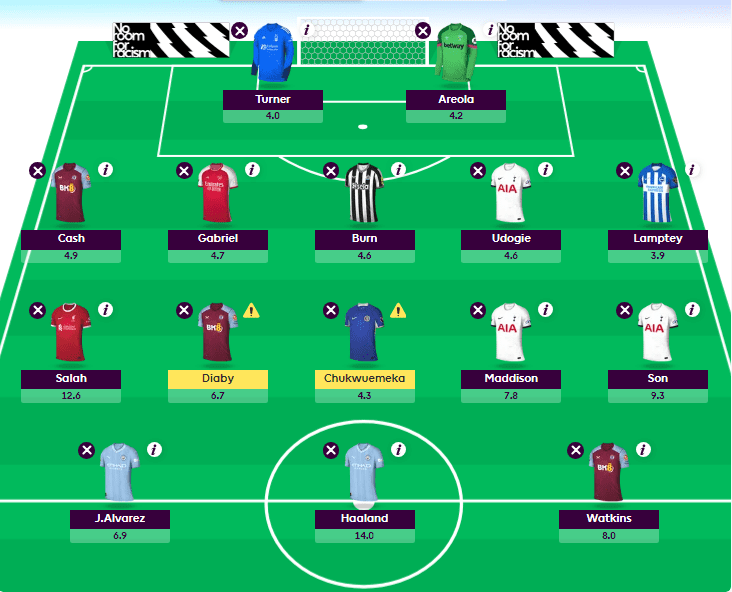 Author's Team Reveal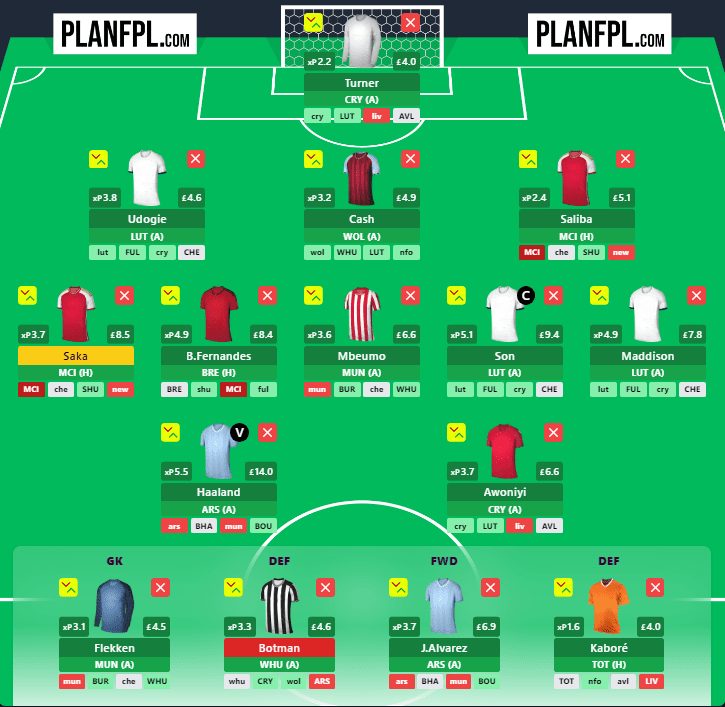 Turns out Botman over Trippier to save for Son was a disaster, but we keep our head up and continue as planned, moving for Son early after he was spotted in training, avoiding a price rise. Bringing in the best captaincy option and a top defender, waiting to analyse the landscape, before choosing if I still want to wildcard in gameweek 10.
Transfers: Foden (7.6), Estupinan (5.1) > Son (9.3), Cash (4.9), 0.7m itb
Final Thoughts
Deadline at 11 am on Saturday, 7th October. Target Spurs and Villa. Captain Son or Salah, Haaland if you have neither. Wildcard only if necessary, think about potential use if you kept the chip. Hopefully a much better week for everyone, may the green arrows come. Good luck!