It's Gameweek 8 of the 2023/24 FPL season and many FPL managers have had a rough start to the campaign. If you're struggling with your overall rank, know that the points between each rank are still very close. For example, the top 10k is only separated by 24 points from the top 100k, 46 points from the top 500k, and 58 points from the top 1 million. The Elite 1000's median overall rank after Gameweek 6 was 1.4 million. If you're still feeling down about Gameweek 7, check out Hindu Monkey's TEAM OF THE WEAK – GAMEWEEK 7 for some entertainment. You will not regret it.
In this article, I'll discuss picks that are relevant for Gameweek 8 and for the long term, depending on when you plan to activate your wildcard. We've partnered with Drafthound to bring you analysis on fixtures, projected points, bookmakers' odds, and more for the 2023-24 FPL season. Signing up through this link to Drafthound helps us grow, so if you want access to these features, please sign up through our link. Let's dive into our transfer targets for Gameweek 8.
Pedro Porro (£5.1 million, Defender, Tottenham Hotspur)
In a game that was full of controversial decisions, Pedro Porro was the one who saved Ange Postecoglou's Tottenham Hotspur team against Liverpool by providing the assist for the winning goal in added time.
Although Emerson Royal started as the right back in Gameweek 1 against Brentford, Porro returned to the side in Gameweek 2 and secured his spot with a series of impressive performances. The Spaniard has an xG of 0.4 and an xA of 0.8 so far, with an xGI of 0.2 per 90 minutes, which is better than Destiny Udogie's xGI of 0.13 per 90 minutes. The former Sporting Lisbon defender has already recorded 2 assists and created 2 big chances this season.
According to Drafthound, Spurs have a 42% chance of keeping a clean sheet this game week, which is the second-best after Fulham at 45%. Considering Porro's attacking potential and the decent upcoming fixtures against Luton Town(A), Fulham(H), Crystal Palace(A), and Wolves(A) in the next five, he could be a great addition in Gameweek 8.
Drafthound predicts that he will score 5.2 points against Luton Town and 23.3 points in the next five game weeks. If you cannot get to Porro, getting in Destiny Udogie at a slightly cheaper price is perfectly fine as well.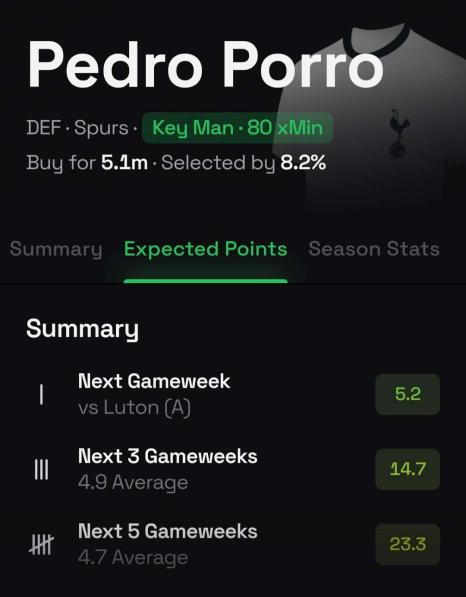 Matty Cash (£4.9 million, Defender, Aston Villa)
Matty Cash started this season for 4.5 million but has since had four price increases in seven game weeks. His price may rise again before the Gameweek 8 deadline. Cash has been performing exceptionally well this season, ranking ninth among all players for non-penalty xG.
This places him ahead of other notable players such as Bukayo Saka, Marcus Rashford, James Maddison, and Julián Álvarez.
Aston Villa has an impressive run of fixtures starting from Gameweek 8. They will be facing Wolves(A), West Ham(H), Luton Town(H), Nottingham Forest(A), Fulham(H), Tottenham Spurs(A), and Bournemouth(A) in the next eight game weeks.
Cash, the Polish right-back, has already scored 2 goals and provided 1 assist from an xG of 0.42 per 90 minutes, and an xA of 0.12 per 90 minutes this season. He has an average of 2 shots per game, with one shot on target per game. Moreover, he has created 1 big chance so far this season. Drafthound predicts that Aston Villa has a 31% chance of keeping a clean sheet against Wolves, 31% against West Ham, 43% against Luton Town, 36% against Nottingham Forest, and 33% against Fulham.
Additionally, they predict that Cash will score 4.6 points against Wolves, and 24.2 points in the next five game weeks.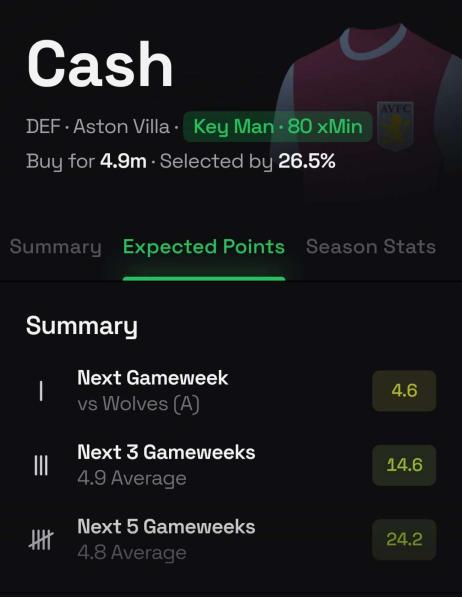 Richarlison (£6.7 million, Midfielder, Tottenham Hotspur)
When considering Richarlison as a pick for your fantasy football team, it's important to be cautious as he may only be a short-term option and recommended only if you plan on using your wildcard in Gameweek 9 or 10.
However, with Manor Solomon out injured for a few months and Brennan Johnson unavailable for at least a couple of weeks, the Spurs front three seems like an obvious choice. Richarlison's expected minutes are currently looking secure as he is set to face a struggling Luton Town side in the early kick-off of Gameweek 8.
In his last match against Liverpool, he had a healthy expected goal involvement of 1.12 (although it's worth noting that Liverpool had two players sent off).
With an xG of 0.44 and an xA of 0.12 per 90 minutes this season, Richarlison is likely to perform well against Luton Town, who are in the bottom three for xG conceded.
He also has a favourable fixture against Fulham at home in Gameweek 9. Bookies currently have his anytime scorer percentage for Gameweek 8 at 36%. Drafthound predicts his points to be 3.7 for both matches against Luton Town and Fulham, which will increase when his expected minutes are raised. Overall, Richarlison is a solid two-week punt for your team.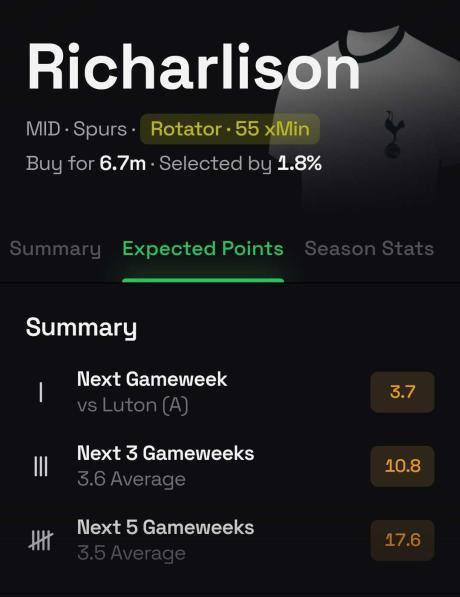 Bruno Fernandes (£8.4 million, Midfielder, Manchester United)
The trend with FPL managers looking to dump their Manchester United assets is understandable, but the Red Devils have a decent run of fixtures coming up. Brentford are not the same team in quality from last season without Ivan Toney and David Raya, and the injuries to Rico Henry, Ben Mee, Kevin Schade, and Mikkel Damsgaard have only weakened them further. Manchester United would be looking to put behind their horrible run of form and put up a show at Old Trafford.
United face Brentford(H), Sheffield United(A), Fulham(A), Luton Town(H), and Everton(A) in their next six fixtures. On penalty kick duties, Bruno Fernandes plays 90 minutes in almost every game and is the creative hub of the Manchester United side.
The Portuguese international has created five big chances this season with 3.1 key passes per game. He is averaging an xG of 0.35 per 90 minutes and an xA of 0.39 per 90 minutes in this campaign.
According to Drafthound, Bruno has the third-best odds of assisting anytime at 26% and 29% odds of scoring anytime in Gameweek 8. They also predict Bruno to score 5.4 points against Brentford and 26.0 points in the next five matches. With two double-digit hauls already to his name, the fixtures are there for the United skipper to replicate again.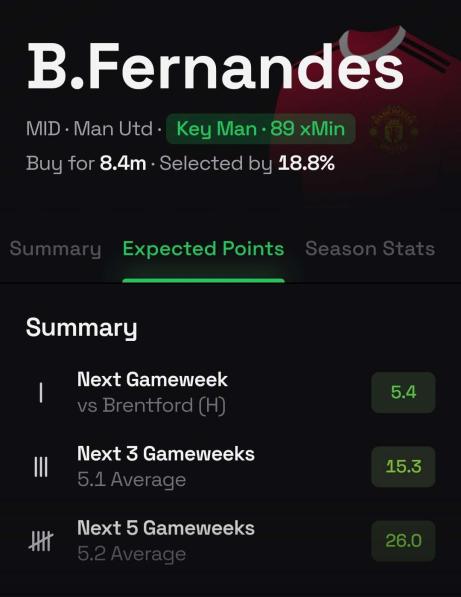 Darwin Núñez (£7.4 million, Forward, Liverpool)
Fantasy Premier League (FPL) managers are considering adding Liverpool's Mohamed Salah to their teams for the upcoming run of fixtures starting from Gameweek 8.
While it's easier to add Salah if you're on a wildcard, those who aren't might find it difficult to afford the Egyptian player due to his high price. However, Darwin Núñez could be a great short-term option to cover the Liverpool attack.
With Cody Gakpo injured and Diogo Jota suspended, the Uruguayan international is expected to start as number 9 against Brighton and Hove Albion. Darwin is known for his impressive expected goals (xG) statistics. Whenever he plays, Liverpool's attacks seem to go through him.
This season, he's averaging 1.13 xG per 90 minutes (non-penalty) and 1.28 expected goal involvements (xGI) per 90 minutes (non-penalty). He has already recorded five attacking returns in just two league starts.
While he has missed six big chances so far this season, as long as he keeps getting those opportunities, I expect him to score a few. According to Drafthound, Liverpool has a 36% chance of scoring more than two goals. Bookies have given Darwin a 36% chance of scoring at any time during Gameweek 8.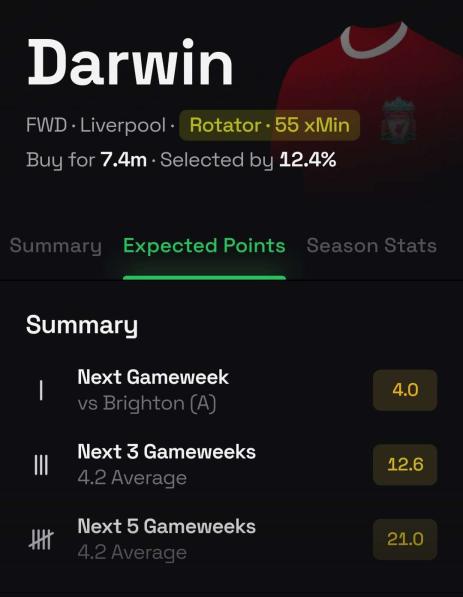 Ollie Watkins (£8.0 million, Forward, Aston Villa)
Ollie Watkins has become a popular choice among Fantasy Premier League managers, with over 775,000 of them bringing him in ahead of Gameweek 8.
This is due to his impressive performance in Gameweek 7, where he scored 23 points. However, it is important to note that his 3 goals and 2 assists were an overperformance compared to his expected goals (xG) and expected assists (xA) statistics.
It may be difficult for him to repeat such a performance this season, but I recommend adding him to your team for Aston Villa's favourable fixtures until Gameweek 14. During this period, they will face Wolves (away), West Ham (home), Luton Town (home), Nottingham Forest (away), Fulham (home), Spurs (away), and Bournemouth (home).
Watkins has scored in every game except for the one against Liverpool at Anfield, so he will likely continue to tick along. This season, he has an average xG of 0.45 per 90 minutes and an xA of 0.08 per 90 minutes.
The Villa forward has also created two big chances and has an average of 3.1 shots per game. While he has missed six big chances, this indicates that he is still getting opportunities to score. Bookmakers give him a 36% chance of scoring in Gameweek 8, and Drafthound's model predicts he will score 5.7 points against Wolves and 29.0 points in the next five game weeks.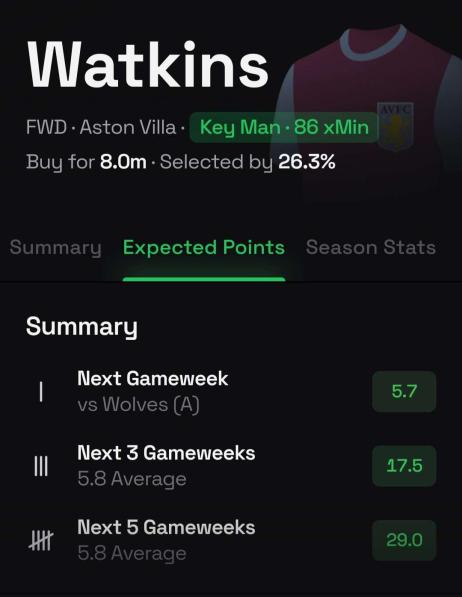 Conclusion
It's that time of the FPL season when we need to decide when to use our wildcard, and that should determine our transfers. If we plan to use it in a couple of weeks, short-term options like Darwin and Richarlison are worth considering. Otherwise, it's best to focus on long-term picks. As always, it's wise to listen to press conferences before making any transfers and not to be too swayed by price changes. With rankings so close at this point, a good couple of game weeks can significantly boost your position. Wishing you all the best for Gameweek 8 – may you all see that green arrow!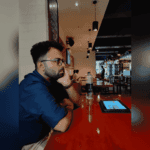 An obsessive planner who is always engrossed in data.
Addicted to FPL.
Specialise in captaincy picks.