Learn how to use Wildcard in FPL, as chips play a crucial role in Fantasy Premier League, providing you with a competitive advantage against your fellow league competitors. We show you, how to activate wildcard FPL.
For those who may not be familiar, the Wildcard represents an incredibly potent asset, granting you the ability to perform unlimited transfers without receiving any point deductions. Ordinarily, if you exceed the number of transfers you've gained, each new player you bring into your team would result in a penalty of -4 points.
Now, let's delve into how to use Wildcard in FPL, allowing you to strategically prepare your team for upcoming Gameweeks!
Table of Contents
How to Use the Wildcard Chip in Fantasy Premier League (FPL)
In order to use Wildcard in FPL, you need to first make your transfers but do not confirm. Once you've verified these modifications, the opportunity to activate the Wildcard will become available.
Once you've completed these transfers, the Wildcard chip becomes active, allowing you to make unlimited player transfers until the upcoming deadline.
In FPL, click on Transfers on the App or on the Website.
Remove the players you want to take out and add the players you wish to bring in.
Once you have made at least one transfer, the option to use the Wildcard will be there.

On the Website, this can be found under "Money Remaining." Meanwhile, on the App, you will need to hit "Next" after making your changes, and then before confirming, tap on the option that says "Wildcard Available."

Once you activate the Wildcard, you can make unlimited transfers before the Gameweek deadline.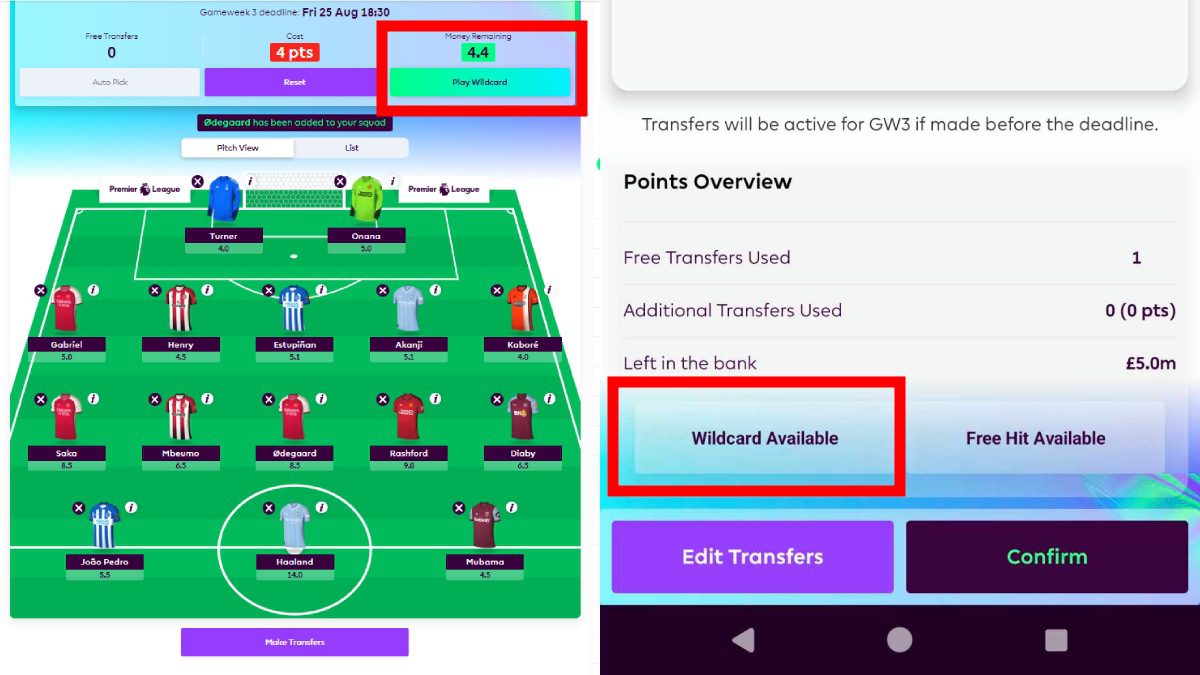 When Can I Use the Wildcard in FPL?
In Fantasy Premier League (FPL), the Wildcard chip becomes available for use starting from GW1. Each season, you're granted two Wildcard chips, and both of them come with specific time limits.
The first Wildcard needs to be used prior to the GW20 deadline, while the second Wildcard should be activated before the final Gameweek.
When Is the Best Time to Use Wildcard in FPL?
The best time to use the Wildcard depends on your team and the current situation it is in. The following situations are great times to use it:
Your team has a ton of injuries, the bench can not cover those players, and you will take a big points hit if you make transfers.
The players in your team all have a tough run of fixtures, and you feel like you will not get a lot of points in the upcoming five-game weeks.
There is a Double Gameweek coming up, and you want to target as many players with two fixtures in that week.
The FPL template has changed drastically, and you need to bring in a ton of template players to avoid falling down the ranks.
You want to use the Wildcard to set up a future Bench Boost.
Of course, using this powerful chip will ultimately come down to your personal choice. Make sure to use it wisely!
Die-hard Liverpool fan, enjoyer of Steve Finnan and Luis Diaz, writer of words and explainer of things.