Australian manager Ange Postecoglou took the job at Tottenham over the summer following a spell in Scotland, with Celtic. He brings with him an exciting style of play, one that will get the Tottenham fans off their feet. However, before any balls were kicked, there was a massive change in the squad. Not only have there been ins and outs at Tottenham, but there have also been changes in roles and a new leadership group formed.
Recruitment
Firstly, in the goalkeeping department, there was an incoming. Their main No. 1 last season was Hugo Lloris until a dismal performance against Newcastle, saw them 5-0 down after just 20 minutes. Lloris has fallen to second choice now, knocking the ageing Fraser Forster even further down the pecking order. Money was spent—around £17 million—as Empoli goalkeeper Guglielmo Vicario made the switch to England. At 26, he will be around for a while, so he should shore up between the sticks for years to come. However, at his age, he will most likely fail to break into the Italian national team, with Gianluigi Donnarumma taking the first spot.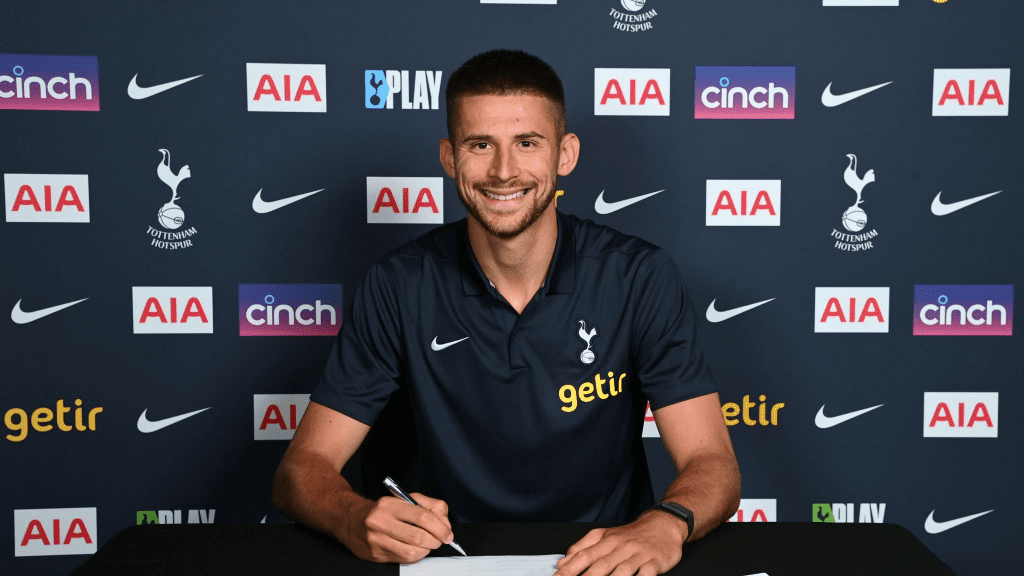 Defensively, with the likes of Cristian Romero, Pedro Porro, Destiny Udogie, and Davison Sanchez at the club, Spurs were bolstered with another centre-back. 22-year-old Micky van de Ven, who had caught the eyes of top European clubs, left VFL Wolfsburg to join Tottenham for £34 Million, potentially rising to £43 Million. He played 36 times last season as he impressed at the back in Niko Kovac's side. As well as him, highly rated English youngster Ashley Phillips was signed for a cheap fee from Championship side Blackburn Rovers. Another transfer saw an outgoing. Welsh defender Joe Rodon left for the year as he joined Daniel Farke's Leeds United on a season-long loan.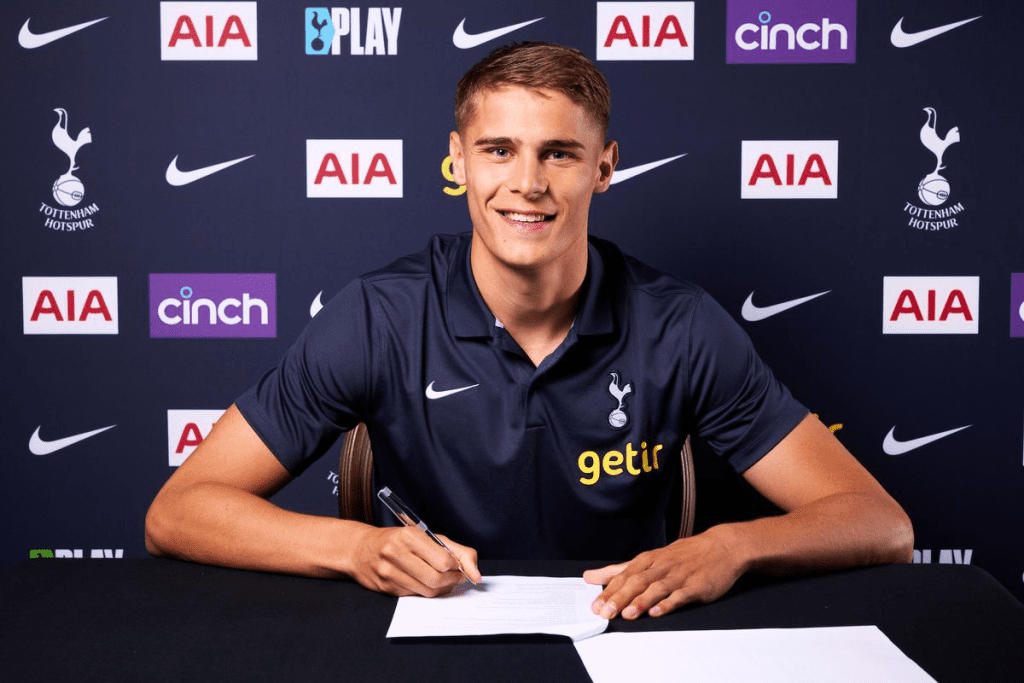 With a mixture of midfield combinations featured last season, there were no real defensive improvements in the centre of the park. Rodrigo Bentancur remains injured, and his return may throw yet another spanner in the works. Harry Winks, who spent last season on loan at Sampdoria, departed for Championship side Leicester, seeing a player come the other way in another deal. Spurs were in need of an attacking playmaker, and they got just that. James Maddison, who was relegated from Leicester City last season, joined the club. Coming down to North London for a £40 Million fee, Maddison impressed in the relegated side, getting goals and assists as well as taking the armband and being a leader. As well as Maddison, winger Manor Solomon came through the door. Having been on the books of Shakhtar Donetsk, he was a free transfer. However, last season he spent time in the Premier League on loan with fellow London side Fulham. He played 19 games in the Premier League and netted four goals for Marco Silva's side.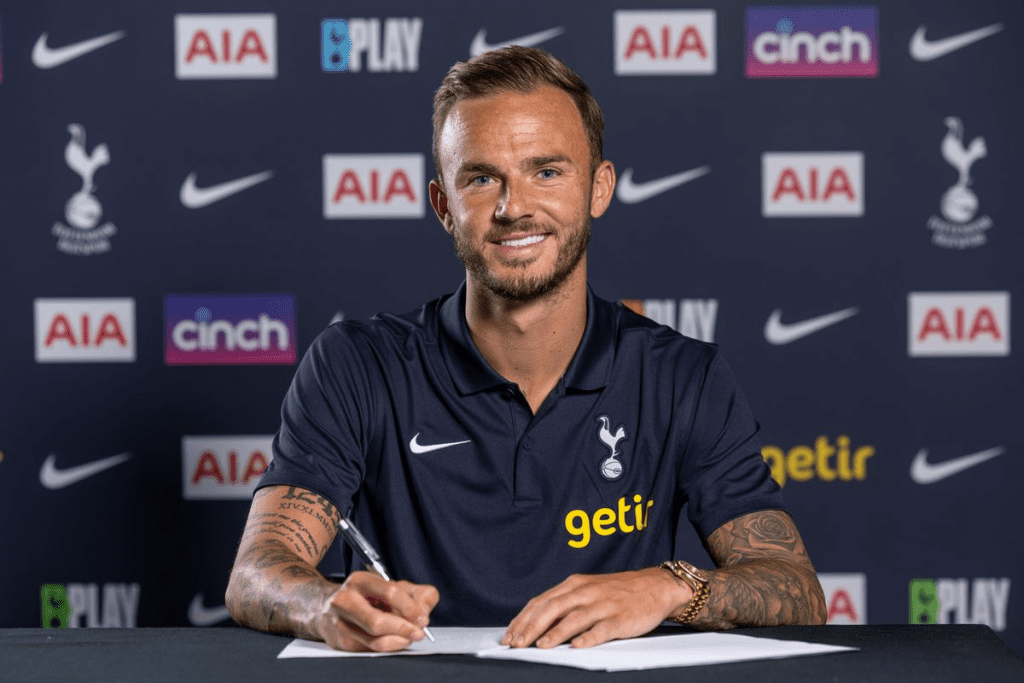 A Spurs Legend Kane Leaves Ange Postecoglou's Side
The most notable transfer saw club captain and club legend Harry Kane depart. After a long, trophyless, stay in North London, Kane decided to finally move on. In a £100 Million deal, he joined Bundesliga Champions Bayern Munich to link up with former Chelsea boss Thomas Tuchel. With no transfer to replace him yet, Richarlison looks to be the man to fill the gap, despite having just one Premier League goal at Tottenham. However, a striker has come in from Argentina. For £15 Million, 19-year-old striker Alejo Veliz was picked up from Rosario Central. At 19, he is more of a player for the future than the Harry Kane replacement that they will be looking for.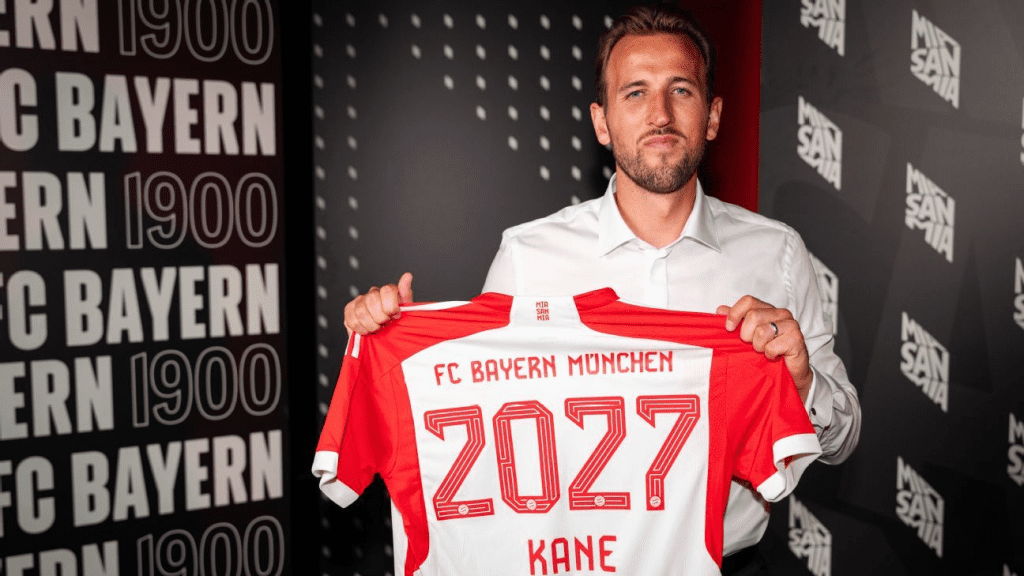 Also, with Kane's departure, a new captain was needed. While Lloris is club captain, he is not to feature, seemingly. Therefore, Heung Min-Son was elected the new captain, debuting the armband in their first league game against Brentford. Deputising for him are vice captains James Maddison, who has previously captained Leicester, and Argentinian centre-back Cristian Romero.
Tactically, looking at the Brentford game, we can see how Angeball is set to play. To start with, Tottenham deployed a 4231. From looking at the average positions of all the players during the game, we can see that Tottenham played a free-flowing, attacking style of football, a massive contrast to last season. A main feature of this was players roaming and featuring in other positions than what they were supposed to be in.
A great example in the Brentford fixture was the role of right-back, Emerson Royal. Similar to what Pep Guardiola and Jurgen Klopp have utilised, Emerson featured in midfield despite his fullback role. Playing as an inverted fullback gave him the option to create an overload in the Brentford midfield and see Spurs win that battle. As seen below, Emerson (12) was more in line with the holding midfielder, Yves Bissouma (8). This allowed Tottenham to overrun Brentford and find extra space. As well as Emerson, Maddison (10) and Richarlison (9) were both playing deeper to receive the ball. This enabled Son (7) and Kulusevski (21) to penetrate in behind and find further space. This style of play was useful in how they overcame the 5-at-the-back formation played by Brentford.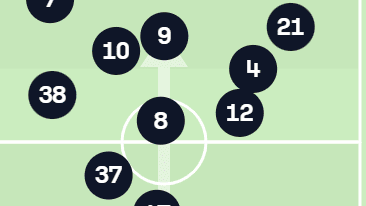 Tottenham's first goal came through Maddison, who utilised some space he was able to find. Maddison was able to pick the ball up, before being brought down and fouled. Maddison took the resulting free kick, and, after a lengthy VAR review, Cristian Romero scored the first goal of the new era. Maddison being able to find this pocket of space in between the midfield and defenders is a sign of their play working. The fullbacks, who have the licence to go forward, are taking men out of the game themselves as they create overload and act as an extra body that needs to be marked. While Emerson inverts, it is Destiny Udogie (38), who is getting forward, almost joining Son as a winger. With Brentford holding the line of a back 5, not everyone can be picked up, and therefore, players find and exploit the open space. This is something that a player like James Maddison is excellent at, with his patience being key as he is not one to rush the play.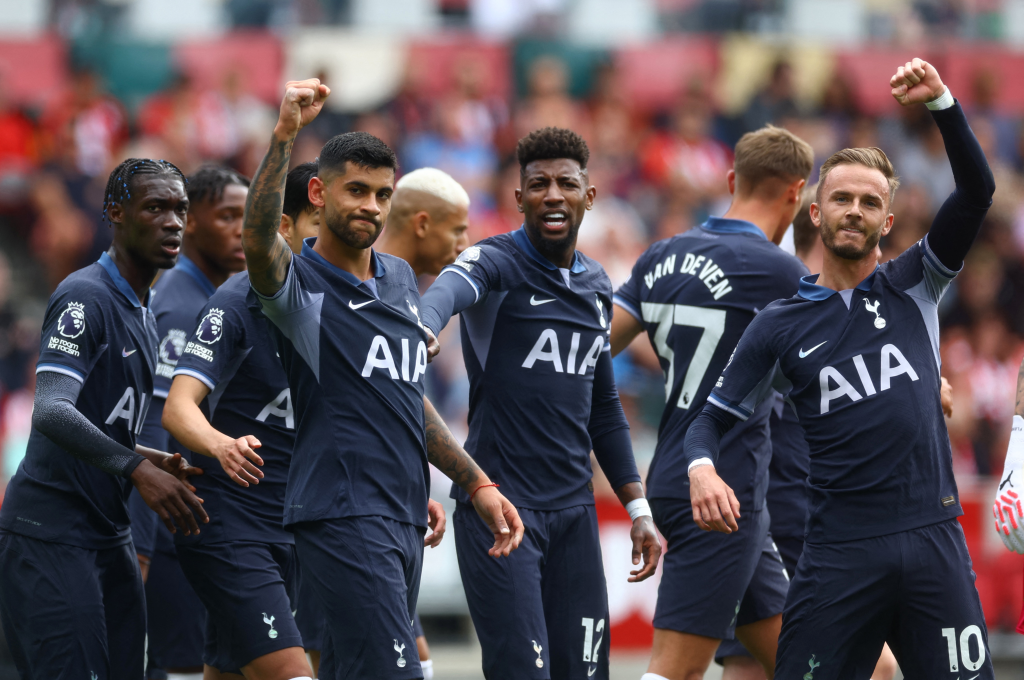 Against Brentford again, the flowing style of play was shown for the second goal. In the breakdown below, we can see that Brentford's back five do get outnumbered by the Tottenham forward play.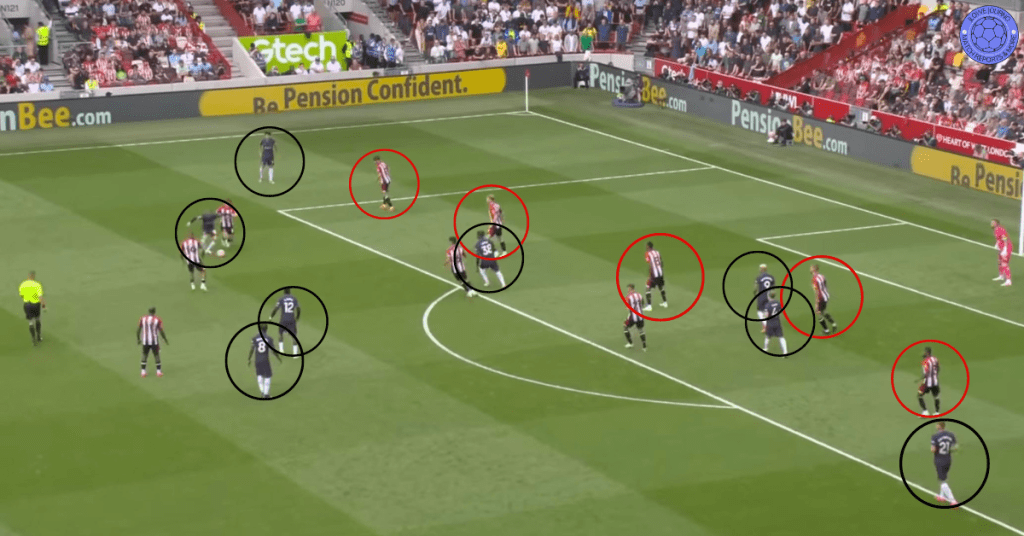 Two key players to note are numbers 12 and 38. Emerson and Udogie are the two fullbacks for Spurs, and this shows how they invert. When Maddison picked up the ball in a wide position, Udogie recognised that there was space inside, hence his making the forward run into the space. On the other hand, Emerson's inversion allows him to sit between the midfielders and backtracking attackers. Along with him, Bissouma is also in that space, as they are both well prepared in case a counter is launched. In this instance, James Maddison pops the ball across to Emerson, and he places a half-volley well into the back of the net to level the game at 2-2.
Also seen in this instance is a 5-to-5 matchup. Tottenham have five players up against Brentford's back 5, meaning that they are occupied and have to deal with them. Playing Ange's 4231, this means the fullbacks or a holding midfielder push into the space to occupy the final defender. This allows for an overload to be created up top. It also means that Brentford will have to use their midfield to mark or even pull back attackers. Spurs played the game to Brentford's disadvantage as they countered the Bees' style of play. Ange's side ended the game with 70% possession and made 711 passes, over double what Brentford did. Multiple times in the game, such as when Emerson scored, Thomas Frank's side was sitting in deep and allowing Spurs the ball, where they passed about and looked to break the space. Spurs were not rushed and defensive, unlike they were last season. Playing under Antonio Conte, they were the side that invited the pressure and let the other sides pass around and through them. This can be seen when you compare their games against Manchester United last season, to their victory against the Red Devils last Saturday.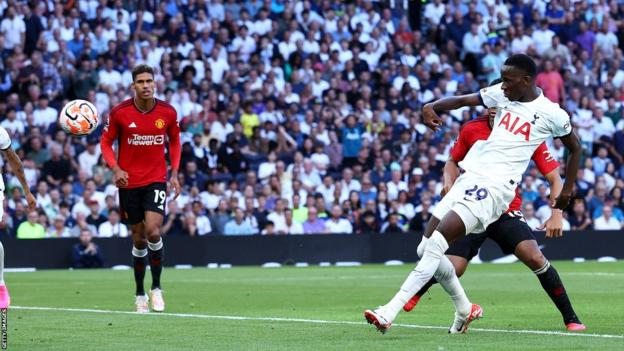 Two changes were made by Postecoglou: Oliver Skipp was replaced by Pape Matar Sarr, and Pedro Porro took Emerson Royal's place. Spurs were not as dominant as they were against Brentford, facing Ten Hag's side. Manchester United beat Tottenham 2-0 at Old Trafford last season and drew 2-2 in this fixture. Postecoglou's men proved the doubters wrong with a 2-0 victory. The sides went into the break level, however, Tottenham were on it straight after halftime. It took just 4 minutes for them to score, and it was a holding midfielder who darted deep into the box to finish. As seen in the Brentford game with Destiny Udogie, players will make runs from deep to get into the box and cause an overload. Pape Matar Sarr, who was put in over Oliver Skipp, did just that.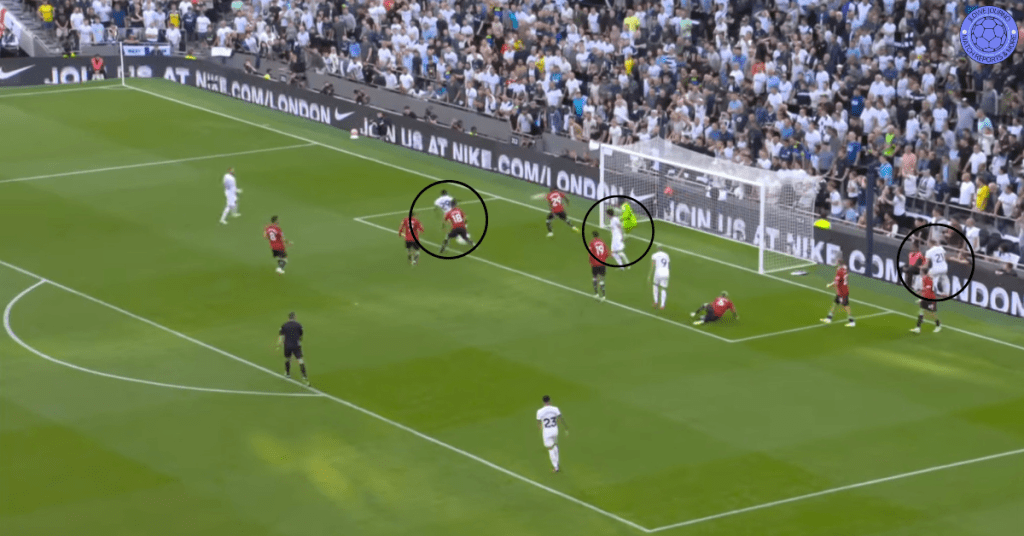 As we can see above, Sarr recognised that there was space in and around the back post and made a darting run. Circled in the middle is Heung Min-Son, who, from the left wing, cut inside to try and get on the end of the cross. This drew in the fullback, Aaron Wan-Bissaka, and left a gap. On the right too, Dejan Kulusevski had stretched the pitch wide and beaten Shaw to deliver the ball. Sarr's late, darting run was not picked up by Casemiro or Mason Mount, and by the time they realised it, it was too late, and Sarr netted his first Premier League goal for Spurs. Given that he was alongside Bissouma, he was given the licence to go forward.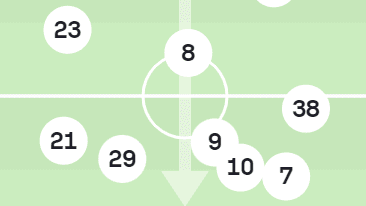 As we can see from the average positioning, Bissouma was playing the deeper of the 2 roles in midfield. Once again, it was the five going forward, which meant Bissouma, dropping by the defenders, had a vital role. He was important when Spurs looked to recycle possessions, as he picked the ball up multiple times and was able to spray the ball wide. He played this role against Brentford too. As we can see, Sarr ended with a similar average position as Skipp did, right up the top. This is because Postecoglou is not afraid to haul people off. Skipp and Sarr were replaced in both games. Therefore, they give it 100% for 75 minutes before being replaced.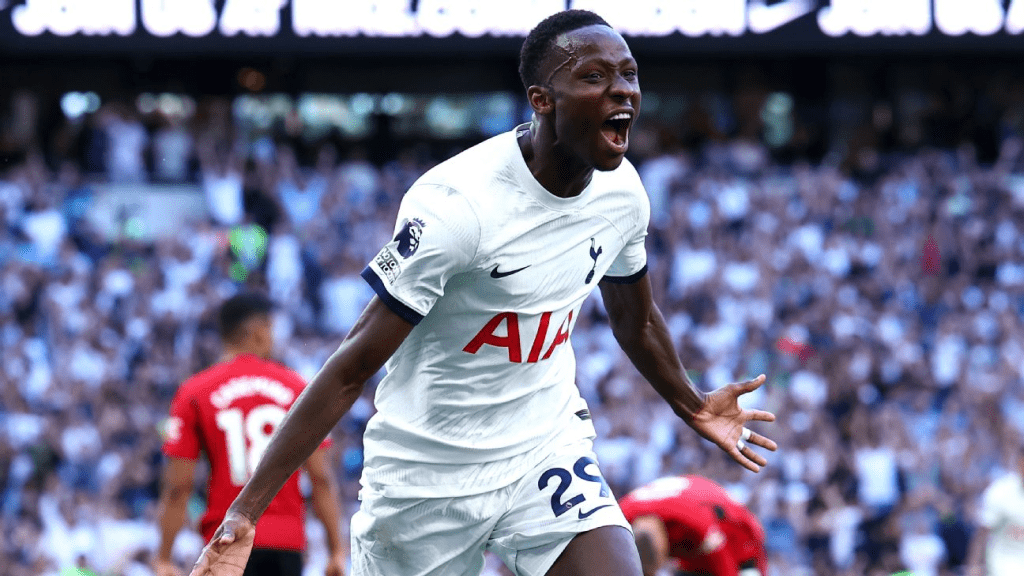 In terms of the front 4, once again we can see Son as the furthest player forward and the dropping off of Richarlison. This can also be linked to Manchester United playing a back 4, whereas Brentford played the 5. However, Son's position was key in drawing out Aaron Wan-Bissaka and allowing Udogie to underlay. This on the whole meant that Antony, playing right wing for Manchester United, was forced into defensive duties and could not apply his trade going forward. All elements of the Angeball style of play lead to another and that is how they exploited teams and dominated.
Overall, yes it is just 2 games into the Premier League season, but Ange Postecoglou's side looks much better and much different to how they played under Antonio Conte. Losing Harry Kane may seem a massive loss for Spurs however, in months to come it may look as if they are better without him. This is providing that they continue to play to their strengths, and do not switch up their style of play. As well as that, there is still time for personnel change, with the transfer window closing at the start of September.
From the writer – Thanks for reading this article, if it is something that you enjoyed, feel free to request another team breakdown! If you made it this far too, thank you!