You might've heard Manchester United manager Erik Ten Hag's famous quote, "Eras come to an end." The Dutchman couldn't have possibly been more wrong in this sense. The Red Devil's local rival, Manchester City, matched his club's greatest-ever achievement, clinching the treble in that season. However, he wasn't entirely wrong, as an era did come to an end. And it's at a much larger scale than Guardiola's glory days, as the year 2023 is the year that marks the end of possibly the most significant footballing era of all time. Prepare to relive some nostalgia as we guide you through the most prominent names that left the big stage this calendar year.
How the Mighty Goat Has Fallen: Part 1
Cristiano Ronaldo
In late 2022, a significant clash between Erik Ten Hag and Cristiano Ronaldo caused a series of controversies. The resulting drama led to the Portuguese icon participating in a notorious interview with Piers Morgan, where he openly criticized the manager, board, and facilities at Manchester United and even took a swipe at Red Devils legend Wayne Rooney. This event marked a turning point for the Dutch coach, as we saw Man United's icon and latest Ballon d'Or winner leave on a sour note. In January 2023, the world was stunned by Cristiano's decision to leave Europe as the Champions League all-time top goal scorer completed his transfer to Saudi Arabian club Al Nassr. The League was 58th in the world rankings by Twenty First Group at the time.
There is not much to tell you about how good Cristiano Ronaldo was, but considering his 819 career goals, being football's all-time top goal scorer, 32 senior major trophies, 5 Ballon d'Ors, and is widely regarded by many as the "GOAT," the Portuguese had an unfortunate and anticlimactic end to his European footballing career. Regardless of the sad exit, though, there is no doubt that Cristiano Ronaldo dos Santos Aveiro will be dubbed one of the most extraordinary men ever to grace the beautiful game.
Heartbreak in North London, Mourning in Madrid
Mesut Özil
In 2023, the football world witnessed the conclusion of the careers of several iconic players from the 2010s era. One such player was Mesut Özil, a German World Cup winner, who decided to retire while playing for Turkish Süper Lig side Istanbul Başakşehir. Known for his exceptional ability to provide assists throughout his career, Özil may not have been renowned for his longevity on the field. Nonetheless, football fans universally acknowledge that on his best days, the playmaker was among the greatest geniuses to have graced the sport. This sentiment is particularly strong among Arsenal and Real Madrid supporters who have witnessed Özil's brilliance firsthand.
Gareth Bale
Another footballing legend that retired in 2023 is Gareth Bale—spending his last years in the sun off the Pacific coast at LAFC. Bale was known for many things. However, his trademark quality will have to be his blistering pace. His 39.9km/h (yes, you read it right) sprint against Villareal in 2013 still holds the record for the fastest sprint in the sport to this day (as of June 2023). Starting his career as a left-back at Southampton, it was at Tottenham that the Welshman showed his quality to the world. Bale won the PFA Player's Player of the Year award twice in 2011 and 2013.
His performance in England's capital made Real Madrid break the bank and the transfer record at the time with their £85 million purchase. He then went on to win 15 major trophies with Los Merengues, including 5 UEFA Champions League titles. In that time, the winger racked up 106 goals and 67 assists in 258 appearances. However, things went sour with the Los Blancos fanbase. After the controversial "Wales, Golf, Madrid" scandal, he slowly faded away from Real's circle. Going on loan back to the new Tottenham Hotspur Stadium and finally leaving the Santiago Bernabéu in 2022.
On the contrary, it's a happy story with the national team. Being Wales' record appearance holder (111), all-time top goal scorer (41), and awarded an MBE for services to football and charity. Gareth Frank Bale is in contention for the greatest British footballer ever. And he certainly isn't too bad at golf, either.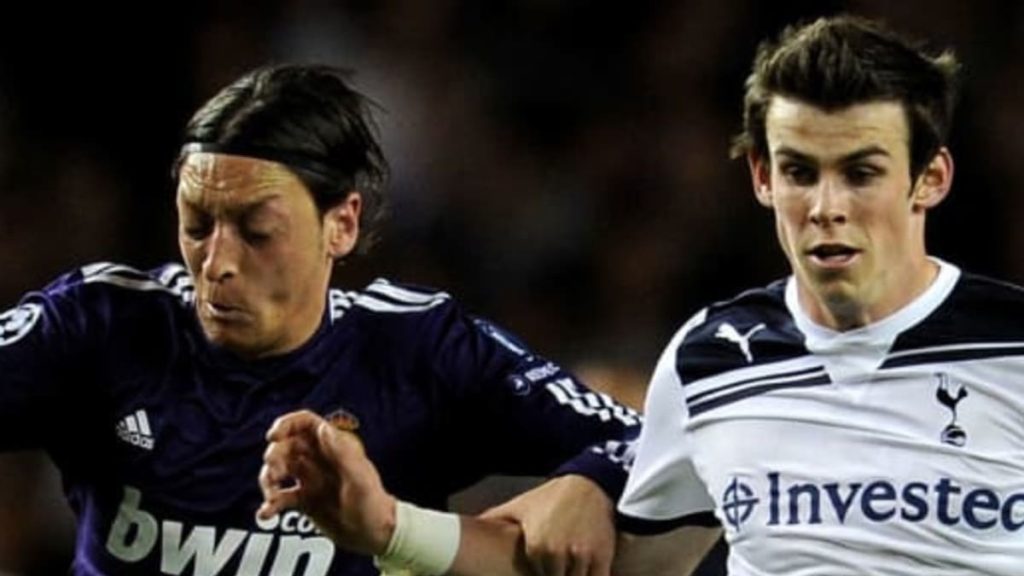 Barcelona Bemoans
Continuing our journey to the northeast on the Iberian Peninsula, Camp Nou, the iconic stadium of Barcelona, experienced the departure of two long-serving members of the classic Barcelona XI. Following Gerard Piqué's departure in November, Barcelona fans did not have much time to catch their breath before witnessing more of their beloved legends bid farewell to the hallowed theater of football.
Jordi Alba
Jordi Alba was Catalonian born and bred, although his time at Valencia earned him his big break, joining from the Mestalla in the 2012 summer window for just €14 million. The left-back went on to play 459 games for La Blaugrana, scoring 27 goals and only one short of a century of assists in blue and red. He also won 6 LaLiga titles and was crucial to Barça's Champions League triumph in 2015. Alba also had 91 caps for Spain, winning the Euros in 2012 and solidifying his place in Spanish football folklore.
Sergio Busquets
His teammate and Barcelona legend Sergio Busquets followed suit. Busquets (at the time of writing) is a one-club man, serving 15 years in the first team. Plus, an extra three on the Barcelona U19 side. 722 appearances for one of the biggest clubs in the world and 143 caps for La Furia Roja. The Spaniard's pedigree can't be questioned and is further backed by his trophy haul. 32 major club trophies, including 9 LaLiga titles and 3 UEFA Champions League titles. He played a crucial part in the famous 2009 UCL-winning side, dubbed by many as the greatest team in history. He also lifted the UEFA Euros alongside Alba in 2012, but Busquets was a massive part of Spain's first-ever World Cup-winning side. Passing, defending, and an all-around footballing genius, he is the definition of a perfect modern-day defensive midfielder. Because when you think defensive midfielder, you think Sergio Busquets.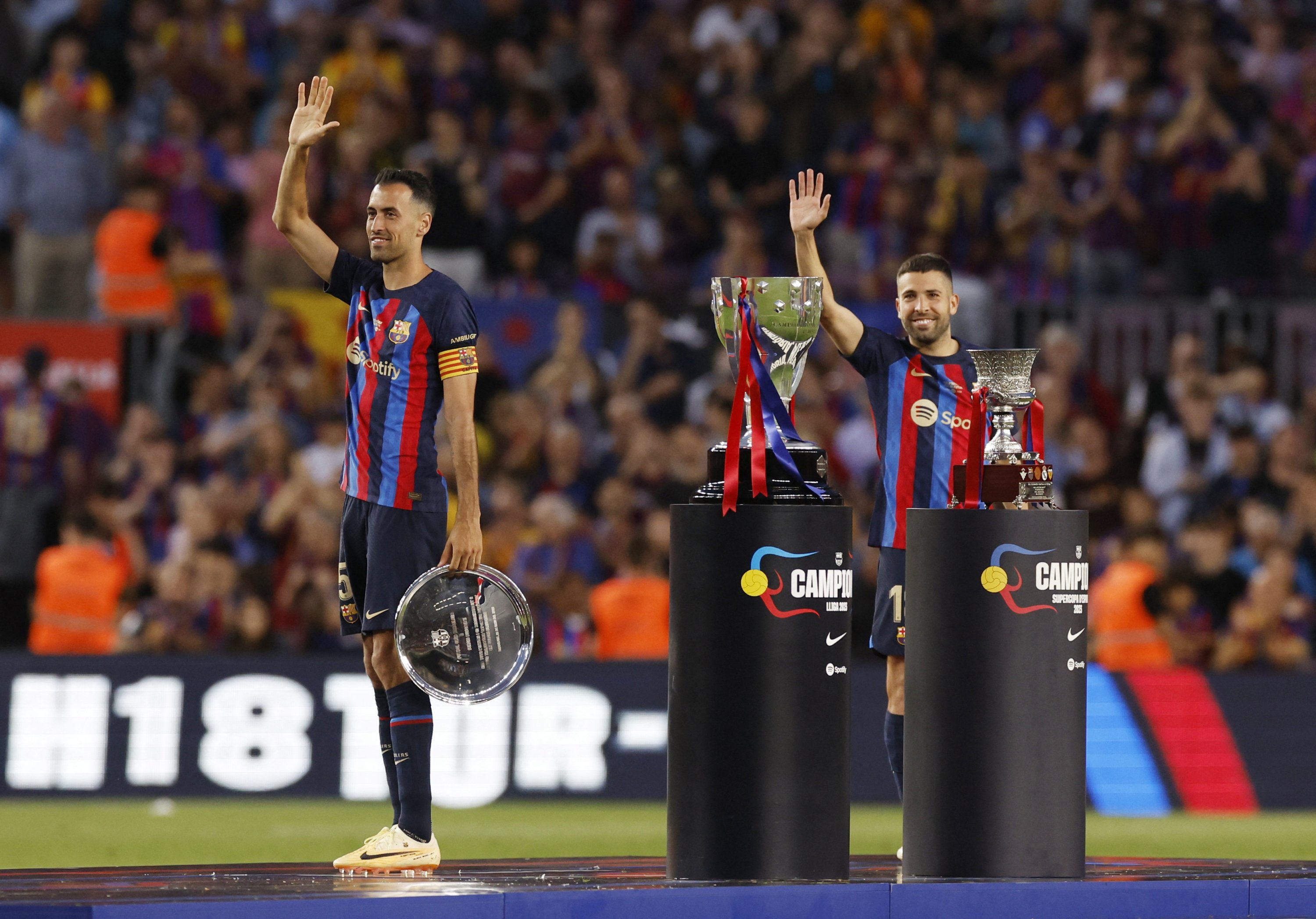 Sorrow Over Superstar Strikers
Zlatan Ibrahimović
Organising sections based on clubs might not work anymore, as our next player is "the lion" himself, Zlatan Ibrahimović. Loyalty might not be his biggest asset, playing for nine clubs across his career. However, he makes up for that with his over-the-top bad-boy personality, backed up by his apparent capabilities. 502 goals in 817 games, including 62 for the Swedish national team, making him their all-time top scorer. One of those 62, of course, is considered by many to be the greatest goal of all time. As expected, his 35-yard bicycle kick against England won the FIFA Puskás Award in 2013. It certainly is a goal that will be remembered in the record books and the generation's minds. The self-proclaimed "God" will be hanging up his boots with AC Milan after the Rossoneri's impressive run to this year's UCL semi-finals and one year after Milan lifted the Scudetto for the first time in 10 years.
Karim Benzema
From one legendary striker to another, Karim Benzema has also announced his decision to leave Real Madrid after 14 years, joining Saudi side Al Ittihad for free. Benzema was a prodigy for boyhood club Olympique Lyon, playing a big part in winning four Ligue 1 titles in a row, including the double in 2008, winning both competition's golden boot and Ligue 1's Player of the Year. That earned him a €35 million move to the Bernabéu; the rest is history. 354 goals in 648 games for Los Blancos, becoming their 2nd all-time top goal scorer. 25 major trophies in white, including 5 Champions Leagues, the joint 2nd most of all time. There are many second places in this paragraph until the 2021/22 season, where Benzema exploded—winning the League-Champions League double and being the top scorer and player of the Year in both competitions. And, of course, to top it off, winning the Ballon d'Or. This year, we will be saying goodbye to two of the best strikers in our generation.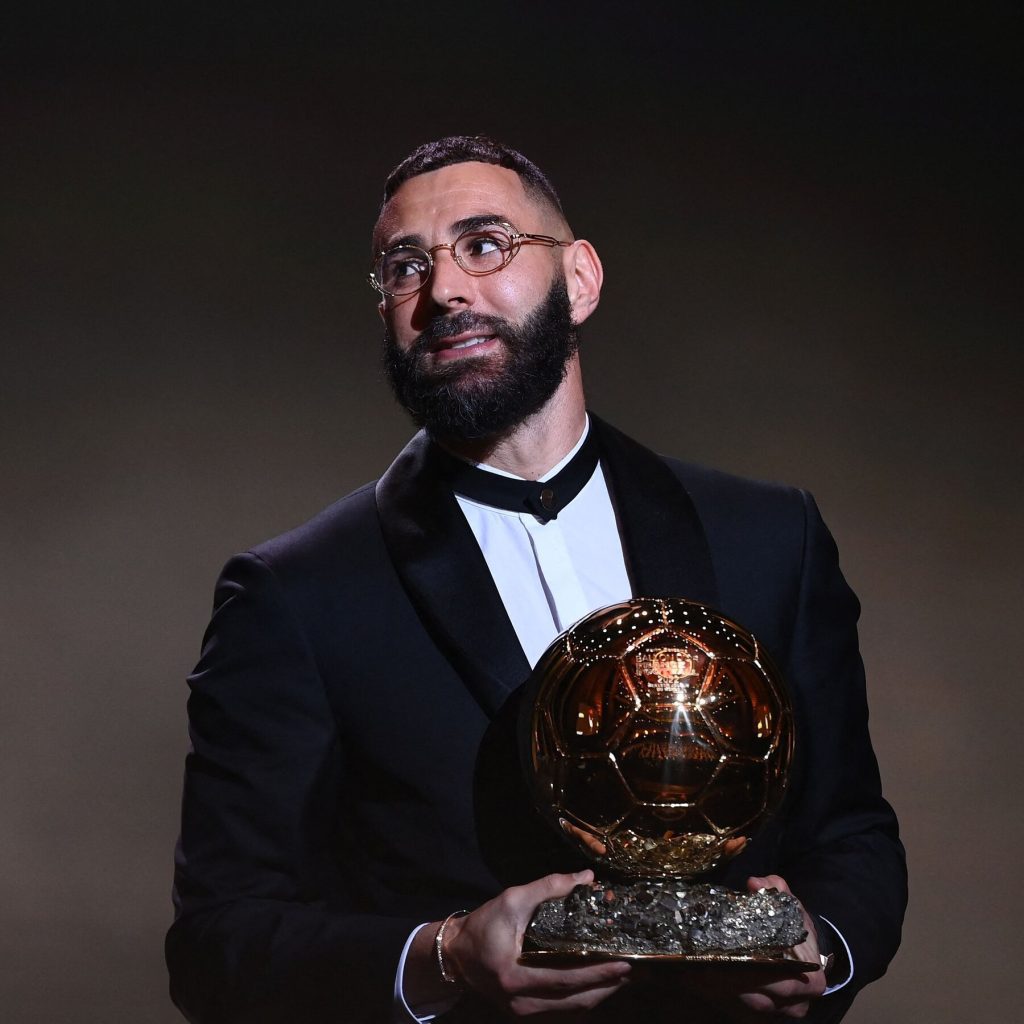 2023, the Year of Goodbyes
3-time Champions League finalists and Premier League winners 2020, Roberto Firmino and James Milner, will leave Liverpool after eight successful years at Anfield. While former Premier League winner with Leicester City and Chelsea N'golo Kanté will be leaving Europe and joining Karim Benzema in Saudi Arabia. Bojan Krkić, Emmanuel Adebayor, and Joaquín are other players who retired this year. Popular game franchise "EA Sports FIFA" will lose its naming license in 2023. Well-known referee Antonio Mateu Lahoz also retired after 15 years in LaLiga this season.
How the Mighty Goat Has Fallen: Part 2
Lionel Messi
And here it is, the final piece of the jigsaw was lost. In June 2023, Lionel Messi announced that he would not continue with PSG. But that wasn't the surprising part. Instead, it was his choice of MLS club Inter Miami as his destination. Despite his close friend and Barcelona head coach Xavi Hernández's attempt to persuade Messi to one last dance, the Argentine wasn't convinced by his beloved former club's financial situation. He later said in an interview that he doesn't want to force his colleagues at Camp Nou out to try to fit him in. Ultimately, Messi left Europe and made his next stop in the Florida sun.
Sadly, his departure from the French capital was not so savoury, with Parisians accusing him of laziness and not turning up for big games. A section of the fans even booed the 35-year-old. However, his departure had mixed emotions. As the Ligue 1 title was lifted, Messi equaled former teammate and Brazil legend Dani Alves' record, becoming the joint most decorated player with 43 major titles, alongside his large list of individual awards and records in his name, whether it would be his seven Ballon d'Ors, two World Cup Golden Balls, or his unbreakable 91 goals in a calendar year record.
Campeones del Mundo
Nonetheless, this season was the perfect happy ending for him and his country as Argentina lifted the FIFA World Cup high in the skies of Doha, beating France on penalties in the final, after arguably the greatest football match ever. Billions of fans around the world celebrated his success. Tens of millions of tears dropped in Buenos Aires as Leo Messi held the holy grail in his hands, having brought eternal glory to his country.
Even though things didn't end well with his club, he wouldn't have had it any other way. And if this is his final season in high-level football, then it couldn't have gone any sweeter.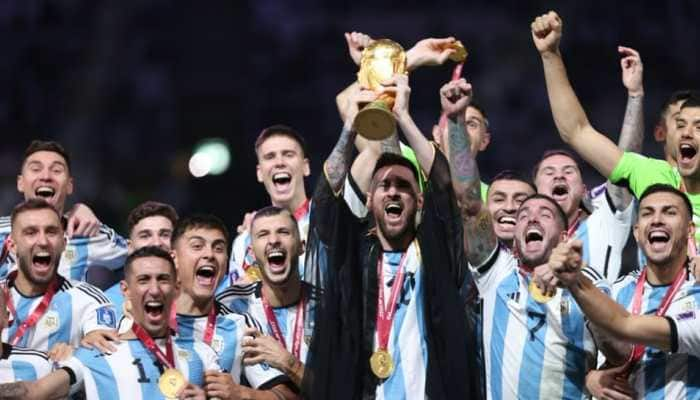 When One Door Shuts, Another One Opens
2023 has been a tough year to take in for football fans. Particularly those of you in my age group. The 2010s footballing era is all we know. The Messi-Ronaldo debate. BBC vs. MSN. Pep's tiki-taka Barça and UCL 3-peaters Real Madrid forming possibly the peak of El Clásico. LaLiga dominating the European scene. The Barclay's Premier League. The old FIFA games and their soundtracks. A massive chunk of that will be no longer. The two faces of the sport drifting away to retire in a different continent. Iconic figures that shared their limelight stepped off the stage alongside them.
Nevertheless, it's not all nostalgic doom and gloom. There are new faces that are looking to create a legacy. Saka, Rashford, Vini Jr., and Pedri are all promising names of the new era. Meanwhile, young managers such as Arteta and Xavi are on the touchline now, and of course, Haaland and Mbappé are likely battling for the spot of this new dawns GOAT.
There are so many things to be excited about in the "new era." Yes, we lost our childhood heroes today, but we'll be looking back in 15 years, retelling stories of how special today's wonder kids were. As the door officially shuts for the Messi-Ronaldo era, the curtain rises for the next one. Haaland, Mbappé, or whoever it may be. Bring on the 2023/24 season of the beautiful game.