The first match of Gameweek 11 of the Premier League will see Manchester United face Fulham at Craven Cottage on Saturday. Many fantasy football managers have already used their wildcards in Gameweeks 8, 9, and 10, so their teams should be well-prepared for this week. Rolling a free transfer will be a good idea this week, as several strong teams are facing each other and the potential gains are limited.
Although Manchester City has a favourable fixture in Gameweek 11, they will face tough opponents such as Chelsea, Liverpool, Spurs, and Aston Villa in the following four weeks. If you want to transfer players, it's recommended to bring in Liverpool players. Before diving into the article, let's look at the odds for Gameweek 11.
For the odds, I am using FPL Review's Massive Data Model's Raw Data. This data is based on the assumption that a player plays 90 minutes and comes from the site's Massive Data Model, which is known to be more predictive than cleaned Bookmaker Odds. Manchester City, Arsenal, and Wolves make the top three in Clean Sheet odds, while Bournemouth, Luton Town, and Everton are at the bottom of the Clean Sheet data.

Erling Haaland tops the chart of Gameweek 11 Scorer Data, with 1.15 eGoals/90 and Anytime Scoring % of 68%, with Mohamed Salah and Darwin making it to the top three with Anytime Scoring % of 54% and 51% respectively.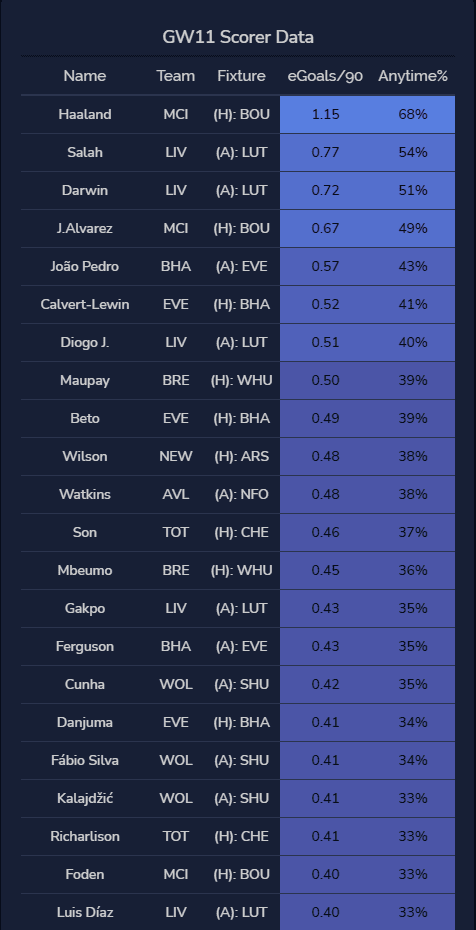 We've partnered with Drafthound to bring you analysis on fixtures, projected points, and more for the 2023-24 FPL season. Signing up through this link to Drafthound helps us grow, so if you want access to these features, please sign up through our link. If you have not checked out my Gameweek 10 article, you may do so as it is relevant to Gameweek 11. Let's dive into our transfer targets for Gameweek 11.
Konstantinos Tsimikas (£4.6 million, Defender, Liverpool)
Considering the popular defensive assets in the game playing against each other in Gameweek 11, there are very few defensive options available to consider. As previously mentioned, Liverpool has the second-best chance of keeping a clean sheet this Gameweek. However, with Andy Robertson out with a shoulder injury, Tsimikas is the most affordable option to include in the Liverpool defence. He is likely to get a fair amount of playtime and has already helped Liverpool secure two clean sheets in their previous two games.
It seems unreasonable to pay almost 8 million for Trent when Tsimikas is available at such a cheaper price. The Greek left-back has shown decent stats with an xA of 0.18 against Everton and 0.20 against Nottingham Forest. It is interesting to note that Liverpool's Gameweek 11 opponents, Luton Town, have conceded the most chances (43) down their right flank, which might prove beneficial for Tsimikas to get an attacking return. He has also created a big chance in the last game.
Moreover, his affordable price allows you to bench him in the tough fixture against Manchester City and then take advantage of the easier fixtures where he faces Fulham (H), Sheffield United (A), and Crystal Palace (A). According to Drafthound's model, Tsimikas is predicted to score 4.6 points against Luton Town and 20.2 points in the next five games.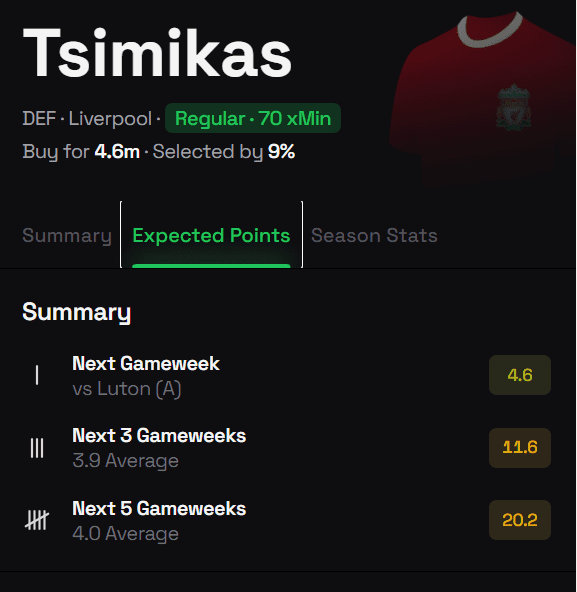 Kyle Walker (£5.3 million, Defender, Manchester City)
Although it may not be ideal to bring in a Manchester City defender for Gameweek 11, given that they will be up against Chelsea(A), Liverpool(H), Spurs(H), and Aston Villa(A) in the next five games, managers who are looking for a one-week defender punt should definitely consider Kyle Walker. Manchester City has the highest odds of keeping a clean sheet against Bournemouth, according to both Drafthound and FPL Review at 69% and 59% respectively. Walker has played the full 90 minutes in every game in the league this season, indicating that he has firmly secured his position in the starting XI.
There are concerns that Pep might randomly rest Walker, but with no mid-week fixture for Manchester City, it is almost certain that he will start. With one assist to his name in the Premier League campaign, Walker is the most attacking Manchester City defender. It wouldn't be surprising if the England international gets an attacking return against Bournemouth, who have conceded 37 chances down their left side. He has also created two significant chances in this campaign. Drafthound's model predicts him to score 5.1 points against Bournemouth and 22.0 points in the next five games.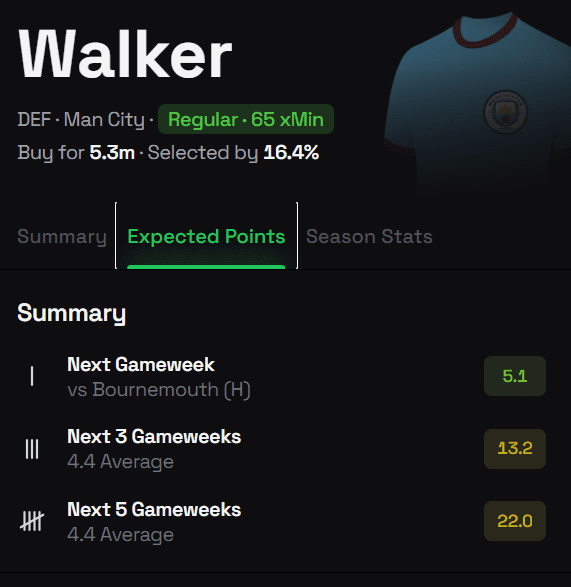 Bryan Mbeumo (£6.7 million, Midfielder, Brentford)
Back-to-back double-digit hauls against Burnley and Chelsea have left those who sold Bryan Mbeumo regretting their decision. Brentford ranks seventh in expected goals and boasts a decent attacking unit with Mbeumo as the talisman. As the player responsible for taking penalties, he has more opportunities to add points to his tally. In the current season, Mbeumo has scored 6 goals and provided 2 assists, with an average of 0.62 xG per 90 minutes and 0.30 xA per 90 minutes.
Brentford will face West Ham in Gameweek 11, and the latter has been struggling defensively, ranking in the bottom four for expected goals conceded. West Ham's weaknesses in the middle of the pitch (53 chances) and left flank (46 chances) present an opportunity for Mbeumo to exploit. According to Drafthound, the Cameroon international has a 40% chance of scoring and a 22% chance of assisting against West Ham. Their model predicts that Mbeumo will score 6.6 points in the next game and 30.7 points in the next five game weeks.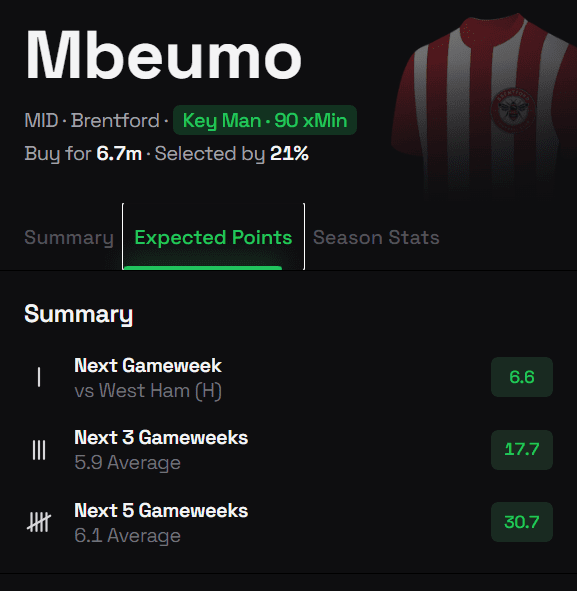 Kaoru Mitoma (£6.5 million, Midfielder, Brighton & Hove Albion)
Brighton & Hove Albion has started a favorable run of fixtures from Gameweek 10 onwards. In the next 3 fixtures, they will face Everton(A), Sheffield United(H), and Nottingham Forest(A), which makes us want to invest in their players. One of the most reliable attackers in Brighton's squad is Mitoma, who has been a regular starter since the beginning of the season. The Japanese international has played in 9 out of 10 games and averaged an expected goal involvement of 0.42 per 90 minutes against Fulham. He could have got a return, but unfortunately didn't. Mitoma is likely to start and play the full 90 minutes once again against Everton.
With six attacking returns in this campaign, the Japanese international is averaging an xG of 0.27 per 90 minutes, and an xA of 0.25 per 90 minutes. Everton's vulnerability of conceding chances down their wings should augur well for Mitoma to get an attacking return. Drafthound has given Mitoma 28% odds of scoring anytime and 25% odds of assisting anytime in Gameweek 11. Their model predicts him to score 5.0 points in Gameweek 11, and 25.5 points in the next five game weeks.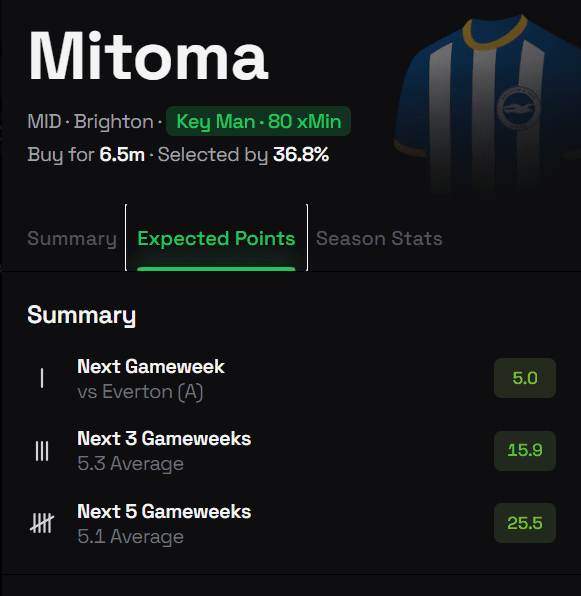 Julián Álvarez (£7.2 million, Forward, Manchester City)
As I have already mentioned in my Gameweek 10 article, there are two excellent forward options that you can check out using the link provided. However, if you are unable to get to those options or already have them, Alvarez could be a great alternative. With Kevin De Bruyne out, the Argentine international has secured a spot in Manchester City's starting lineup and has a favourable fixture against Bournemouth in Gameweek 11.
Bournemouth's weakness in the middle of the pitch could help both Haaland and Alvarez's haul potential. So far this season, Alvarez has been averaging 0.35 xG per 90 minutes, and 0.14 xA per 90 minutes. Drafthound predicts that Manchester City has the highest chances of scoring 2 or more goals at 67%, which increases Alvarez's odds of returns as he has many set piece duties. Drafthound's model also predicts that Alvarez will score 6.6 points against Bournemouth and 30.7 points in the next five game weeks.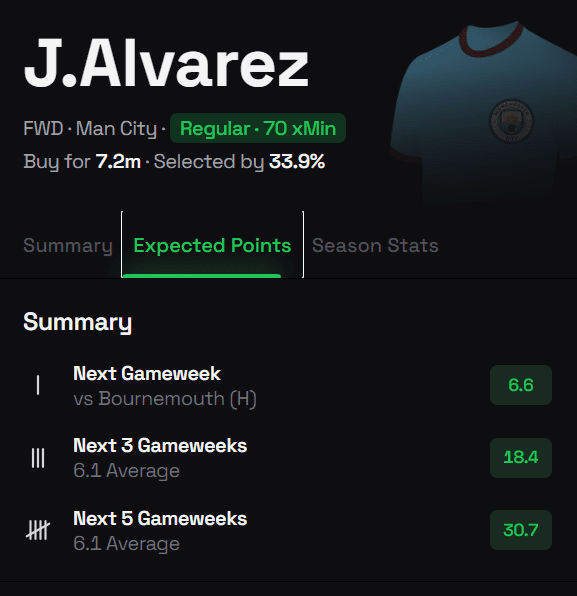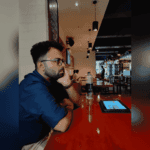 An obsessive planner who is always engrossed in data.
Addicted to FPL.
Specialise in captaincy picks.