Gameweek 10 of FPL is here, starting with a Friday night match at Selhurst Park where Crystal Palace will face Ange Postecoglou's Tottenham Hotspurs. Unfortunately, I wasn't able to publish my best transfer tips article for Gameweek 9 due to personal issues. But don't worry, I'm back with my Gameweek 10 transfer tips to help you solve any dilemmas you may have heading into the season. Before we dive into the article, let's take a look at the different odds for Gameweek 10.
For the odds, I am using FPL Review's Massive Data Model's Raw Data. This data is based on the assumption that a player plays 90 minutes and comes from the site's Massive Data Model, which is known to be more predictive than cleaned Bookmaker Odds. Arsenal, Aston Villa, and Liverpool are the top three teams with the best clean sheet odds, at 58%, 48%, and 42% respectively. In terms of scoring, Mohamed Salah is leading the anytime scoring charts with 52%, while Bukayo Saka tops the anytime assist odds with 41%.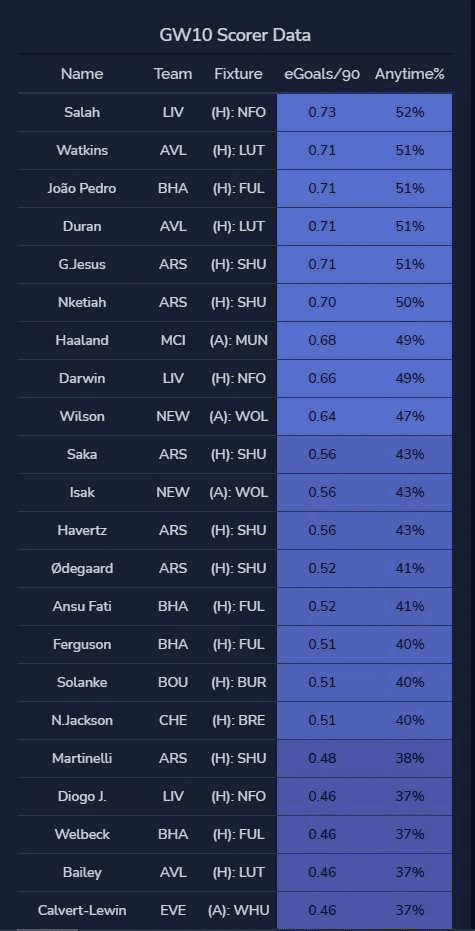 We've partnered with Drafthound to bring you analysis on fixtures, projected points, and more for the 2023-24 FPL season. Signing up through this link to Drafthound helps us grow, so if you want access to these features, please sign up through our link. If you have not checked out my Gameweek 8 article, you may do so as it is still relevant to Gameweek 10. Let's dive into our transfer targets for Gameweek 10.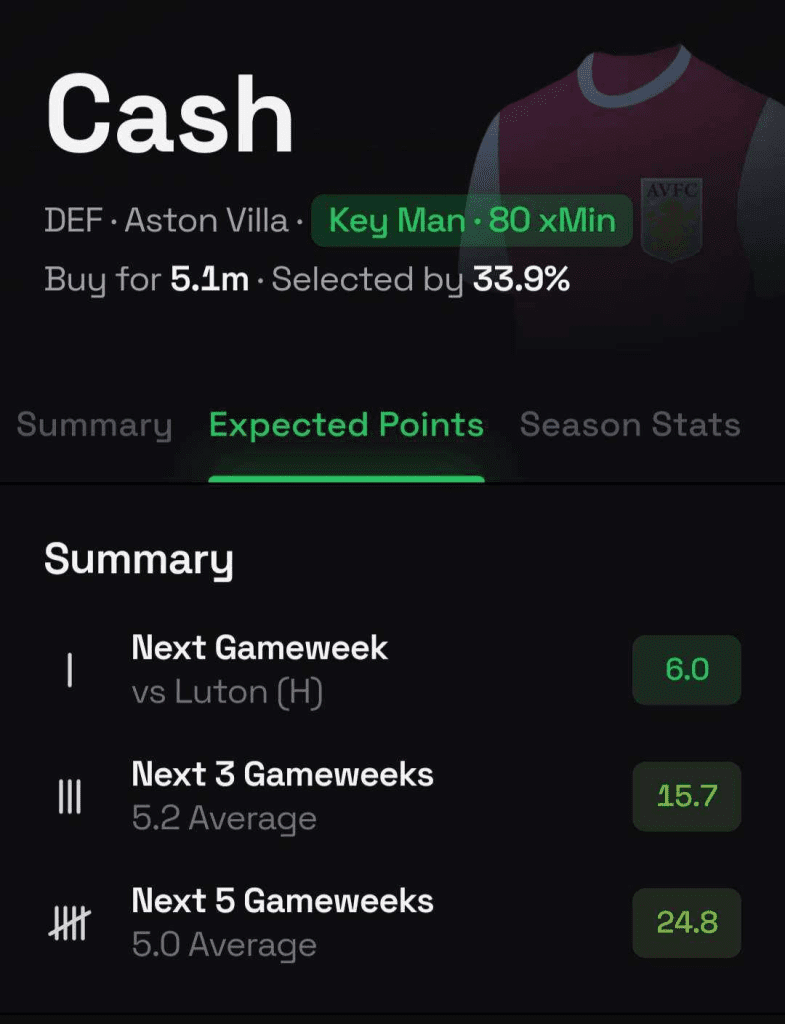 Matty Cash (£5.1 million, Defender, Aston Villa)
Matty Cash has been in top form this season for Aston Villa, being selected by 33.7% of the FPL managers at the time of writing. He has been playing in a hybrid role of the right-wing and right back under Unai Emery and has been performing exceptionally. His expected goal involvement this season has been impressive. The Polish international has been putting up underlying numbers that are comparable to midfielders, averaging an xG of 0.35 per 90 minutes with an xGI of 0.44 per 90 minutes. He always has a good chance of getting an attacking return. Villa is expected to have the second-best odds of a clean sheet in Gameweek 10 at 48%, indicating a potential Cash mega haul.
Villa's Gameweek 10 opponents Luton Town concede most chances down their flanks, and the fixture looks tailor-made for Cash to haul. In the previous game against Luton Town at the City Ground in Gameweek 9, the wide players of Nottingham Forest, Harry Toffolo, Anthony Elanga, and Morgan Gibbs-White generated an xGI of 0.39, 0.49, and 0.56 respectively. He has a great fixture run as well, facing Luton Town(H), Nottingham Forest(A), Fulham(H), and Bournemouth(A) in the next five. Drafthound predicts the Villa defender to score 6.0 points in the game vs Luton Town and 24.8 points in the next five games.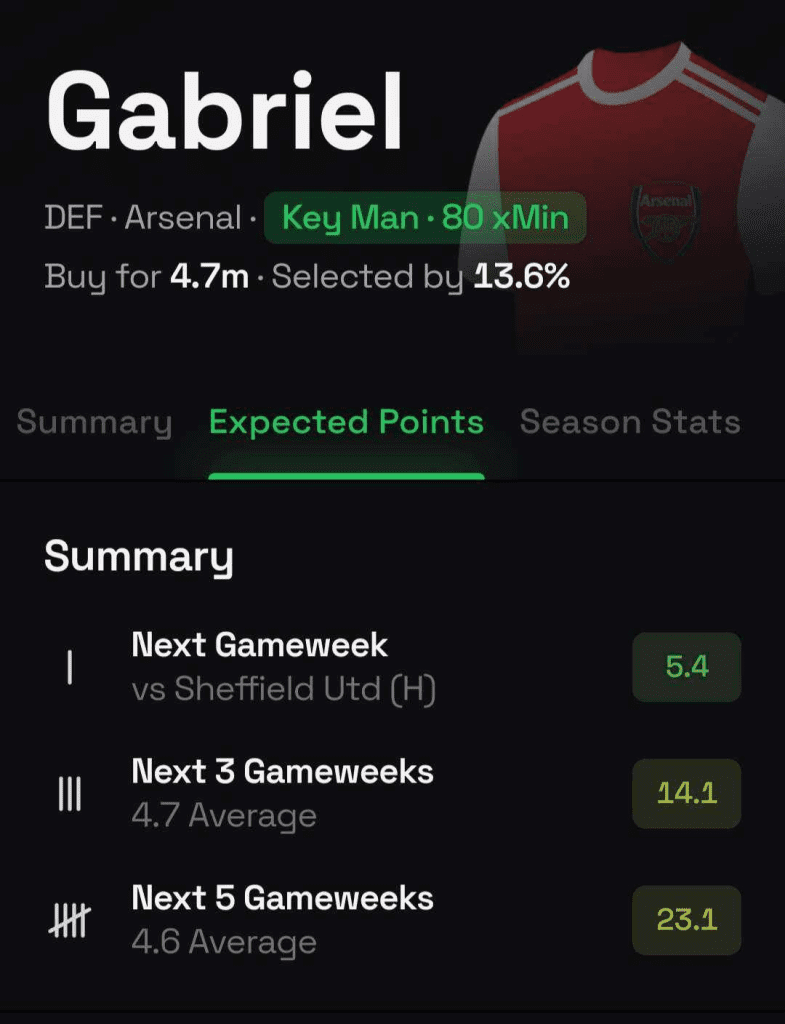 Gabriel dos Santos Magalhães (£4.7 million, Defender, Arsenal)
The Arsenal defender Gabriel has finally settled in the back four after being benched for the first three league games. At a discounted price of just 4.7 million, Gabriel is the cheapest option to access the elite Arsenal defence, who are the third-best in the league in terms of expected goals conceded. Arsenal has the highest probability of keeping a clean sheet in Gameweek 10 at 58%, and their opponents Sheffield United are at the bottom of the league in xG this season. Although Gabriel has not scored any goals in the league yet, he is a goal threat from set pieces.
His xGI numbers from last season, which were 5.70, make me optimistic that he has a great chance of scoring in the upcoming match against Sheffield, who are poor at defending set pieces. Sheffield's weaknesses were exposed in the 8-0 defeat by the Magpies, where goals from Sven Botman and Dan Burn came from set pieces. Bringing Gabriel into your team in Gameweek 10 is a wise move since Arsenal has a great fixture run, playing against the three newly promoted sides, Sheffield United, Burnley, and Luton Town, in the next six fixtures. Drafthound's model predicts that the Brazilian defender will score 5.4 points against the Blades and 23.1 points in the next five fixtures.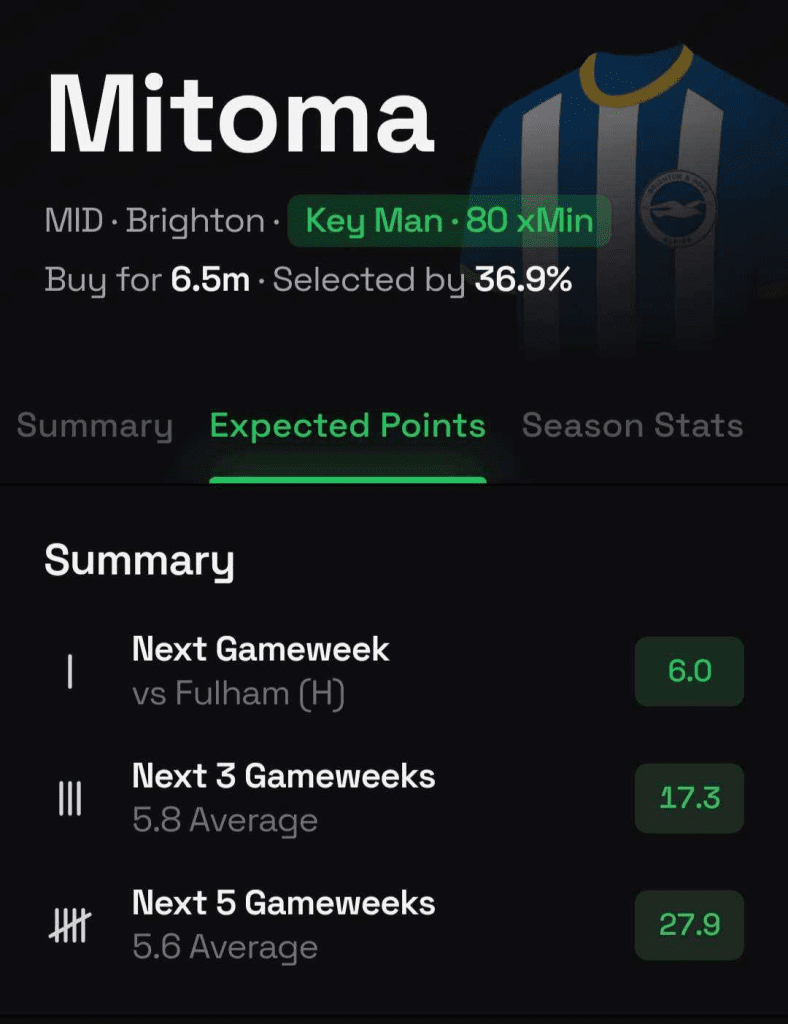 Kaoru Mitoma (£6.5 million, Midfielder, Brighton & Hove Albion)
Brighton & Hove Albion will have a favorable run of fixtures from Gameweek 10 onwards, which makes us want to invest in their players. Although Roberto De Zerbi tends to make random changes in his team, Mitoma has been a regular starter since the beginning of the season. The Japanese international has started in 8 out of 9 games, and is currently the most reliable attacker in Brighton's squad. He was rested during the international break, and the fact that Brighton has no midweek games between Gameweek 10 and 11, after being eliminated from the Carabao Cup, means that he is likely to play the full 90 minutes once again.
Mitoma has already returned six times in the league, with an expected goals (xG) of 0.29 per 90 minutes, and an expected assists (xA) of 0.24 per 90 minutes. Brighton's next four fixtures are very favorable, as they will be facing Fulham (H), Everton (A), Sheffield United (H), and Nottingham Forest (A). This provides a great opportunity for Mitoma to add to his two double-digit hauls this season. According to Drafthound's model, there is a 33% chance for Mitoma to score and a 31% chance to assist against Fulham in Gameweek 10. The model also predicts that he will score 6.0 points in Gameweek 10, and 27.9 points in the next five fixtures.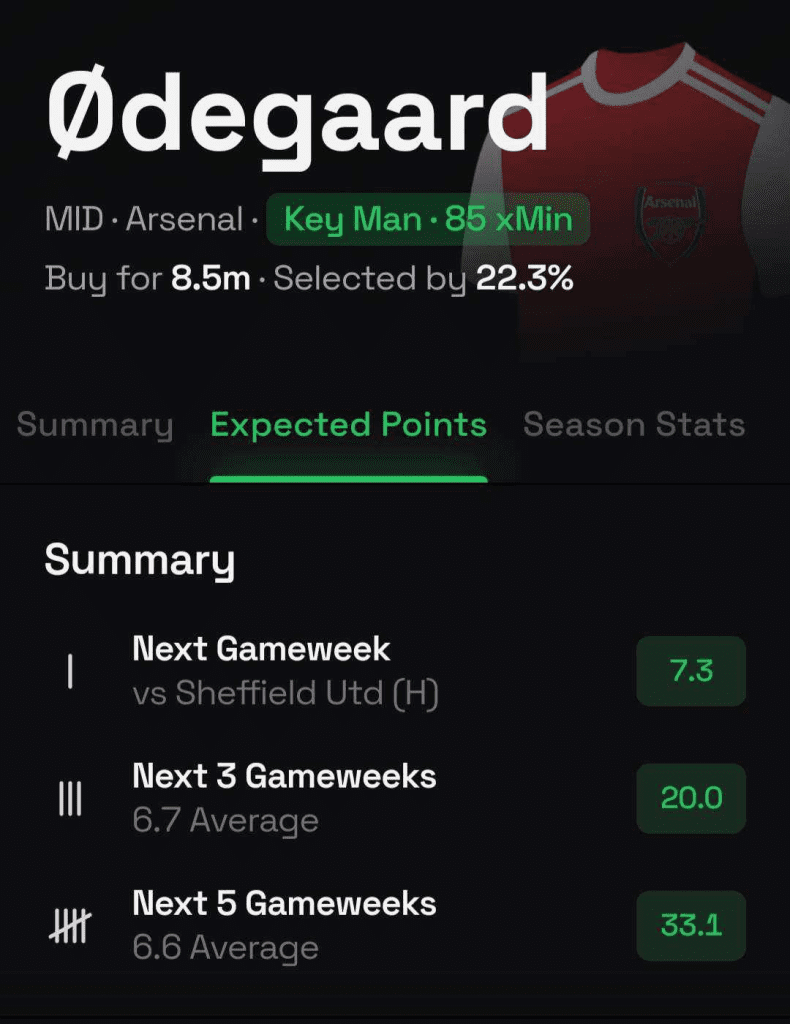 Martin Ødegaard (£8.5 million, Midfielder, Arsenal)
If you already own Bukayo Saka, then Martin Ødegaard could be an excellent addition to your FPL team. He is not highly owned among engaged FPL managers. The Norwegian midfielder is at the centre of the Arsenal attack and historically performs well against teams that set up with a low defensive block, which is what I expect Arsenal's Gameweek 10 opponents, Sheffield United, to do.
This season, Ødegaard is averaging an xG of 0.3 per 90 minutes with an xGI of 0.43 per 90 minutes. He has created two big chances this season, and his 2.3 shots per game is expected to increase against the Blades. Additionally, he shares penalty kick duties with Saka and takes other set pieces, making him a very lucrative option.
The Gameweek 10 fixture for Arsenal appears to be tailor-made for Ødegaard to get his third double-digit haul for the season. As mentioned before, Arsenal faces the three promoted sides in the next six games, and Ødegaard could be a 'set and forget' pick, especially with Martinelli having competition from Trossard and Gabriel Jesus carrying a slight niggle.
According to Drafthound, Ødegaard's odds of scoring in Gameweek 10 are predicted to be at 42%, with odds of assisting at 29%. The model also predicts him to score 7.3 points against Sheffield and 33.1 points in the next five games.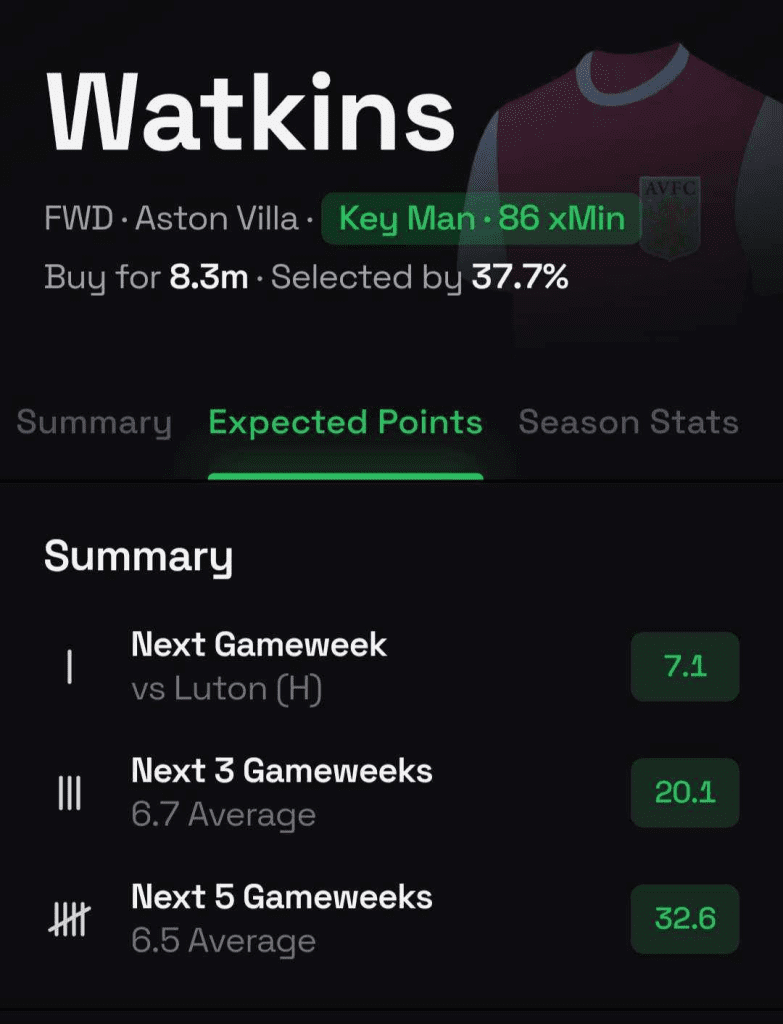 Ollie Watkins (£8.3 million, Forward, Aston Villa)
Ollie Watkins has been in incredible form this season, consistently scoring points. He's currently the second highest points scorer in FPL, behind only Mohamed Salah. Despite not taking penalty kicks, the England international has managed to get an attacking return in every game barring one. In fact, he's returned an impressive 39 points in his last three games, making him the most transferred-in player ahead of Gameweek 10. If you haven't already added him to your team, it's not too late to do so. Since Unai Emery became Aston Villa's manager, Watkins has been involved in more goals than any other player except for Haaland and Salah, averaging over 6 points per start.
Villa's upcoming Gameweek 10 fixture against Luton Town looks promising for Watkins. Luton Town is currently at the bottom for XG conceded away from home and Chris Wood of Nottingham Forest had seven shots against them in Gameweek 9. Watkins has been very clinical in front of goal, having gained 13 attacking returns from an xGI of 0.54 per 90 minutes. According to Drafthound, Watkins has a 50% chance of scoring and a 25% chance of getting an assist in Gameweek 10. Their model also predicts him to score 7.1 points against Luton Town and 32.6 points in the next five games. Therefore, it might be a risky move to go without Watkins in Gameweek 10.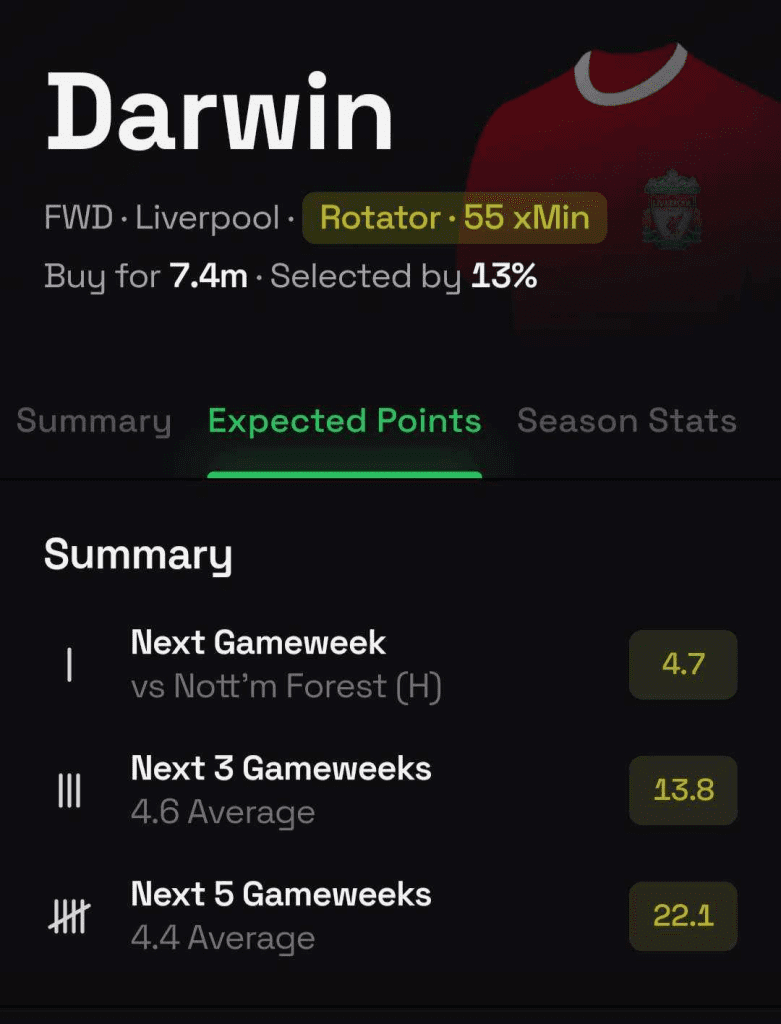 Darwin Núñez Ribeiro (£7.4 million, Forward, Liverpool)
Despite playing for only 28 minutes in Gameweek 9, Darwin provided an assist, which was his seventh attacking return in the league. He has returned seven times despite starting only three times this season. Darwin seems to epitomize chaos, as every Liverpool attack seems to funnel through him when he is on the pitch. His recent performances have earned him a first-team spot and he looks set to start against Nottingham Forest at Anfield in Gameweek 10.
The Uruguay international will be aiming to capitalize on Forest's frailties, particularly in the middle of the pitch where they have conceded the most chances. Liverpool have been second for xG in the league this season and are expected to perform well in Gameweek 10. They have a great run of fixtures coming up, facing Nottingham Forest (H), Luton Town (A), Brentford (H), Fulham (H), and Sheffield United (A) in the next six games.
Although Darwin's finishing often lets him down, he keeps getting big chances. This season, he has been averaging 0.77 xG per 90 minutes, and 0.22 xA per 90 minutes. He has been taking 2.3 shots per game and has created 3 big chances this season. Drafthound's model gives him a 33% chance of scoring and a 17% chance of assisting in Gameweek 10. Their model predicts him to score 4.7 points in Gameweek 10 and 22.1 points in the next five games, despite his xMins being set at 55.
Conclusion
As I mention in every article, it's important to remember that the key to success lies in having the right information. Price changes shouldn't be the only factor affecting your transfer decisions. Considering we have mid-week European games, it would be wise to wait until after the press conferences before making any transfers. At this point in the season, the ranks are pretty close, so there's still plenty of time left to catch up. The best strategy right now is to make sensible decisions and avoid taking any outrageous punts. I wish you all the best of luck for Gameweek 10.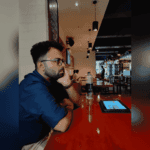 An obsessive planner who is always engrossed in data.
Addicted to FPL.
Specialise in captaincy picks.