Two gameweeks have passed, and some did better than others. Not to worry, it's a 38-game season, and there's a lot of time to regain your ranks if you got off to a poor start. Most of you will have 2 free transfers this week, so lots of decisions to be made. This a friendly reminder that you can't have more than 2 Free Transfers banked. You'll lose it forever if not used by the deadline. Now, let's get started.
The Gameweek Calendar
All are based on UK time
The deadline will be at 18.30 on Friday 25th of August. The first match will be a Friday night clash between Chelsea and Luton Town. One of the fixtures that should be targeted, is more on the Blues' assets later.
Saturday will see 6 PL fixtures, starting at the South Coast, where Bournemouth will host Tottenham at lunchtime, 12.30 p.m. Spurs are another team that should be targeted. Then, a quadruple-header as the Capital and the Northwest host 2 matches each.
At 3 pm, Arsenal and Manchester United with home games that might act as the final straw for the popular midfielder picks before they face off in gameweek 4. The Red Devils take on Forest, while the Gunners play Fulham in their second London derby in a row. Brentford will take on Crystal Palace at the Gtech. The Bees are also a very attractive team in this run. Wolves will travel up to play Everton on Merseyside. Finishing up at the Amex where league-leaders Brighton will host West Ham at 5.30 pm.
Sunday will see 3 games up north. At 2 pm, 2 Premier League new boys play host with Sheffield United taking on City without Pep, while Villa visits Burnley. Before the headline match of the week, St. James Park, welcomes a match between two of last campaign's top five, as Newcastle play Liverpool to finish off gameweek 3.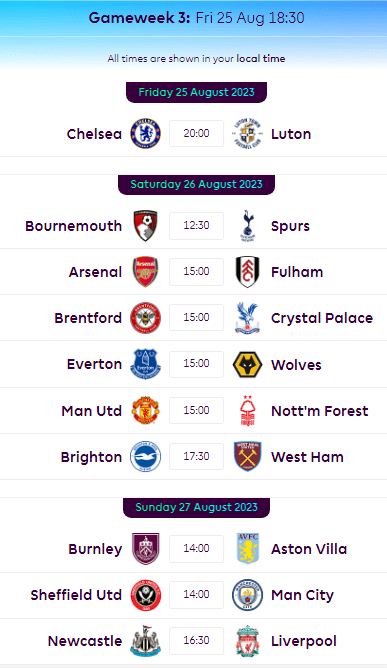 Early News
Disclaimer: This article was written 12 hours before the deadline, so be sure to follow the news on the official PL site, club sites, and social media platforms such as Twitter (X).
A lot has happened prior to this gameweek, and there are some injury updates. John Stones is confirmed to be out for 3-4 weeks, as the same timeframe will apply to compatriots Carney Chukwuemeka and Mason Mount. The latter could have an effect on Bruno Fernandes, as the Portuguese might have a more advanced role.
Teammate Luke Shaw is also sidelined through a muscle injury for an "extended period" as per David Ornstein. Julio Enciso suffered a training injury and is being "evaluated" according to Roberto Rojas. Bernardo Silva and Gabriel Jesus are back in training, as Alexis Mac Allister's ban is lifted after his questionable sending-off last Saturday. James Maddison suffered an injury, and might not be available to feature at the Vitality this weekend.
Transfer Targets
Check out PSB's article on the best transfers for this gameweek here.
There are 4 teams that I'll be looking to target for transfers in for their upcoming fixtures, and they are Manchester City, Chelsea, Tottenham, and Brentford. With Shaw, Gabriel and Stones all being issues, the defenders from these teams that you should consider are Ruben Dias (5.5), Josko Gvardiol (5.0), Rico Henry (4.6), Destiny Udogie and Levi Colwill (4.5). Malo Gusto (4.0) is a good short-term punt budget pick, and of course, Ben Chilwell (5.7) if you don't have him already.
The attackers will be the main targets if you don't have any glaring issues in your team. My favourite pickups will have to be Phil Foden (7.6), Nicolas Jackson (7.1), Bryan Mbeumo (6.7) and Julian Alvarez (6.6). All very high-upside assets with phenomenal fixtures. Raheem Sterling (7.0) might be a sleeper pick if you want to go rogue, and Yoane Wissa (6.1) could also be an interesting choice. Of course, James Maddison (7.6) will be one of the top options if he's confirmed back from injury.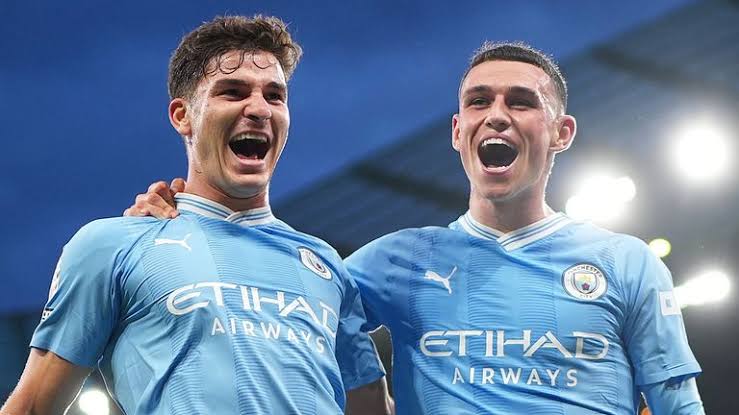 Captaincy and Dilemmas
Not much to debate about the armband today, Erling Haaland will travel to Bramall Lane, that should tell you enough. There are 3 main dilemmas in this gameweek, one in each position.
Defenders
Let's start with the defender benching headache, as most of you will have a 4th defender with a great fixture you might consider starting, so here's my personal ranking. Chilwell > Estupiñan > Chelsea defenders > Saliba > Udogie > Brentford defenders. Although you can make a case for Udogie and Henry if you're looking for a higher chance of attacking threats.
Midfielders
Next up is the midfield, and who to sell from template 4 (Rashford, Fernandes, Saka, Martinelli), if any. My answer would be no, they have brilliant home fixtures, where Rashford and Saka particularly excel at. Providing a good time to gain information and reassess, before selling when they face off at the Emirates in gameweek 4. However, if you have to sell now, my pick will reluctantly have to be Gabriel Martinelli. He might become a better asset on the pitch once Gabriel Jesus is back, but will also become a greater minutes risk than he already is.

Forwards
The final one is the forward, and whether to sell your current one for one of the 2 high-upside picks that we mentioned (Jackson and Alvarez). I do believe this one is more situational than the rest, depending on your free transfer(s) situation. Of the two popular forwards, I'll be inclined to keep Ollie Watkins but sell Joao Pedro. Just because the Brazilian has fewer xMins and tough fixtures ahead, whilst the Villa striker is on scintillating form. However, don't take a hit for it, keeping Pedro will not be an issue in the slightest, especially with Enciso out. He's on penalties and is still a very good option.
Author's Team Reveal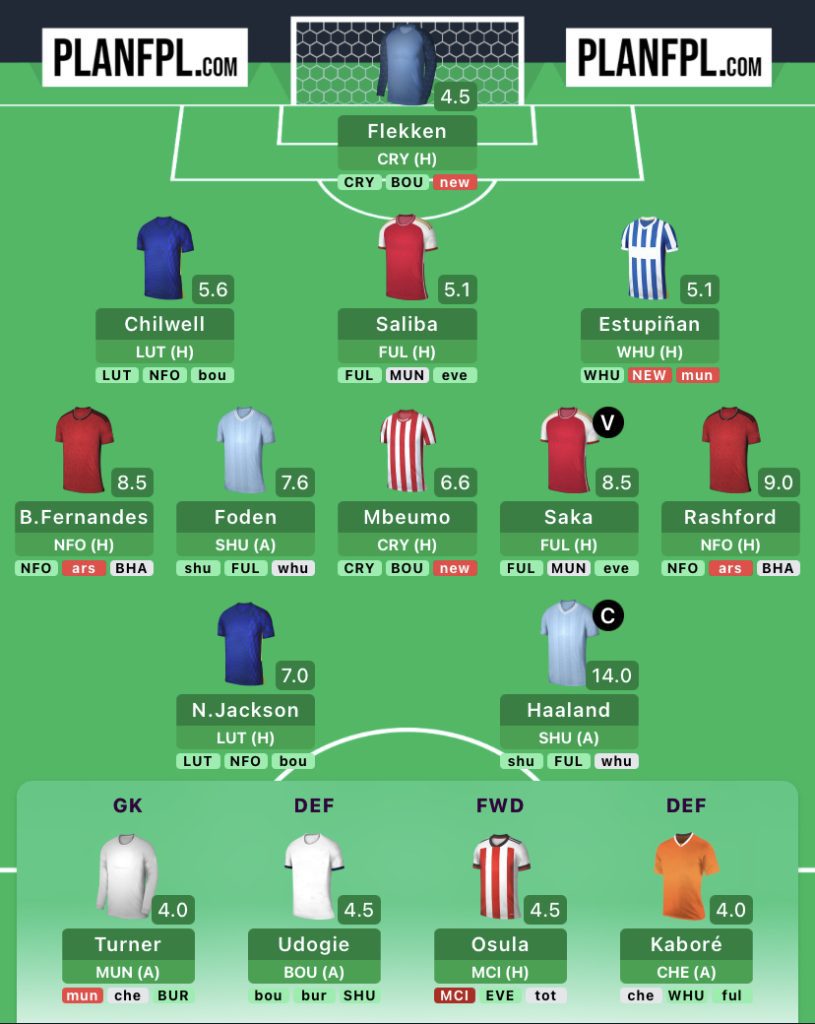 Well, turns out starting with Jackson wasn't such a good idea after all😅. Another 1-pointer for the Senegalese, but the fixtures are looking up. 52 points for gameweek 2 putting me on a small green arrow at 1.2m. The team is looking great, no prominent issues, which is why I can afford a luxury transfer to chase upside with Foden, rolling the other free transfer, and an extra 0.4 in the back. The move could very easily backfire, but I've got the optimism to play aggressive.
Transfer: Martinelli (8.0) > Foden (7.6), 1.9m itb.
Final Thoughts
Another Friday night deadline at 6.30 pm on the 25th. Captain Haaland. Target City, Chelsea, Tottenham and Brentford for the fixtures. Hold Arsenal and United for another week if you can, and sell Martinelli out of the four if you can afford a luxury transfer. Keep up to date with further news and all the best for gameweek 3!