Gameweek 2 of the 2023/24 FPL season concluded with Arsenal's 1-0 victory away at Selhurst Park against Crystal Palace on Monday night. This game week was pretty low scoring, with an average score of 44 compared to the average score of 64 in Gameweek 1. The £6.5 million midfielders had a field day, with Mitoma, March, and Mbeumo grabbing double-digit hauls. If you don't own them, it's not the end of the world. In this article, we will discuss the players that you may target in Gameweek 3 to boost your rank.
We have partnered with Drafthound to bring you all the analysis of the fixtures, projected points, bookmakers' odds, and a lot more for the 2023/24 FPL season. Every person who signs up through our link to Drafthound helps the website continue to grow. If you want to access more of such amazing features, join the website through the link below:
The Defenders
The first couple of GWs have certainly made us think about our defensive transfers, with the likes of Gabriel starting on the bench for two consecutive game weeks, having started the last 73 games before that for Arsenal.
The injuries to John Stones and Reece James have possibly forced managers into making defensive reinforcements in their teams. Let us dive in and discuss a couple of defender picks that you may consider for your FPL teams this game week, considering you already own Ben Chilwell.
If not, Chilwell has to be the priority transfer this game week.
Rúben Dias – (£5.5 million, Manchester City)
Owned by just 6.7% of the FPL managers, Dias is probably the safest pick in terms of xMins in that Manchester City defense, barring Ederson, albeit less explosive. The next five fixtures for Manchester City are fantastic, and one may back them to keep at least four clean sheets in those five games.
Drafthound backs City as favorites to keep a clean sheet in the next five games with odds of:
62% vs. SHU(A)
56% vs. FUL(H)
53% vs. WHU(A)
65% vs. NFO(H)
59% vs. WOL(A)
Drafthound predicts 18.4 points for Dias over the next five Gameweeks, which is expected to go up with higher xMins.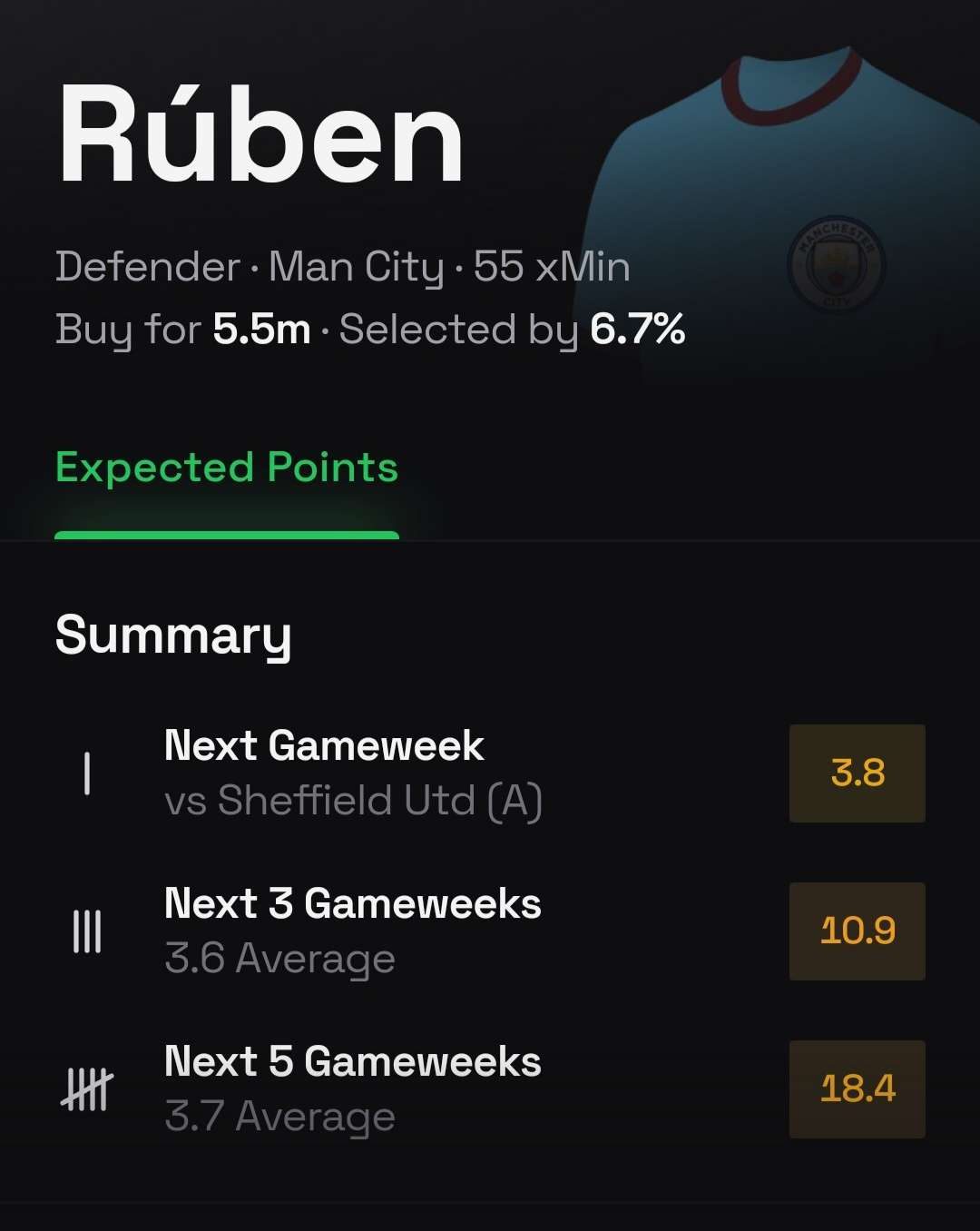 Destiny Udogie – (£4.5 million, Spurs)
In the first two game weeks, Udogie has shown his attacking flair with 52 touches in the final third and has created one big chance. The next three fixtures for Spurs, where they play BOU(A), BUR(A), and SHU(H), are fixtures that wouldn't surprise anyone if Spurs kept clean sheets in them.
Udogie is prone to an early substitution which might help him bank a clean sheet if Spurs were to lose it late in the game. His heat map below vs. Brentford shows how attacking he was. Only owned by 3% of the managers, he is certainly going under the radar. His price point also allows managers to bench him in the tougher fixtures.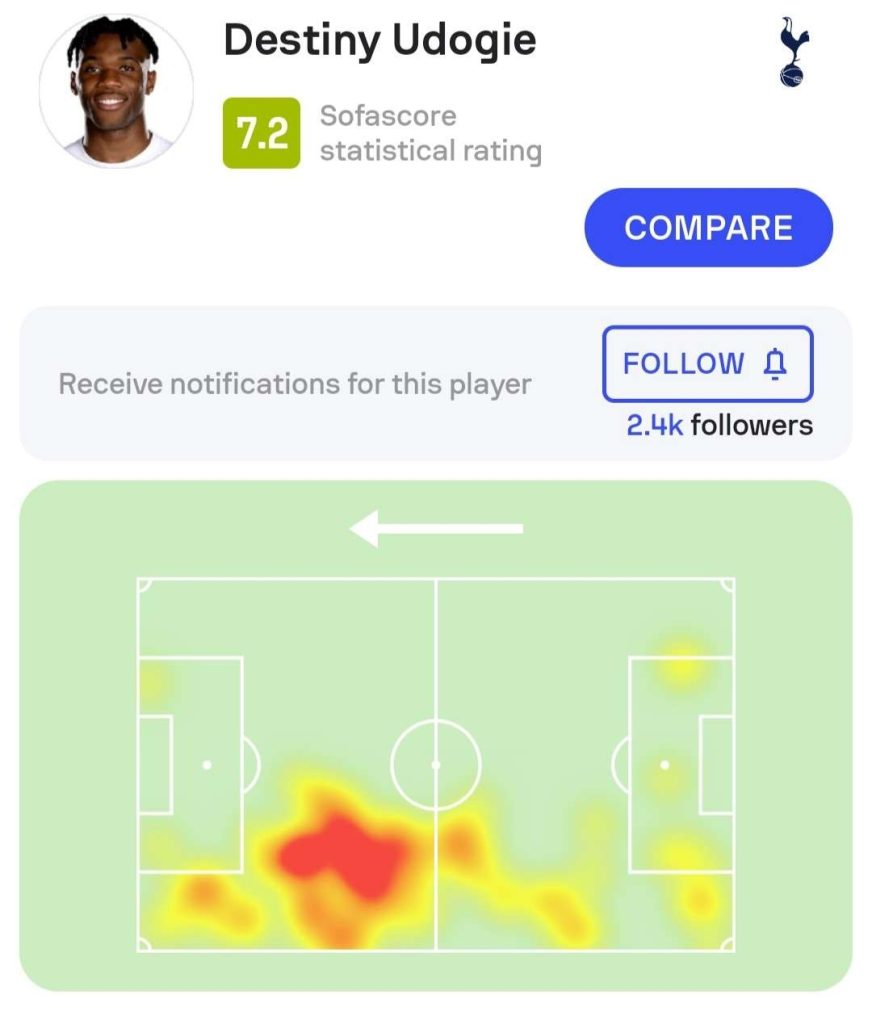 The Midfielders
With James Maddison a doubt for Gameweek 3 and people losing patience with Eberechi Eze, managers are looking to seek replacements in the midfield. Even though there is a trend among FPL managers ahead of Gameweek 3 to sell Bruno and Rashford, we would advise them to refrain from doing so ahead of an easy fixture vs. NFO(H). Let's discuss a couple of options in this section for your midfield which you may consider for your Gameweek 3 teams.
Bryan Mbeumo(£6.7 million, Brentford)
90-minute man on penalties, and talisman of a very attacking side, Mbeumo is a dream of an FPL manager. His 19.1% ownership will only go up before the deadline on Friday.
With an xG of 1.57 per 90 and an xA of 0.14 per 90, the Cameroonian is the second-highest-scoring player of the game currently. It is still not too late to jump onto the Mbeumo train, as Brentford has very decent fixtures throughout unlike Brighton's which becomes tricky after this game week.
Drafthound predicts 5.7 points for Mbeumo vs. Crystal Palace and 28.4 points over the next five game weeks.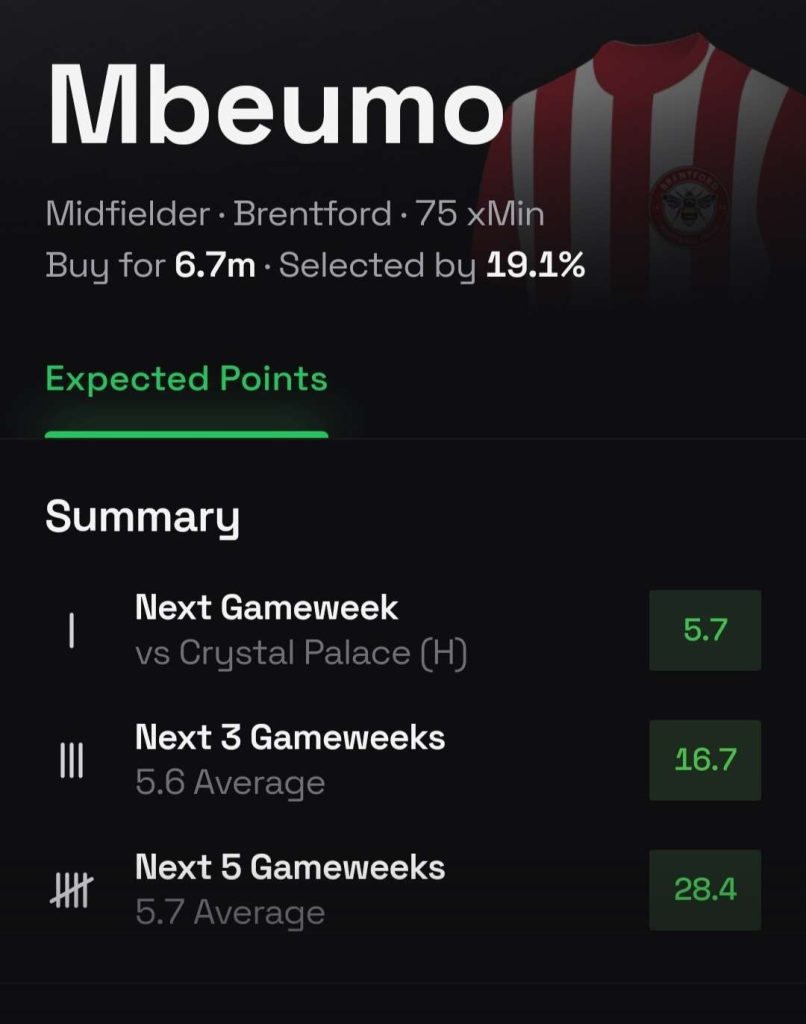 Phil Foden – (£7.6 million, Manchester City)
Though it takes immense courage to bet against Pep-roulette, it is the safest as it can get in terms of xMins for Phil Foden with De Bruyne's injury, at least for the short-term.
The England international was brilliant against Newcastle with an assist, 7 key passes, and 0.86 xGI. Drafthound backs Manchester City with odds of 52% to score two or more goals vs. SHU(A), which should augur well for the 11.6% FPL managers who own Foden.
Drafthound's model predicts him to score 5.9 points vs. Sheffield United and 29.3 points in the next five game weeks. The imminent signing of Jérémy Doku from Rennes might bring down Foden's xMins in the long run, though.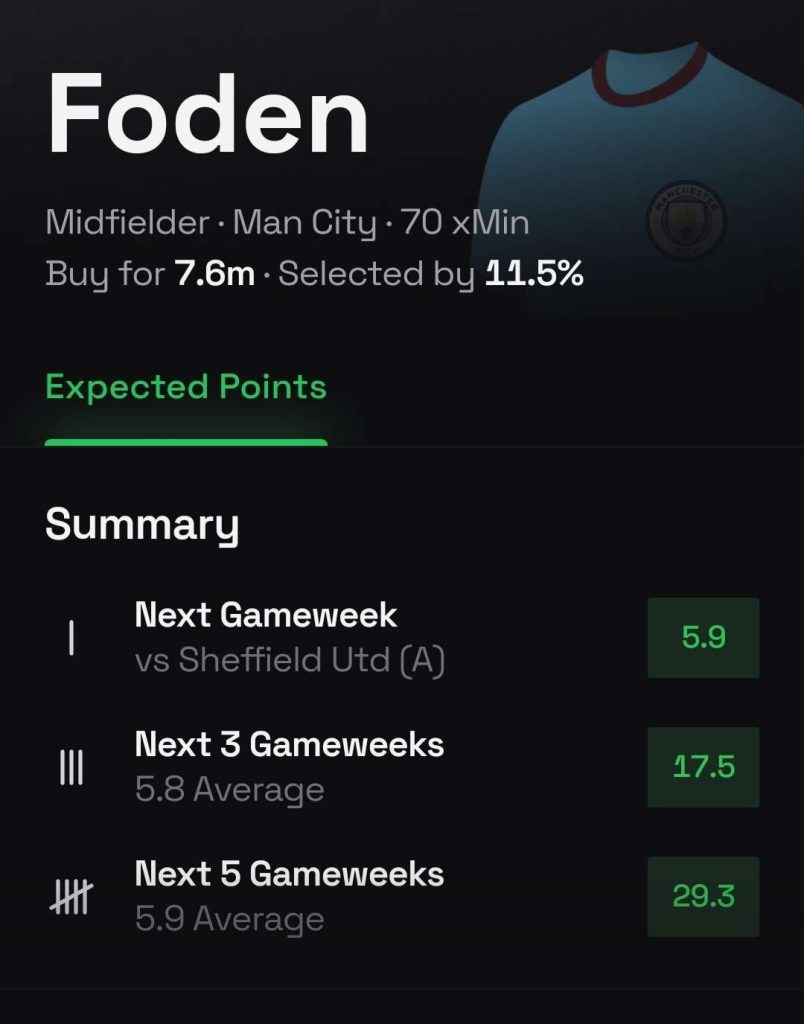 The Forwards
The hopes that João Pedro ignited within the FPL community as the cheap forward being nailed and on penalties vanished into thin air when Roberto De Zerbi decided to bench him in Gameweek 2. The Brazilian came on for 20-odd minutes only to collect a booking to rub salt into the wounds of the owners.
Let us discuss a couple of options for managers looking for an escape route from the £5.6 million forward. We have discussed Nicolas Jackson in our Gameweek 2 Best Transfers article, so make sure to check that as it is relevant for Gameweek 3 as well.
Julian Alvarez – (£6.6 million, Manchester City)
Playing in back-to-back 90 minutes is not something we associate with Julian Alvarez since he joined the reigning champions, Manchester City. But him doing so in the first couple of games has made FPL managers hopeful about the upward trajectory of his xMins.
It will only boost his current 7.9% ownership ahead of the Gameweek 3 deadline. According to Drafthound, the odds of Manchester City scoring two or more goals in the next five game weeks are:
52%
64%
48%
59%
48%.
This should bode well for owners if they can gauge the Argentine's xMins. Even though we do personally prefer Nicolas Jackson ahead of him, Alvarez could turn out to be a sensational pick.
Yoane Wissa – (£6.1 million, Brentford)
If budget is a constraint to get to Jackson or Alvarez, Wissa could be a saviour for your FPL team. With back-to-back goals in consecutive game weeks, the DR Congo international is in red-hot form.
He has racked up 1.05 xGI per 90 in the two games this season and has the fixtures in favour of him to carry on his electric form. Crystal Palace, Bournemouth, Everton, and Nottingham Forest in his next five fixtures, Wissa could turn out to be a very shrewd pick. Drafthound predicts him to score 4.8 points in this game week and 24.2 points over the next five.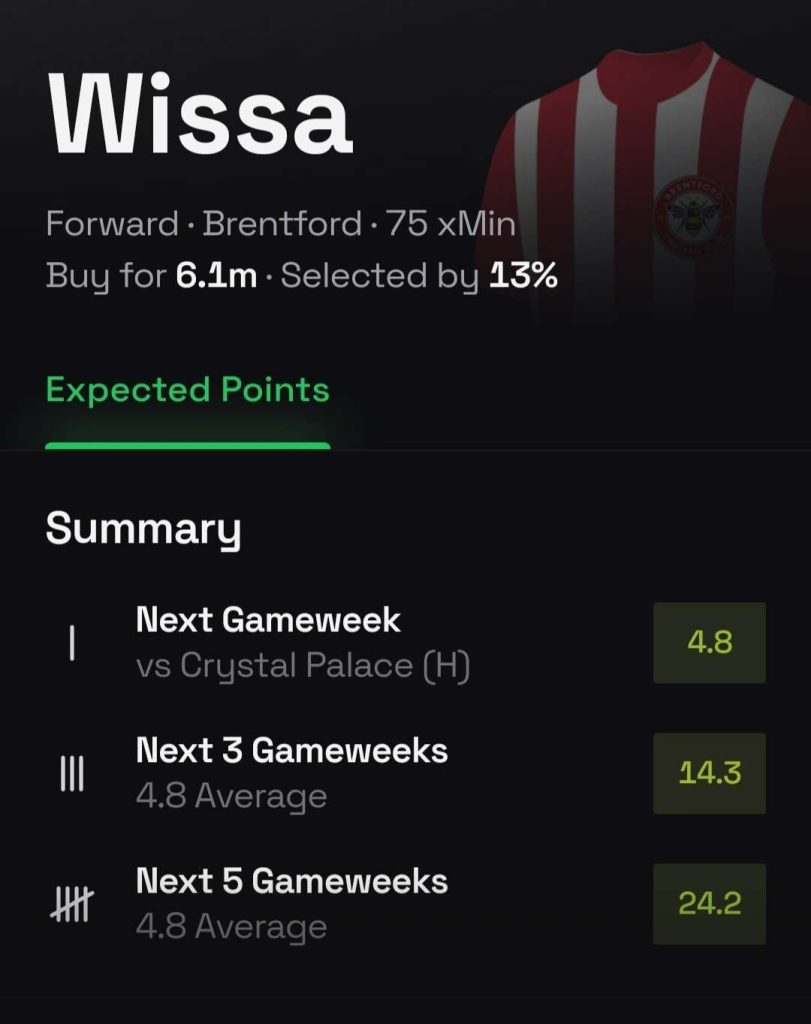 Conclusion
Even though the volatile price changes tempt us into making early transfers, it is advisable to resist the temptation and wait for press conferences before making a decision.
It is too early in the season to go into panic mode. Sensible transfers and patience will ensure you a good rank by the end of the season. May your arrows be green in Gameweek 3.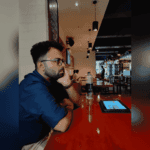 An obsessive planner who is always engrossed in data.
Addicted to FPL.
Specialise in captaincy picks.