After a long international break, club football and FPL will be back this Saturday. We have multiple dilemmas, decisions and even a captaincy debate in big 2023 to talk about on the first weekend deadline of the season. Along with new updates with what happened during the 2 week long period. Here's all you need to know about Fantasy Premier League Gameweek 5
The Gameweek Calendar
All based on UK time
The deadline will be at 11 am on Saturday the 15th of December. A morning deadline, so if anyone has a night-out planned like I do, all I say is, be careful. The early lunchtime kickoff (12.30 pm) will take place in the West Midlands as Wolverhampton Wanderers hosts Liverpool. Five 3 pm games will take place, with the target fixture Tottenham vs Sheffield United being the main focus for many FPL managers. Man United hosts Brighton as neighbours City travel down south to West Ham. Aston Villa will play Crystal Palace, as Fulham hosts new-boys Luton. Ending the day off in the Northeast as Brentford visits Newcastle at 5.30 pm.
London giants will be on the road on Sunday, as at 2 pm, Chelsea, like many Brits, will travel to Bournemouth this weekend. Not quite as pleasant for the Gunners, as they go up to Merseyside to play Everton at 4.30 pm. One final Monday night match will seal off the weekend as Nottingham Forest hosts Burnley.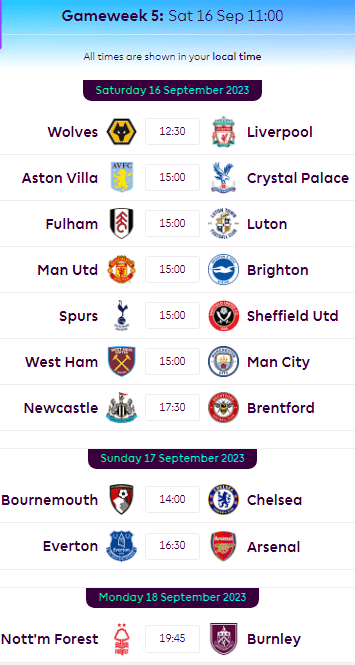 Early News
Disclaimer: This article was written 12 hours before the deadline, so be sure to follow the news on the official PL site, club sites, and social media platforms such as Twitter (X).
Rasmus Hojlund and Richarlison are back fit, whilst Virgil Van Dijk was handed an extra one-match-ban for his sending-off at St. James'. Trent Alexander-Arnold, John Stones, Rapha Varane, and Jack Grealish are unavailable for gameweek 5, as Heung-Min Son, Bukayo Saka, and Lisandro Martinez are back according to @FPLGOAT7. They also stated that Sven Botman is back in training, with Marc Guehi, Reece James and hat-trick hero Evan Ferguson is likely to miss out in this upcoming gameweek.
Transfer Targets
Check out PSB's article on the best transfers for this gameweek here.
Two main targets here this week as we try to ride the Tottenham wave and catch Newcastle's fixture swing, but who should I buy from both clubs? Let's start with the Magpies, who after having the worst starting 4 fixtures in the league, now has an attractive fixture swing that we can look to aim for. The main targets will be the defence. Kieran Trippier (6.5), Fabian Schar (5.0), Sven Botman (4.5) and Nick Pope (5.5) are all attractive options. A more in depth captaincy review by FPLThorpey can be found here.
As for the attackers, Isak (7.7) would be the only one in my consideration, because your attention should be directed at Tottenham. Heung-Min Son and James Maddison should be near the top of your priority list, as they host Sheffield United, are in phenomenal form, and if the Korean continues to play out-of-FPL-position up front, he'd be a near essential option.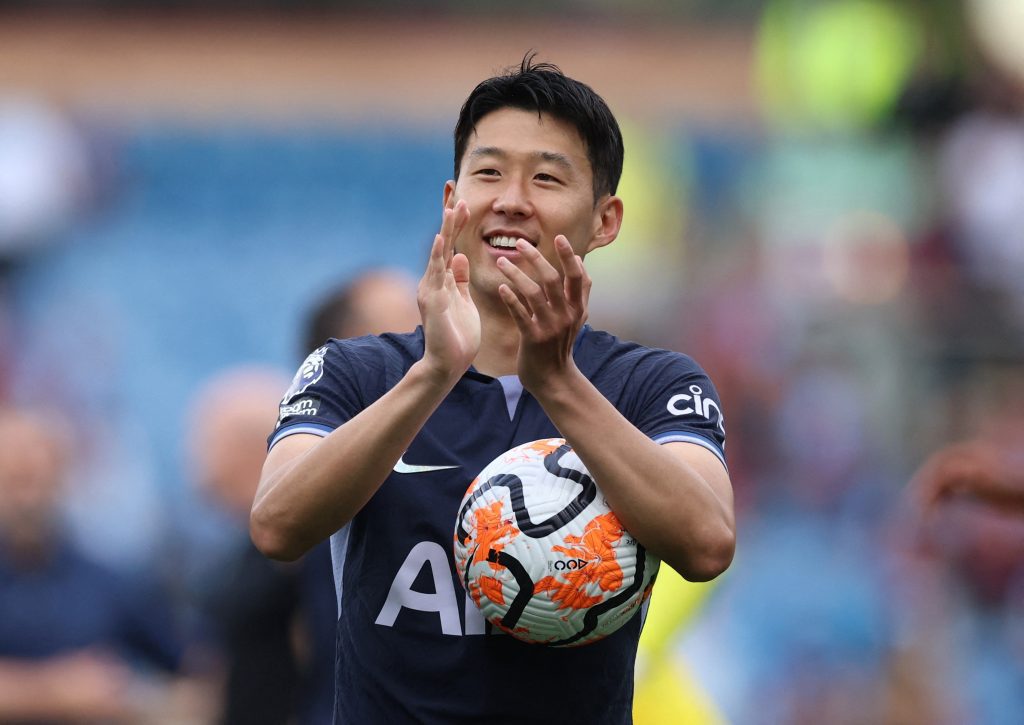 However, Spurs play Arsenal away in gameweek 6, so it is viable to opt out and wait, possibly gathering information on Son until gameweek 7-8, at your own risk. Udogie is still a good option at the back if you wish. Forest attackers are also interesting options, playing Burnley at home, the worst defence in the league despite playing 1 less game than the rest of the league. Morgan Gibbs-White and Taiwo Awoniyi are the pick of the bunch, just beware of City away in gameweek 6.
Captaincy and Dilemmas
Finally, a week with a captaincy debate. Haaland will still be the most popular choice of course, but now Son comes into the mix, with Son being the option that attacks fixture, and Haaland is Haaland. I genuinely am 50/50 about this one, so sorry I couldn't provide a verdict, but they are equally good option in my eyes. You know how high-risk, high-reward works, so choose depending on what kind of manager you are. Maddison is the 3rd best option and a viable captain.
No clear dilemmas this week, but the idea of targeting Maddison and Son will mean you have to make a sale in midfield. Of the popular ones, Eze would be the first to go for me, followed by Odegaard and Martinelli, then maybe Rashford. The rest are holds for me, even Mitoma and Mbeumo who has a tough fixture on gameweek 5.
Author's Team Reveal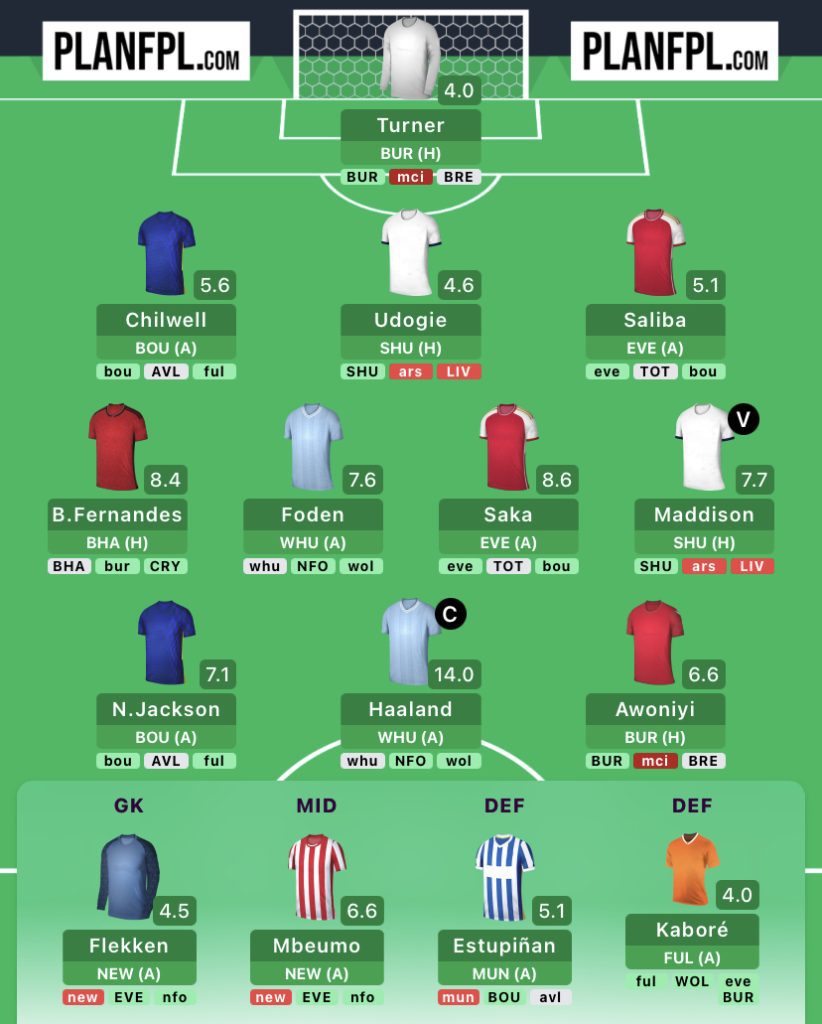 Still hurt from from last week, will trust myself and go with my guts this time. Osula will be going after all, but not for Alvarez this time (I'm still salty). Awoniyi is my pick of the bunch, and would prefer to assess Son for now as he has Arsenal away coming up. Mbeumo and Flekken to the bench, roll on gameweek 5.
Transfer: Osula (4.5) > Awoniyi (6.6), 1.1m itb
Final Thoughts
Adapt back to the first Saturday morning deadline of the season at 11 am on the 15th of December. Target Spurs and Newcastle, and toss a coin for Haaland vs Son captaincy. Eze the only sell among cheap mids. Spurs mids top priority. All the best for gameweek 5, may FPL gods be with you!