Fantasy Premier League (FPL) has seen remarkable growth in popularity over the years, with the player base almost quadrupling over the last 10 years. This fantasy game, which allows players to manage their own fantasy football teams, has become a global phenomenon, drawing millions of football fans into its engaging and strategic gameplay.
The total number of FPL players for the 2023–24 Fantasy Premier League season as of the time of publishing this article is 10.3 million.
A Look at the FPL Numbers
The number of people participating in FPL has been increasing steadily since the 2013–14 season. Here's a brief overview of the growth with help sourcing this data from our friends at All About FPL:
2013/14: 3.2 million players
2014/15: 3.5 million players
2015/16: 3.7 million players
2016/17: 4.5 million players
2017/18: 5.2 million players
2018/19: 6.3 million players
2019/20: 7.6 million players
2020/21: 8.2 million players
2021/22: 9.1 million players
2022/23: 11.4 million players
2023/24: 10.3 million players
It's interesting to note that there was a slight dip in the number of players in the 2023–24 season. However, this is due to the total figures for previous seasons being the value at the end of the season. There is no doubt that the FPL total player count will increase, and there will be another record number of teams by the end of the 2023–24 season.
Projected Growth
By the end of the current season, it is expected that the number of FPL players will exceed 12 million. This projection is based on the consistent increase in participation seen over the years, suggesting that the game is not only retaining its existing user base but also attracting new players globally.
FPL now has it's own Sky Programme, its own weekly podcast, and it's own YouTube series. The level of growth due to the interest in the Premier League is massive. The only thing that inhibits it is the engagement needed and the growing difficulty due to more accessible and digestible content.
Visualising the Growth
The following graph provides a visual representation of the growth of FPL players over the years. The upward trajectory is a testament to the game's increasing popularity and the expanding community of football enthusiasts engaging with it.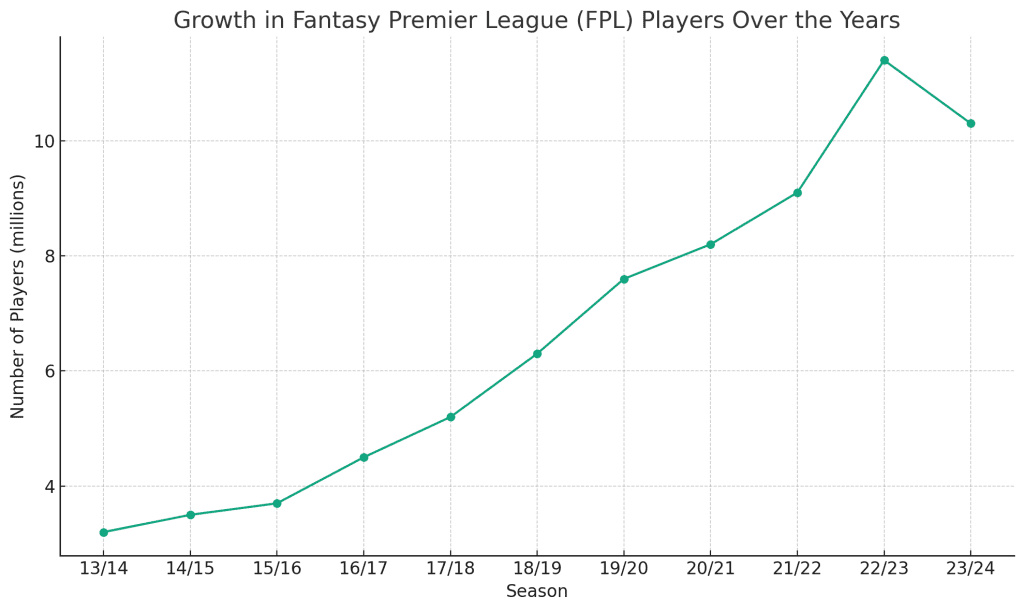 Conclusion
The increasing numbers of FPL players year after year highlight the game's appeal and its significant impact on the world of Fantasy Football. As the game continues to evolve and attract more players, it cements its position as a key component of modern football culture. FPL is a game that is growing, and so is it's fandom.

I'm Paddy, you may know me from OddsOnFPL or as the Admin of this website.