When I analyzed Manchester City in the lead-up to our clash against them a couple of weeks ago (Manchester United fan), I noticed a small tiny area of slight slight slight weakness that teams were getting joy with this season. Terrified to even suggest that Manchester City had an area of weakness, I stayed quiet. Mauricio Pochettino has now forced me to speak up because he has seen it too. And even better than that, he exploited it on several occasions today for Chelsea.
City's Left-Hand Side: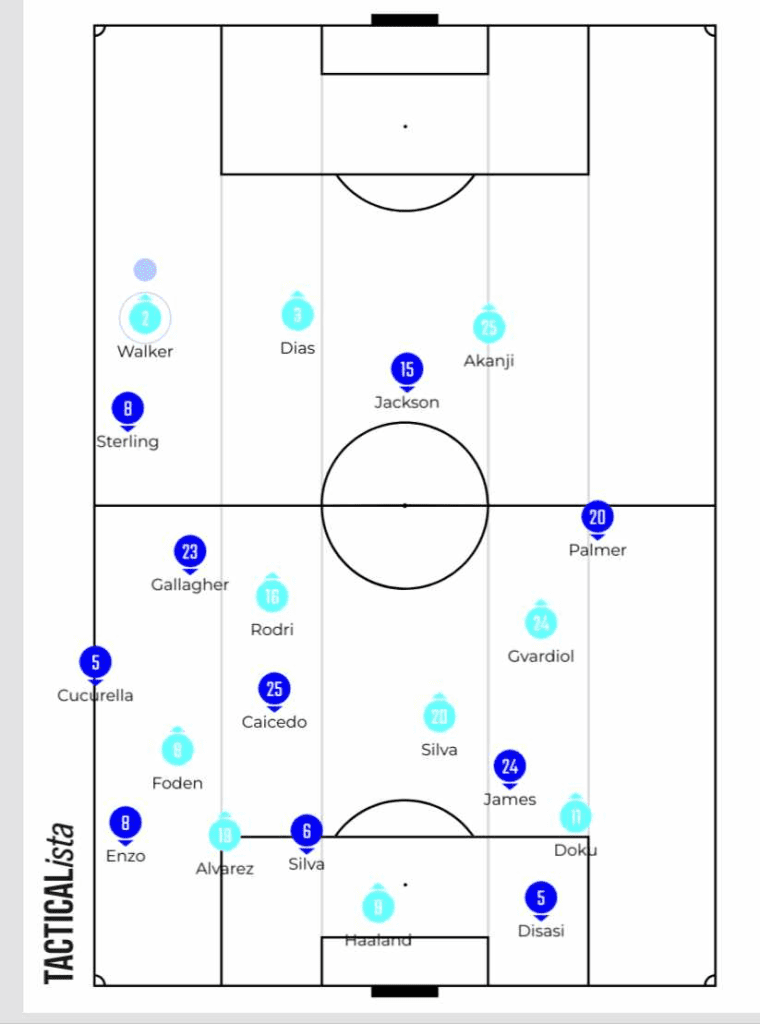 Let me start by saying this, Josko Gvardiol is a fabulous defender. He will be an asset to City for years to come, and he will more than likely grow accustomed to this role as the months and years roll by. But he is not currently comfortable defending wide areas as a left-back in City's system. Now, this can be hidden when City has a bit more balance in midfield and protection around him in that area, but that was not the case today. Mauricio Pochettino caused problems for Pep Guardiola down that side by pushing Reece James high and wide and situating Cole Palmer in the middle of the park, or vice versa with the two rotating.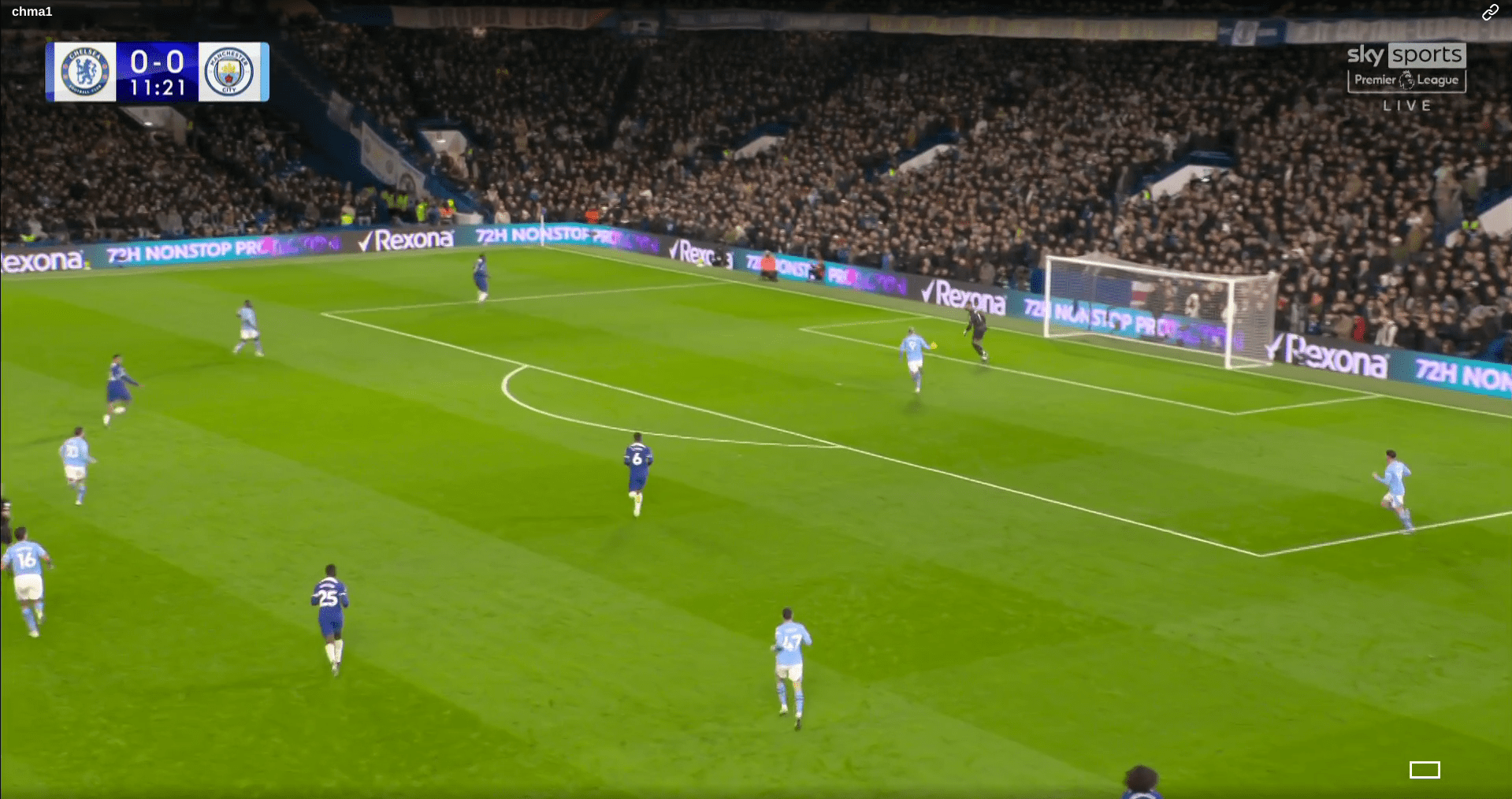 The City midfield was an area I worried about before the game due to John Stones not being available. Stones usually fills in the gaps in the City midfield when the opposition transition, but without that security today there was large gaps left on either side of Rodri. This was especially easy to see when City committed to a high press, and that's when Reece James would either come central for the ball or situate himself high and wide, leaving Gvardiol with a decision to make due to City's press.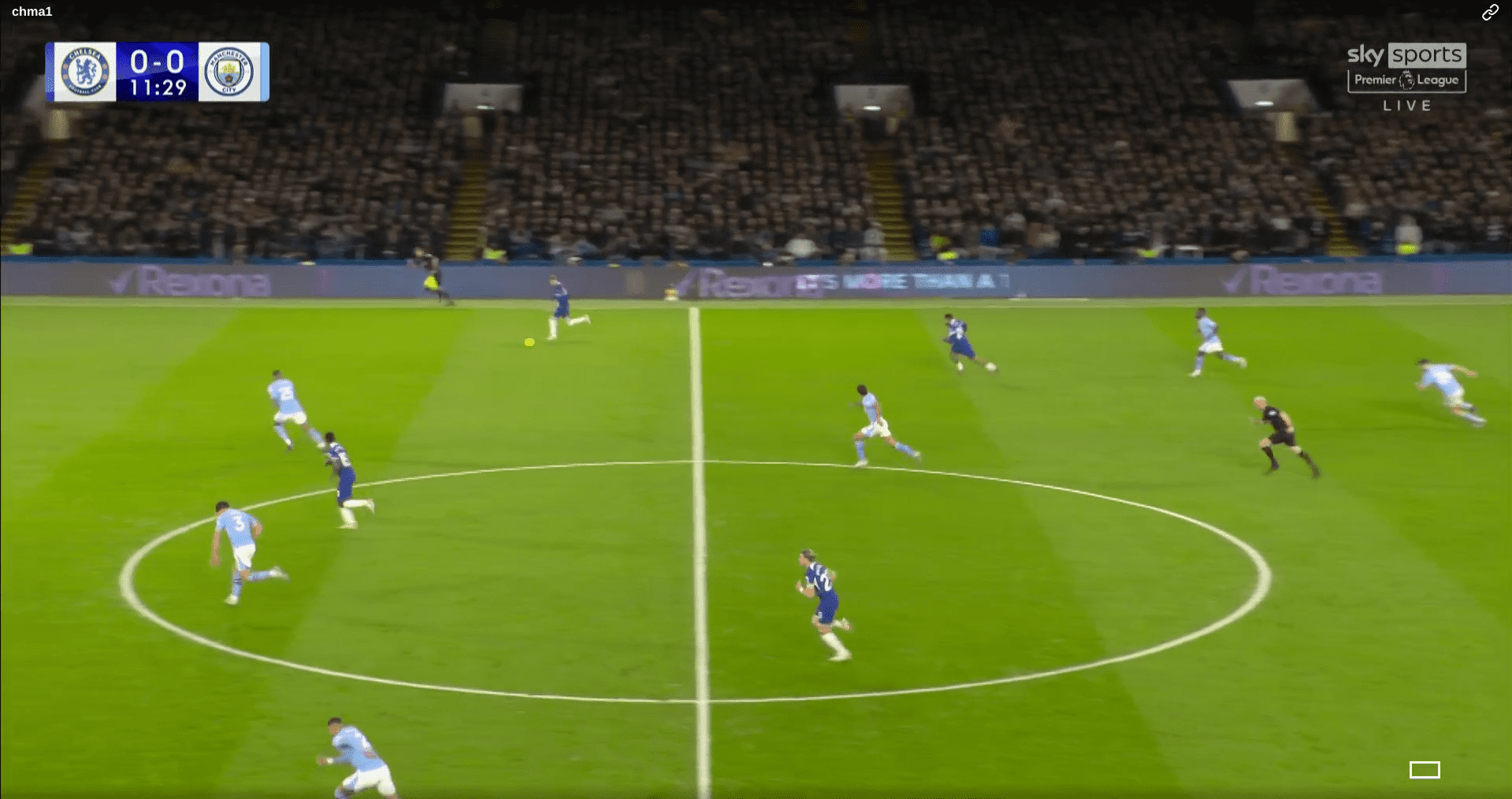 Bernardo Silva and Jeremy Doku usually pushed high in the press which left the left-hand side of City overly exposed. It was the opposite when Manchester United played against Manchester City at Old
Trafford, with Bernardo Silva occupying the space beside Eriksen and behind Antony for City due to United's forward line doing a hybrid press. City were being played at their own game by Chelsea, and it worked a treat for large parts of the game.
Chelsea's Vulnerability:
On the opposite side of the coin, City's left-hand side in possession and on transition caused Chelsea problems. As mentioned against Manchester United, Bernardo Silva occupied that space behind the right-winger and beside the right-hand side pivot midfielder. He did the same thing against Chelsea, in behind Cole Palmer and beside Moises Caicedo. It's the risk you take when deploying a 4-2-3-1 press and not pressing high enough to close the gaps.
City had a lot of joy going forward with Bernardo Silva picking up the ball in that space and spraying the ball wide to Jeremy Doku, but Reece James defended admirably against the young Belgian at times. Just before Chelsea conceded the penalty, they tried to push a bit higher to close the ball into Silva and close the gaps between midfield and defense.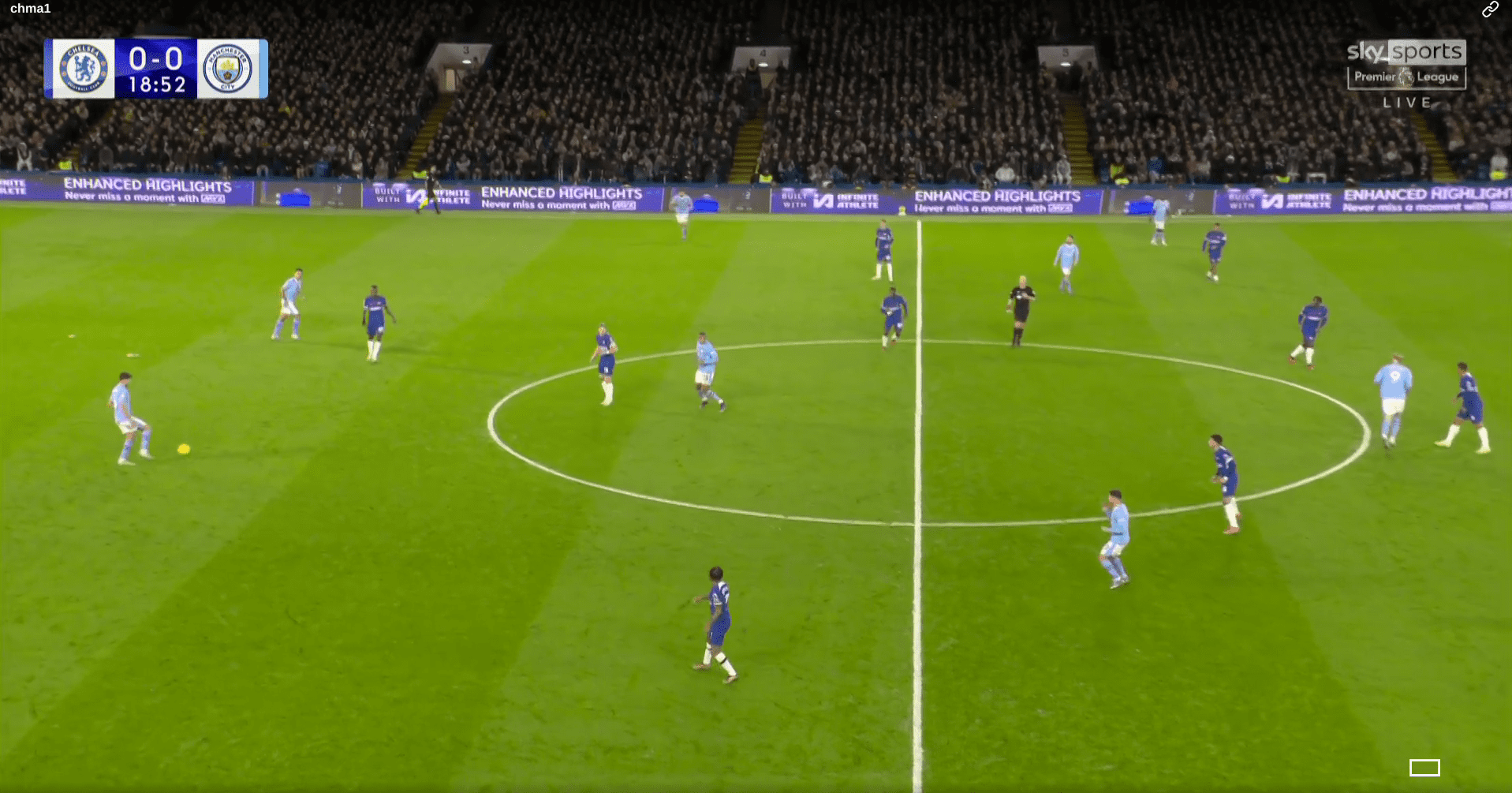 The penalty came from Silva rotating with Doku and pulling into a wide position, before delivering the ball to the back post to Erling Haaland, this was also another tactic City continued to do throughout the game. That back post ball to Erling Haaland.
City made the most of the space Bernardo Silva was getting in midfield for their equalizer from a quick corner routine by Julian Alvarez. It was the space Bernardo stayed in for most of the game in possession, and it's proving to be a double-edged sword for Pep Guardiola's side.
A Game Pep Guardiola Would Hate:
Pep Guardiola loves control. He thrives for it in everything he does with his team. But they had anything but control in that game today. It was a basketball match of the highest order. And City have a habit of losing basketball matches over the years. When Chelsea equalized through intelligent work from a corner and Stamford Bridge erupted, it was always going to be an uphill battle to win the game.
The 2nd Chelsea goal came from the exact thing I mentioned above. Cole Palmer dropping into that half-space. Reece James on the overlap, forced by a mistake from Gvardiol not being comfortable in the wide areas, and a sumptuous ball to the back post to an onrushing Raheem Sterling. They were the goals Raheem made a living off under Pep Guardiola, and he had just done it against his former manager to rub salt in the wounds.
Classic City For The Third: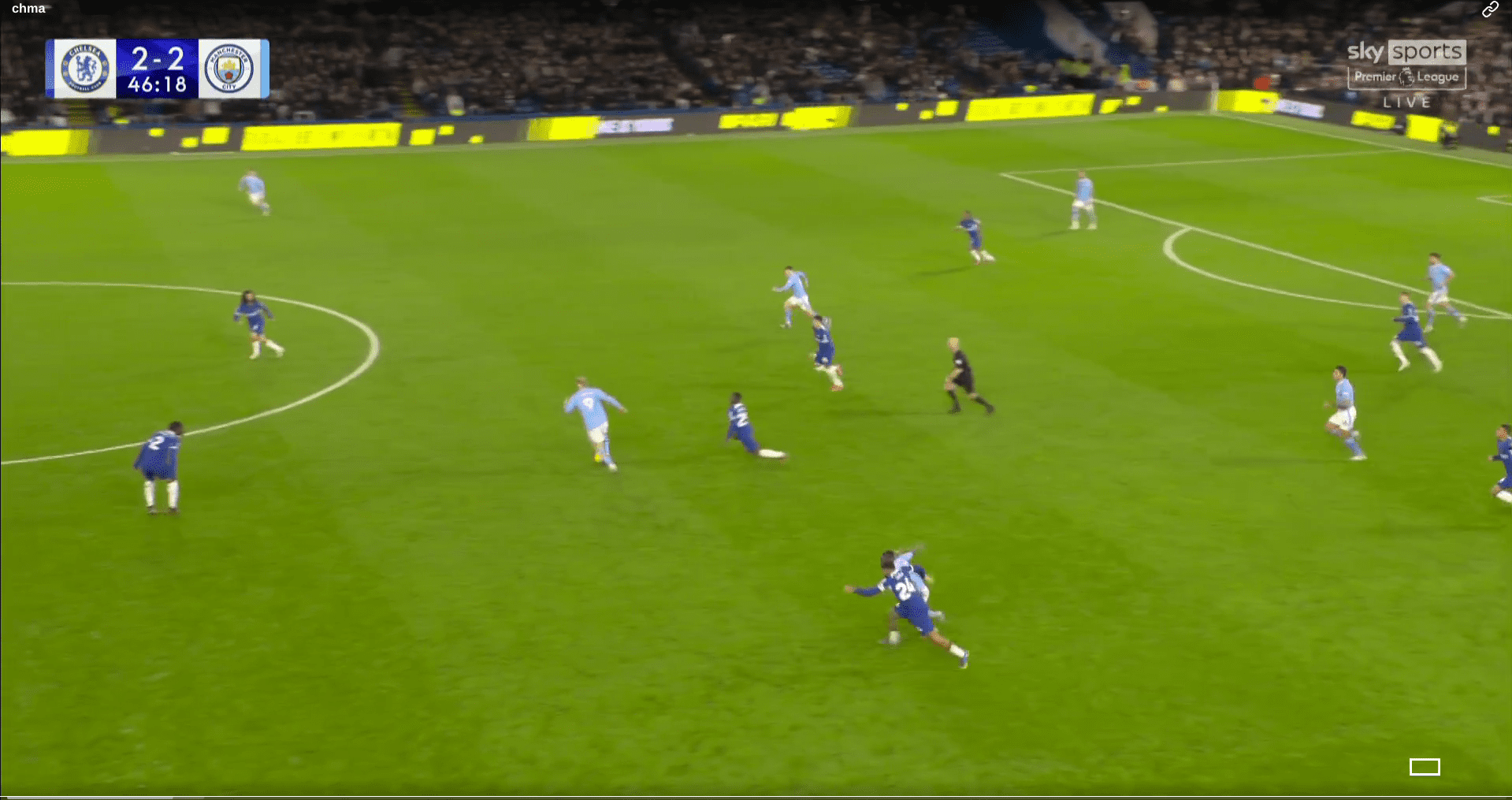 City's third was a vintage counterattack. Chelsea were caught high up the pitch due to a direct ball into Haaland from Bernardo Silva, and from there if you're a Chelsea player it's in god's hands. Alvarez dropped into that De Bruyne role and played the ball wide to Phil Foden. The Argentinian then continued his run, and brilliantly overlapped past Cucurella before delivering one of those practiced back post crosses to Erling Haaland. The Norwegian was not going to miss, and Chelsea's high press was undone in the blink of an eye. Thiago Silva being so high up killed Chelsea, and they paid the price.
Resilient Chels: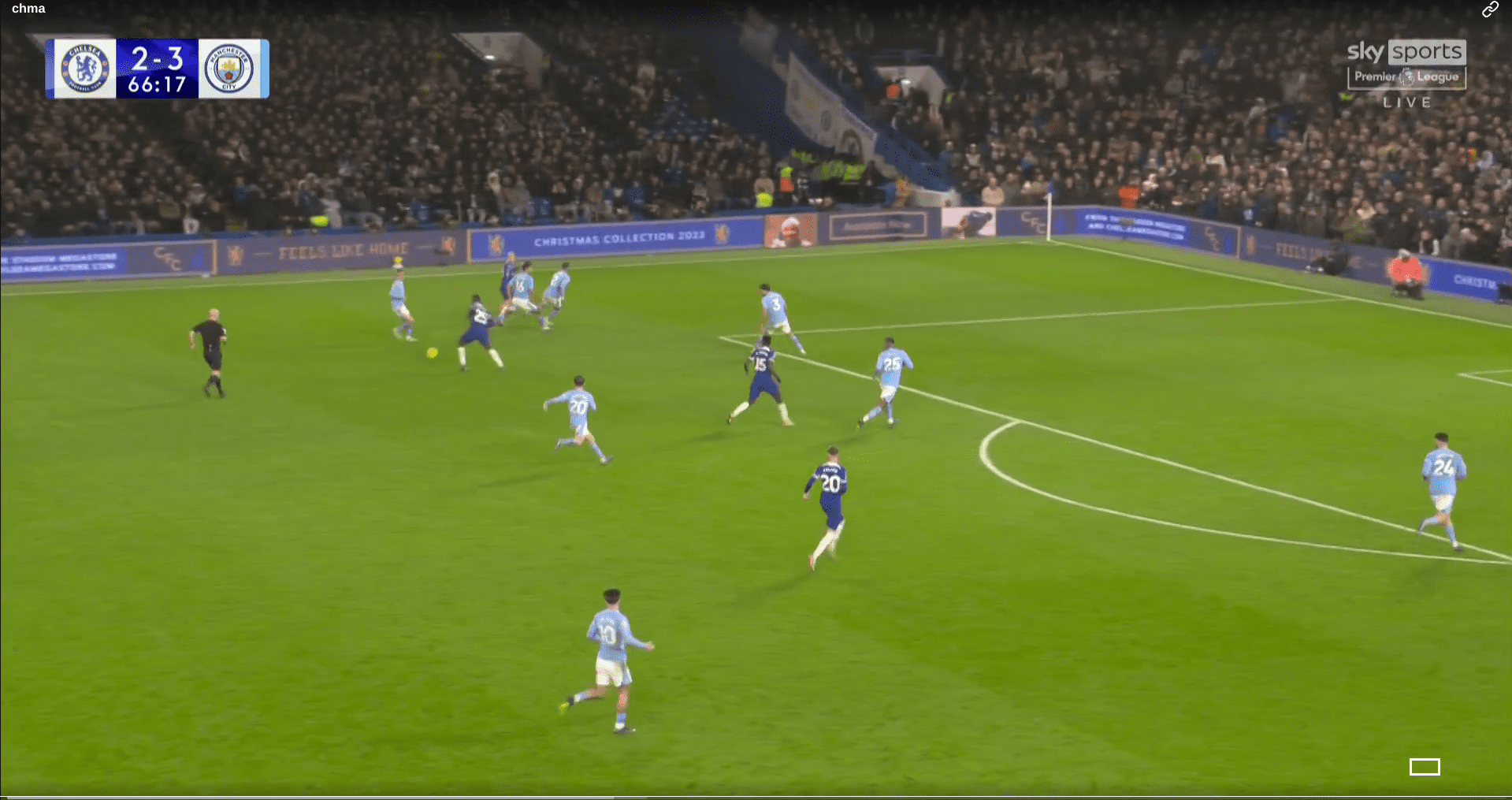 Chelsea managed to bypass City's 4-1-4-1 press with a simple diagonal out with Mykhailo Mudryk for their third goal. Kyle Walker allowed too much room, and Mudrk's positive pay created an avenue of opportunity for Chelsea. Mudryk's play pulled over three City players, and clever movement from Moises Caicedo allowed space to be created in the middle.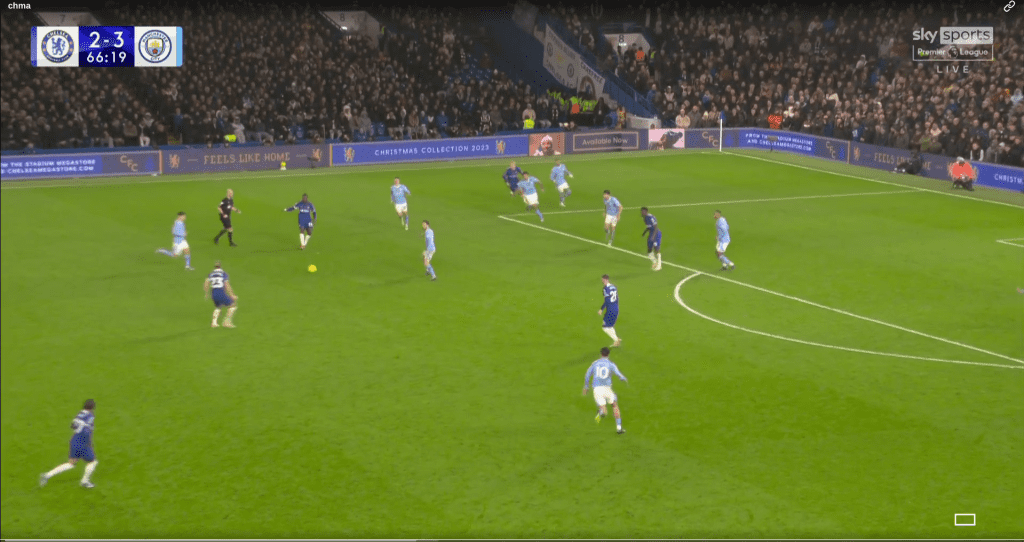 Conor Gallagher drifted into space and smashed the ball goalwards when it arrived, and Nicolas Jackson was there to tap home the rebound. Moises Caicedo was key, and Chelsea were right back in the game.
A Chaotic Ending: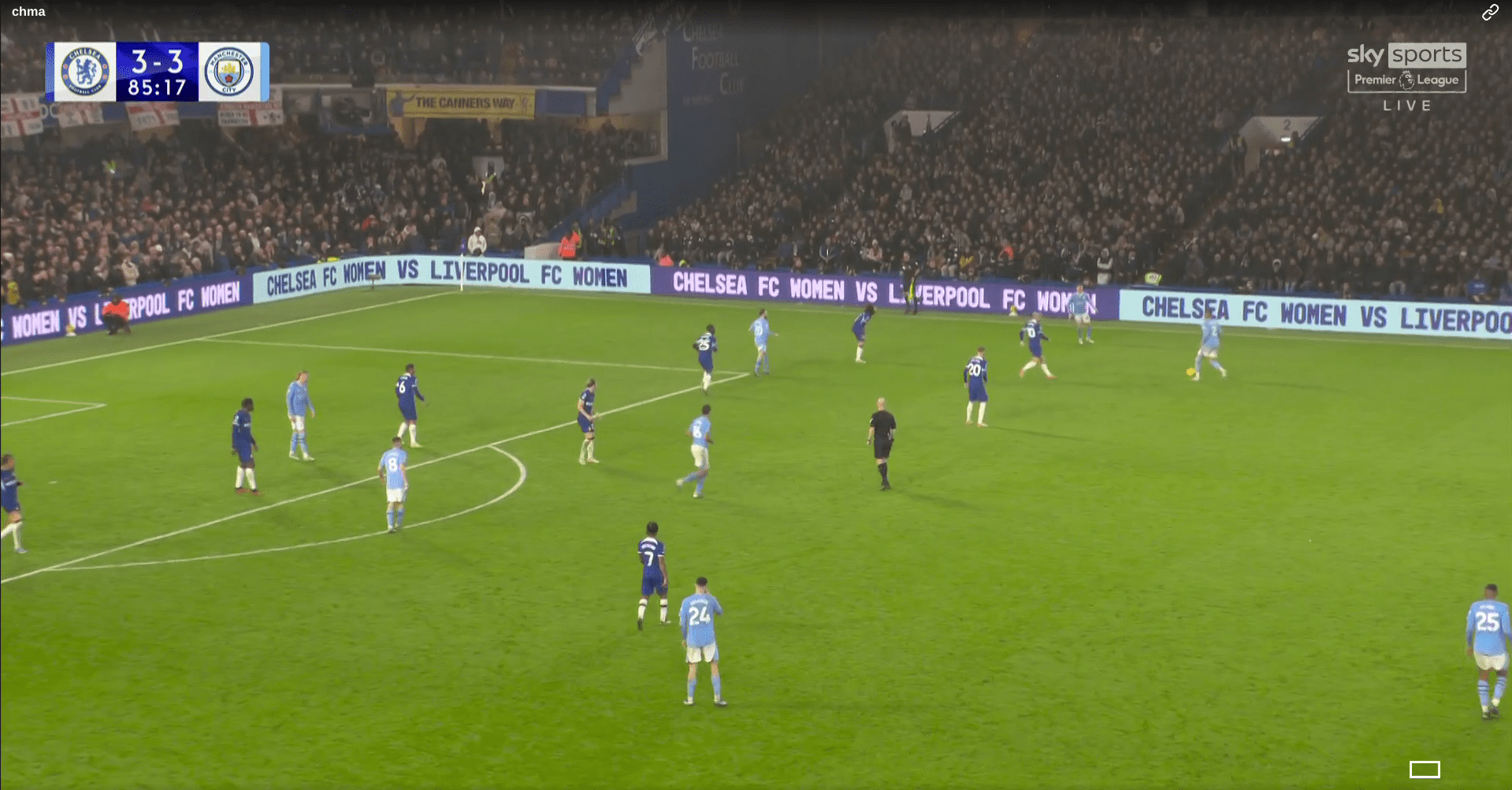 City's third had a bit of luck in regards to the finish, but the lead-up had nothing to do with luck. Bernardo Silva sat in that space in between the 18-yard box and the defender on the opposite side this time, and along with Phil Foden managed to tear Moises Caicedo and Marc Cucurella apart. A clever interchange between the two created space for Foden to find an unmarked Mateo Kovacic, and it's the unmarked Kovacic who created enough confusion in the Chelsea midfield to allow Rodri to burst through and fire the shot that scored the 4th. Thiago Silva's outstretched leg helped of course.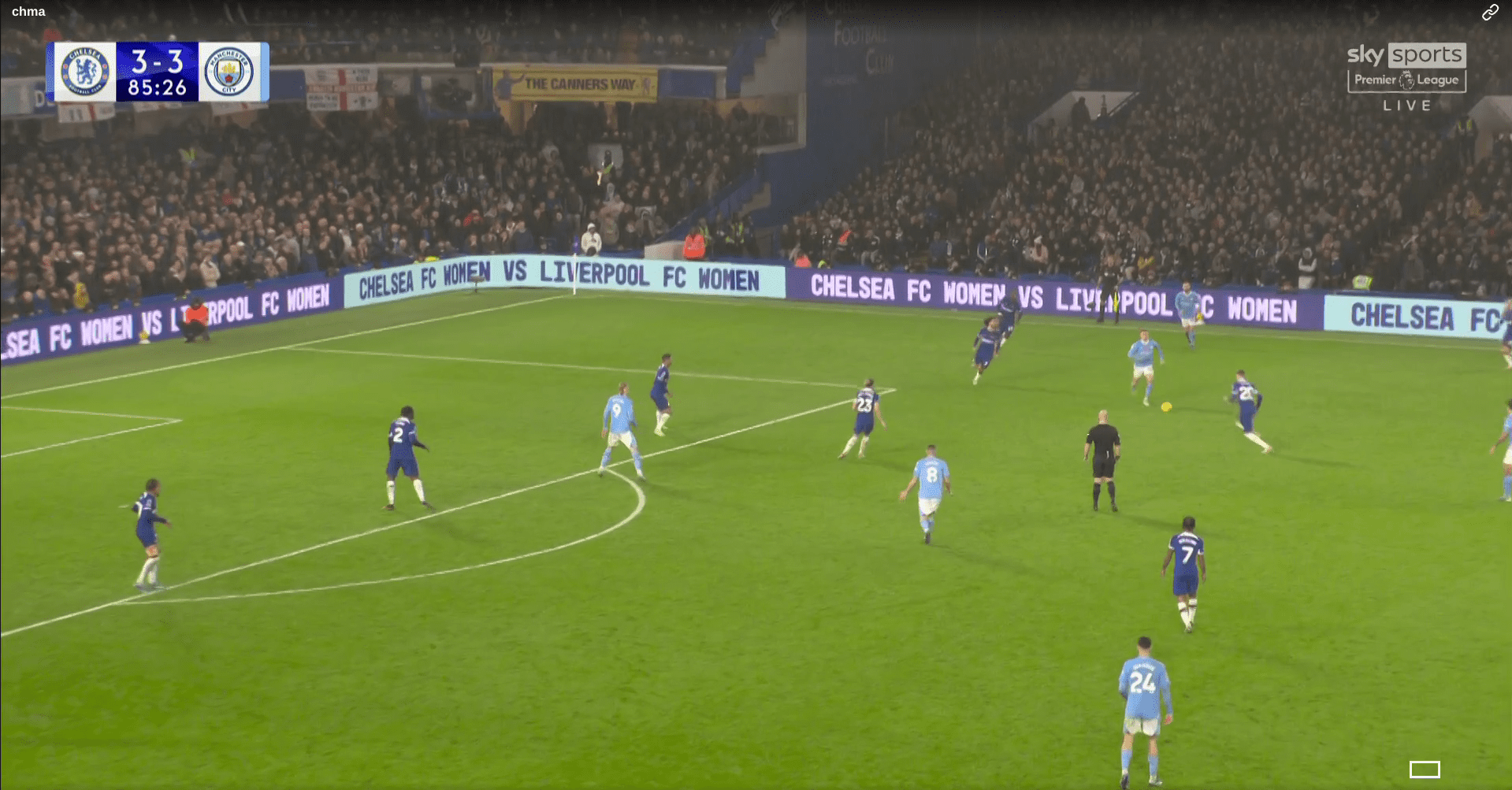 The drama however wasn't finished there. Pochettino sent on Armando Broja late on, and his presence in the box was key in Chelsea grabbing a point from the game. City got caught in midfield due to how wide their 4-3-3 press was, and Raheem Sterling dropped into one of the pockets between Jack Grealish and Josko Gvardiol. Malo Gusto's positioning out wide forced Gvardiol to press him, which left Sterling with an acre of space to turn into and attack Manchester City.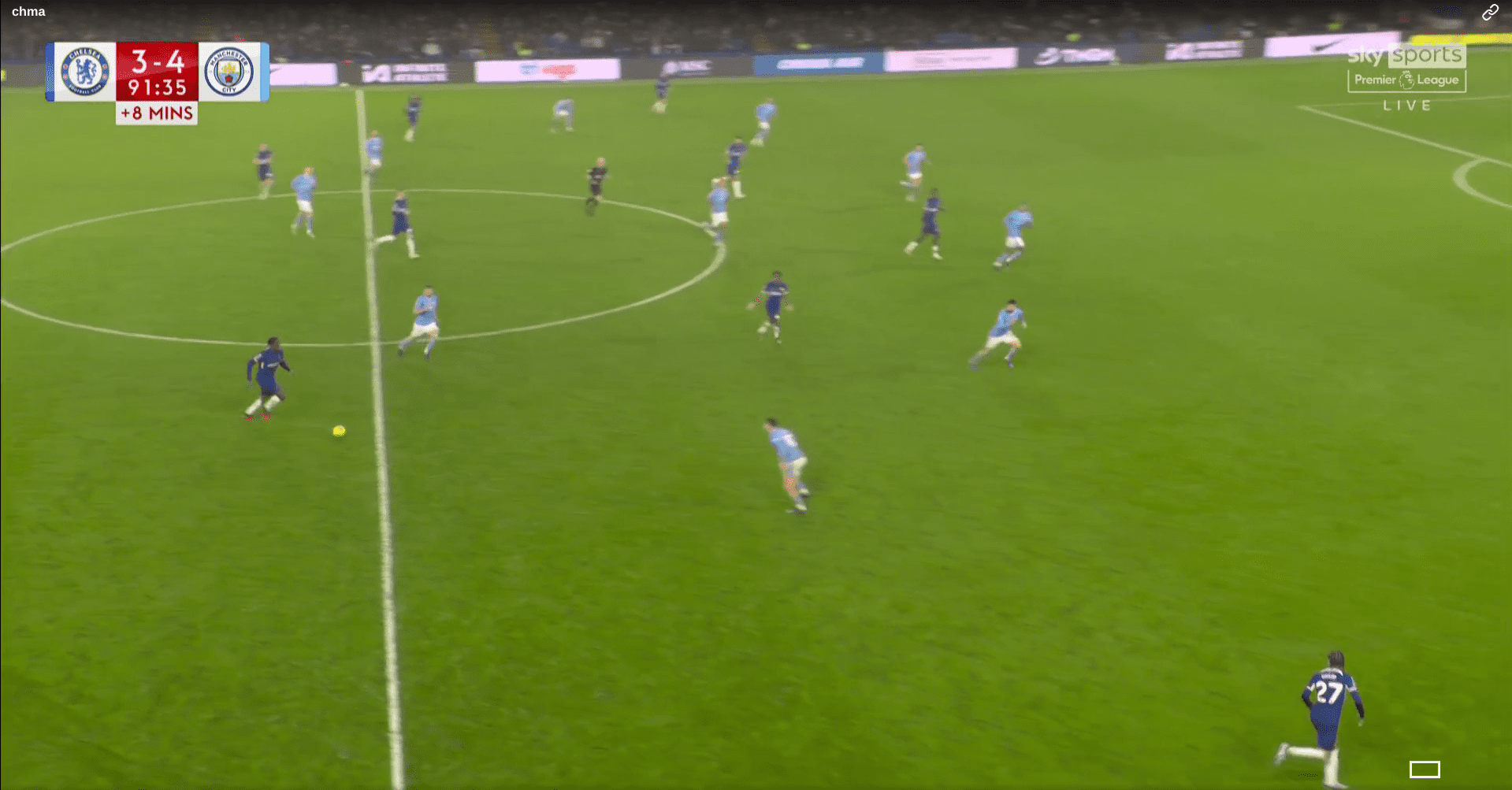 Nicolas Jackson makes a run off the back of Manuel Akanji, which drags Ruben Dias over. Kyle Walker is too far away from Armando Broja, so City has no way of stopping the ball into the center-forward. Ruben Dias makes a rash challenge, and the game is completely turned on its head. Jackson is vital, and Raheem Sterling's positioning is magical to create this goal.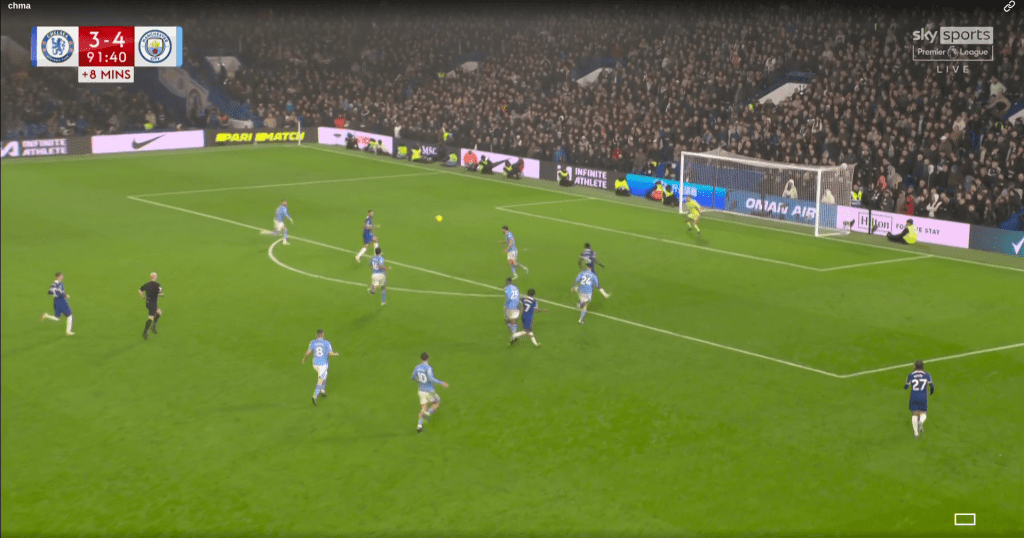 In Summation:
A joy to watch for the tactical eye. Chelsea went toe to toe with City, and Pochettino went bar for bar with Guardiola. Chelsea will be in a good place if they carry this on consistently, and Pep Guardiola will have to recognize the problems down the left-hand side for City in games going forward. City's wide 4-3-3 at times is also an area of concern out of possession, and Chelsea's exploitation of that for the third goal showcased that perfectly. Liverpool will be taking notes from this game, and Chelsea will be looking up the table after the international break.