FPL Gameweek 12 of the Premier League is upon us, and everyone will be scrambling towards their Fantasy Football Team over the next few days to try and have the best week possible. The first match of the game features the early 12.30 pm Saturday kick-off between Wolves and Tottenham and finishes with Chelsea's 4.30 pm game against Manchester City on Sunday. It's fair to say Chelsea assets are best avoided over the coming weeks due to their fixture list, unless you're feeling lucky, of course.
West Ham and Manchester United have the most favourable run-ins over the next few weeks. Throughout this article, there may be several United and West Ham players we advise sticking into your side. Aston Villa is a team with a formidable number of games coming up, so we recommend against transferring in any Villa assets.
FPL Gameweek 12 Tips: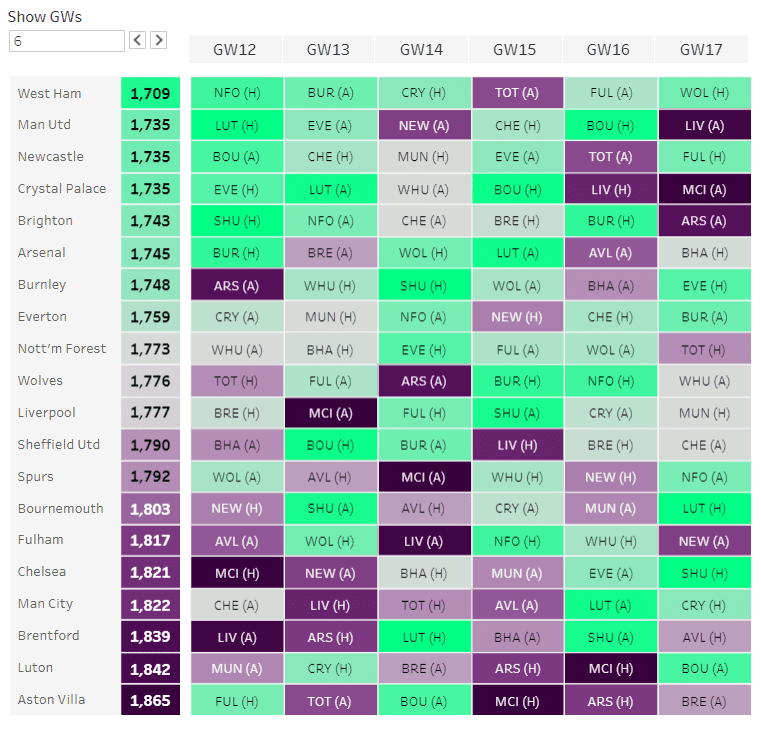 Source: https://public.tableau.com/app/profile/timbayer/viz/PremierLeagueFixtures2324/PLFixtures
Let's take a look at all the odds before Gameweek 12.
For the odds, I am using Drafthound's model.  This data is based on the assumption that a player plays 90 minutes and comes from the site's Massive Data Model, which is known to be more predictive than cleaned Bookmaker Odds. Arsenal, Brighton, and Manchester United make the top three for expected clean sheets, and Luton, Burnley, and Sheffield United are the three least likely clubs.

There is no surprise that Erling Haaland is at the top of the gameweek 12 goalscoring charts, but this week Darwin Nunez is unable to compete because Mohamed Salah and Eddie Nketiah have joined him.
Jarrod Bowen: (£7.4m, Midfielder, West Ham United)
It's hard to look past Jarrod Bowen for Gameweek 12. The England winger is in fine form with eight goal contributions in 11 games, and West Ham has the easiest run in over the next couple of games, according to Drafthound's prediction model.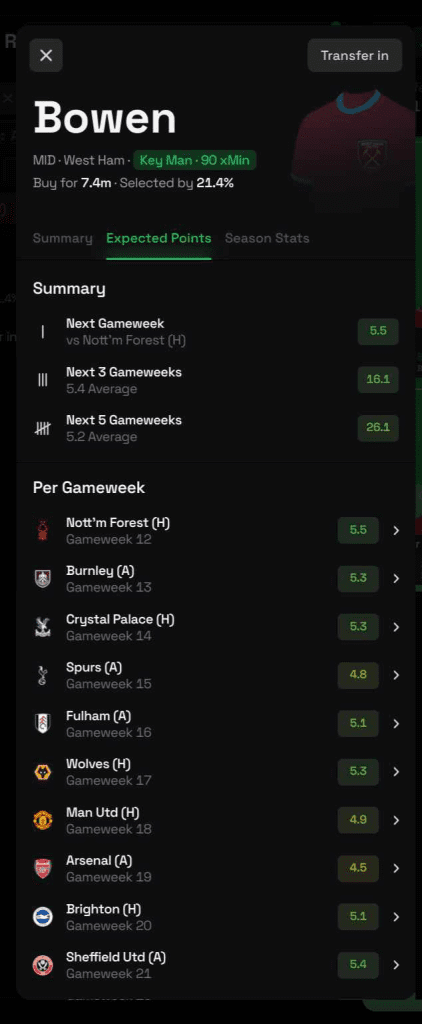 Bowen is predicted to score 5.5 points against Nottingham Forest and 16.1 points altogether over the next three gameweeks.
At just £7.4 million, Bowen is a cheaper option than both Marcus Rashford and Bukayo Saka and could add some great value to your side over the weekend.
Bruno Fernandes: (£8.3m, Midfielder, Manchester United)
Bruno Fernandes was back to his best against Fulham, and we believe he's an ideal candidate to slot into your team in gameweek 12. United have a favourable run of fixtures in the next three games, and Fernandes is predicted to be a huge part of their ability to win those games.
Fernandes has created the third-most chances in the Premier League this season and also has the second-most xA with 3.5 in the entire division.
With Martin Odegaard not fit and costing £8.4 million, Fernandes is the best choice for this Gameweek and the next three. The Portuguese midfielder is predicted to score six points against Luton and 16.1 points in total over the next three gameweeks.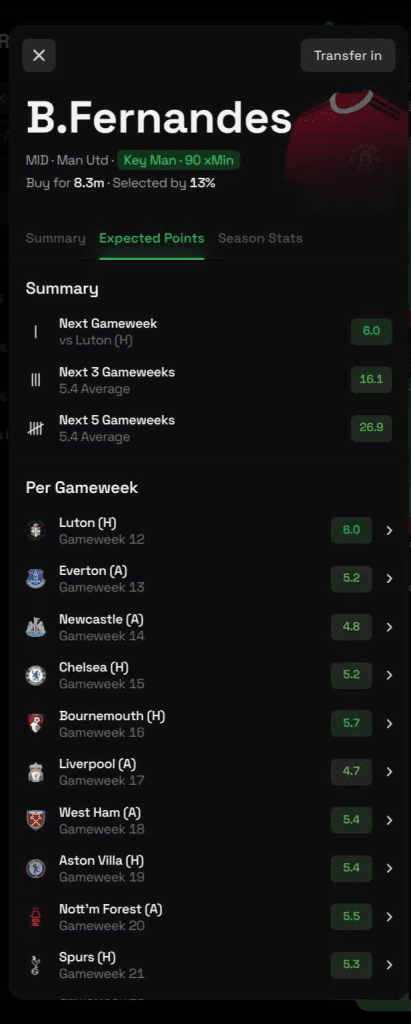 Harry Maguire – (£4.2m, Defender, Manchester United)
Harry Maguire has been back to his best for Manchester United as of late, and due to their fixture this week, he's the perfect defender to add to your team. United concede 0.7 goals per game with Maguire in the side compared to without, and the Drafthound model believes Manchester United have a 50% chance of keeping a clean sheet against Luton this weekend.
Harry Maguire has the most accurate long-balls per 90 minutes in the Premier League this season and has also contributed to a goal with an assist against Brentford, which won United the game.
Maguire is also extremely cheap at 4.2m and has a decent fixture against Everton in Gameweek 13 if you want to keep him in the side. Along with Fernandes, the combined duo is expected to pull a total of 9.5 points for your team if you add them both in, not bad at all!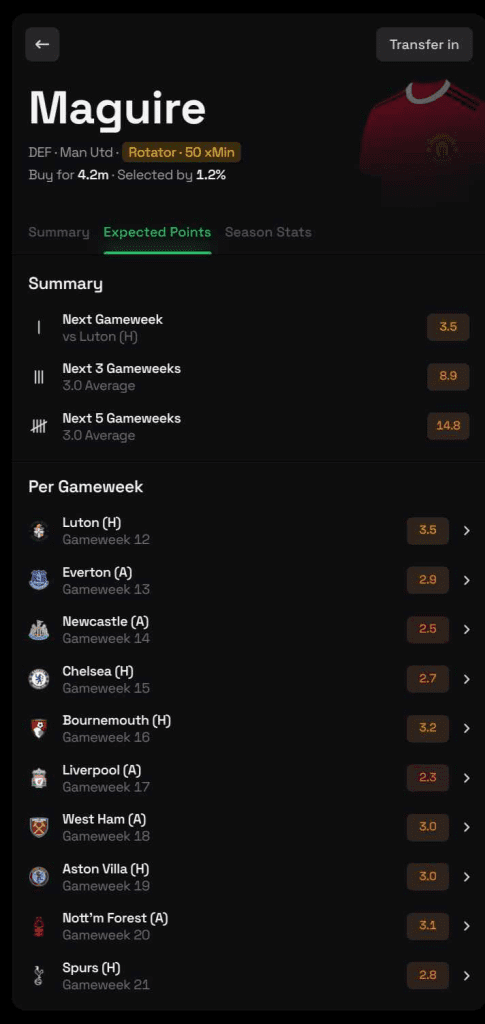 Kaoru Mitoma – ( £6.5m, Forward, Brighton)
Kaoru Mitoma is a must for Gameweek 12, and even beyond. The Brighton winger is predicted to have a good week points-wise, with the predictor feeling he could score 6.6 points against Sheffield United. For the next three Gameweeks in total, Kaoru Mitoma is predicted to score around 17.7 points in total.

The Brighton winger has 6 goal contributions so far this season in 11 games. He's predicted to get 7 points this weekend against Sheffield United, and over the next 5 game weeks is expected to have an average of 31.3 points in total.
Mitoma is a must for your team. He's cheaper than Bukayo Saka and Marcus Rashford and is predicted to score more points than both players in the next few Gameweeks.